Renovations of any kind are a daunting process. But when it comes to the bath—a space that needs to be both hyper-functional and serene, practical and, ideally, a little bit luxe—the stakes somehow seem higher. There are a million decisions to be made along the way, from mirror to grout—and the price tag can be surprising. What to know before you begin? Take our advice:
1. Don't assume your contractor is on the same page.
"When you're functioning as the general contractor—or even working with a general contractor—you have to spell out every part of the plan, and never assume everyone is up to speed," say the mother-daughter team behind Matriarchy Build in How to Avoid Rookie Remodeling Mistakes. "Someone we know had a contractor demo the wrong bath," they add.
Think of renovations like surgery: to avoid getting the wrong knee replaced, make sure—then make sure again, then again, then one final time—that the proper knee (or bathroom) is marked and agreed upon.
2. How much does a bathroom remodel cost? More than you think.
Think you can remodel your bathroom head to toe for a couple thousand dollars? We hate to tell you: the average cost of a bathroom remodel was $11,364 in 2016, according to the National Kitchen and Bath Association (NKBA). A basic, low-grade renovation with less expensive materials or smaller swaps could run from $1,500 to $5,000, while a top-of-the-line, tip-to-toe renovation could run up to $23,000.
NKBA estimates that, broken down, most of this cost comes from fixtures and plumbing (about 29 percent), followed by counters and surfaces (21 percent), labor (20 percent), and cabinetry and hardware (16 percent). Keep in mind: they advise that, all told, your bathroom project should cost no more than 5 to 10 percent of your home's value.
3. You may want to rethink that statement-making bathtub.
You may be tempted to upgrade your bathroom with a dramatic freestanding bath. But it might not be the most practical choice going forward, particularly if you're petite, hate cleaning, have an old rickety house, like to take long baths, or take more showers than baths. Read more about the merits of built-in baths (and showers) versus freestanding options in 10 Things Nobody Tells You About Clawfoot Bathtubs, as well as in Remodeling 101: Romance in the Bath: Built-In vs. Freestanding Bathtubs.
4. Flattering lighting requires planning.
Don't think you can install a few lights and call it a day: because bathrooms are sometimes small and/or dark and filled with mirrors (which complicates how light bounces around), lighting requires careful thought and placement. The simplest way to light a bath is a single diffuse light in the center of the ceiling. Have a bathroom that's already pretty bright? A pair of wall sconces should be sufficient. Thinking about ceiling-inset downlights? Place with care: avoid installing directly over light-colored countertops (since those will reflect the lights), and place close to the wall over a vanity to maximize light when looking in the mirror. And if you spend a lot of time applying makeup, consider vertical fluorescent light fixtures on either side of the mirror. For more pro tips, see Remodeling 101: How to Install Flattering Lighting in the Bathroom.
5. Don't forget to install accessible outlets.
You don't want to get to the end of a renovation and realize you've forgotten to consider the outlets. Think of these outlet errors: you have to plug your hairdryer in across the room, and can't see yourself in the mirror from there. Or, you'd like to keep your electric toothbrush charging at all times, but neglected to install an outlet in the medicine cabinet. Or, you share your bathroom with your spouse, but only installed an outlet on one side of the vanity. To avoid these mistakes, read Remodeling 101: Where to Locate Electrical Outlets, Bath Edition.
6. When it comes to tile, you only need to remember a few types.
Forget the endless stacks of tile samples your contractor will show you: you need only remember a few key varieties. The types of tile that are particularly hardy, long-wearing, and timeless in the bath—in shower stalls, on floors, and on walls—are porcelain, glass, natural stone, cement, and, of course, subway tile (a type of ceramic tile so popular we're counting it in its own category). The options become a lot simpler once you whittle down to these time-tested options; then choose a color and a shape and go from there.
(Need help sourcing subway tile? See 7 Favorite Architect-Approved Sources for Subway Tile. And read more about timeless tile options in Remodeling 101: A Guide to the Only 7 Types of Tile You Need to Know.)
7. Your grout could make or break your bathroom.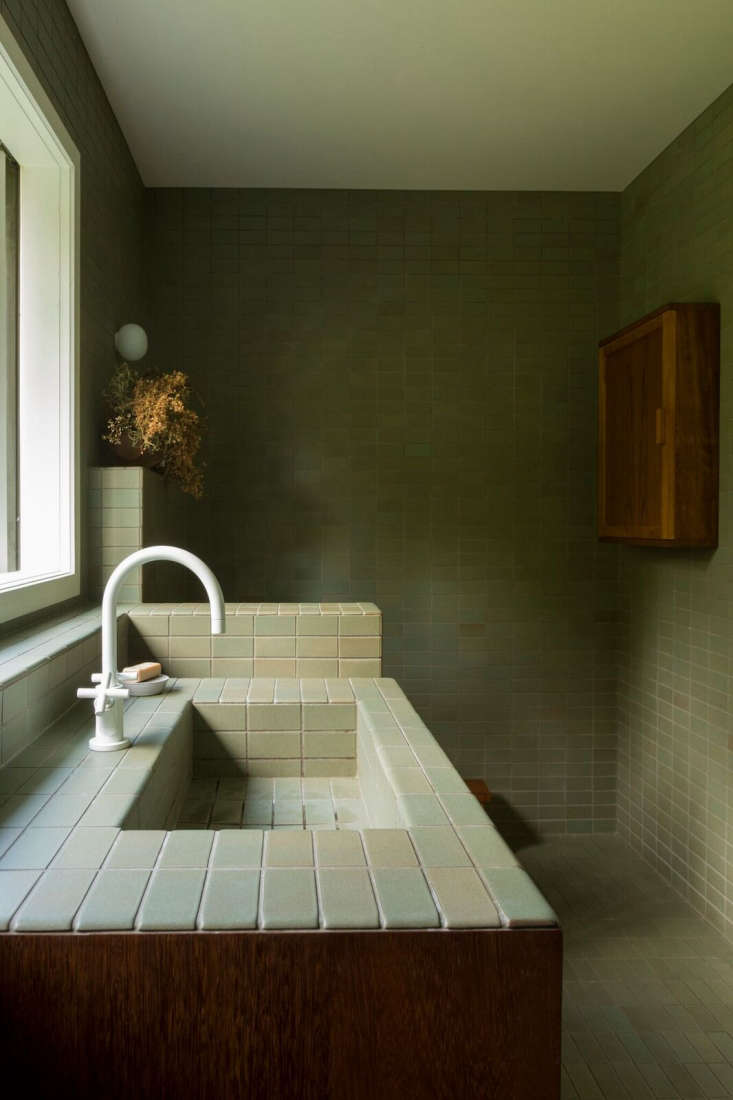 Grout may be an afterthought in the scheme of your whole remodel: it's a small, and—as Meredith points out in Remodeling 101: How to Choose the Right Tile Grout–unsexy element of the bath. But, she adds, it's hugely important: "It seals out dirt and water, compensates for small size differences between individual tiles, and firms up the structural integrity of an installation."
How to choose the right grout for your bath? Answer this series of questions: Do you want the grout to stand out, or blend into the tile? Is the grout in a high splash zone, or a fairly dry place? (If it'll be getting wet a lot, as in a shower stall, opt for synthetic grout; go for cementitious grout everywhere else). Will dirty grout drive you crazy? (If so, avoid white.)
See more considerations in Remodeling 101: How to Choose the Right Tile Grout; then learn how to keep it looking new in Everything You Always Wanted to Know About Grout and Caulk (but Were Afraid to Ask).
8. Small space? There's a compact toilet for that.
Toilets are not one size fits all: if you have a small space, consider a petite toilet (see 10 Easy Pieces: Compact Toilets). Or, opt for a traditional or modern floor-standing toilet, water-conserving toilet, or wall-mounted toilet.
9. Don't make storage an afterthought.
So much of creating a bathroom that feels both serene and well-functioning comes down to good storage. Be sure to look for storage opportunities—even small, simple ones—when drawing up your plans, to make them feel integrated and not added-on. For example, architect Malcolm Davis says: "I like to place a couple of tall shallow cabinets hidden in a stud bay. You don't need deep shelf storage; a shallow shelf can store a lot. I like to put a recess in the shower and I try and integrate towel bars to feel built in." Read more about his tips in Expert Advice: 10 Essential Tips for Designing the Bathroom, and see 10 Things Nobody Tells You About Bathroom Storage over on The Organized Home.
10. And, you might not have to remodel.
Maybe you've moved into a new house and can't stand the tile in the bathroom, but don't have the budget to replace it completely. Or maybe you're renting and can't remodel (if you want your security deposit back, that is). The good news is you might not have to demo everything and start fresh. If it's the tile you want to upgrade, consider tile refinishing, like blogger Athena Calderone did in Before/After: A Perfectionist's $1,000 Bathroom Overhaul in Brooklyn. Or swap out a few basic fixtures (lights, faucets) for a big impact, as in Expert Advice: 10 Tips for Transforming a Rental Bath.
More inside intel on remodeling projects and materials, large and small:
(Visited 6,541 times, 36 visits today)