Two advantages of being an in-demand fashion model: the ability to explore the world—and to convince airline employees to let you check all manner of outsized purchases (a radiant smile helps). Camilla grew up just north of Copenhagen and has been modeling since she was 16 (she's now 44 and still working). She and her husband, Peder Nielsen—the two met as teens back home at a riding stable—have been based in New York City for longer than they've lived in Denmark: Camilla arrived at 21 and he soon followed to attend Columbia Business School. Over the years, while so many of Camilla's colleagues set their sights on acting careers, she's been fine-tuning her eye for design and returning from jobs with favorite discoveries.
A few years back, Camilla struck up a conversation with a fellow Dane in their kids' schoolyard and the two went on to launch the Danish import company Goods We Love: See New York's Secret Scandinavian Design Source. That business has since evolved into the just launched solo venture Objects by Camilla Vest, with a mission to not only represent a small, choice collection of Danish furnishings but also act as a design ambassador and evangelist. The role comes naturally. Camilla's showroom is her family's own apartment, a sun-infused, 1,900-square-foot SoHo loft on the top floor of a former silk thread factory. There's no separate office, nor, Camilla tells us, does she have to do a clean sweep before clients drop in: This is how she and Peder and their two kids, ages 8 and 13, live—minimally and surrounded by cherished items she's gathered one by one. She invited us over for a look around.
Photography by Matthew Williams for Remodelista; styling by Alexa Hotz.
She represents still-in-production Danish classics made by family-owned companies, and, at home pairs these pieces with other modern favorites, including her Saarinen dining table and Cherner chairs: "They all elevate each other."
Though barely noticeable thanks to hardware-free cabinets, the marble-topped island has plenty of storage. The family tableware is by Royal Copenhagen; Camilla has been collecting it for years ("when asked what I want as a present, I often mention a plate"). Her husband, she adds, "cares about these things the way I do: He broke a plate recently and felt terrible."
The brass
Ilse Crawford Candleholder
on the table also travels, and gets a lot of use: "I always light a candle, even at breakfast or when I'm sitting down to work. It's a Scandi thing: It makes a good atmosphere."
The Penguin Lounge Chair standing against the column is part of a small collection of Ib Kofod-Larsen designs from the 1950s that are faithfully reproduced by Brdr. Petersen, twin brothers whose work Camilla represents in the US and retails on her website. (See them and their line in Object Lessons: The Penguin Chair, a Midcentury Best Seller Is Back.)
Cabinetmaker Ole Gjerløv-Knudsen came up with the design in 1962 for his son's camping trip. It's put to constant use in the loft: "Our kids use it to chill, and while Peder cooks, I lounge on it. It's also our guest bed—we just add a thin mattress; it works for both kids and adults."
The daybed collapses for easy storage (and there's also an OGK Safari Chair version of the design.) The patterned pillow is made from vintage Swedish fabric and the pale pink Simple Linen Pillow is from Hawkins NYC.
The wide opening (with sliding door), she tells us, is the key to the addition's success: "When you come from a lofty space to a small room, if you keep the doorway wide, the small space doesn't feel so tiny. Initially it was too small, and then we opened it up and that made a huge difference. We also just about always keep the door open."
The bookshelf outside the room is part of the modular Vivlio system from Skagerak, which can be used as a side table or stacked as a screen.
The square marble-and-stainless-steel coffee table is the PK61 and the daybed is the PK80, both still in production from Fritz Hansen. And because Camilla believes in mixing things up—and in injecting comfort—the brown leather sofa is a departure: It's the Life Steel by Spazio Schiatti.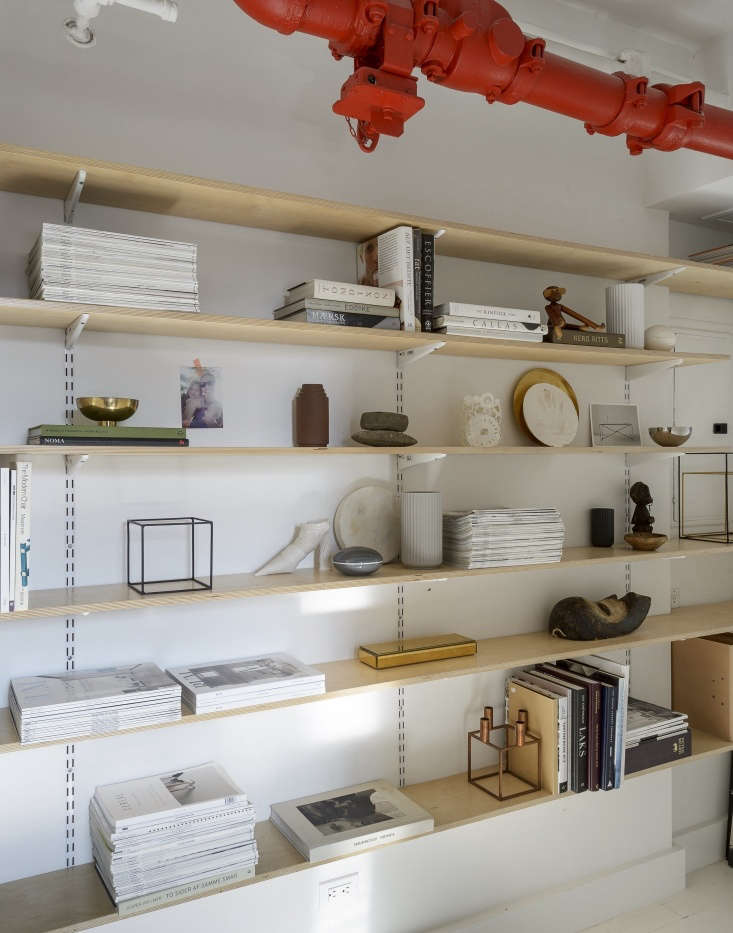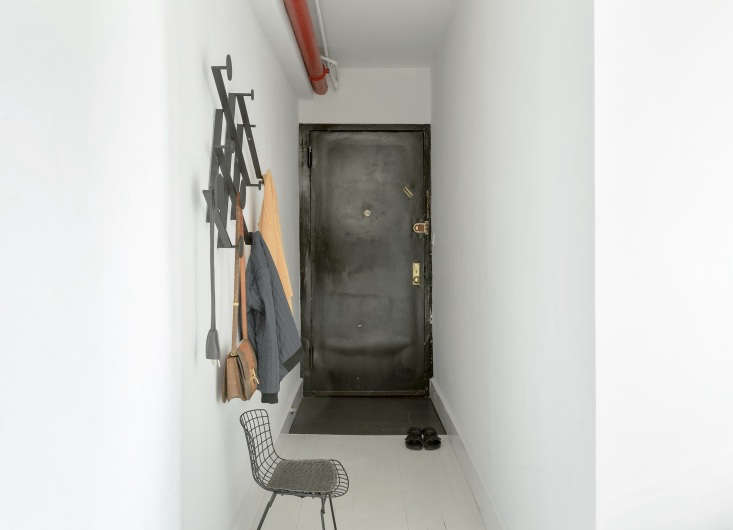 Follow Camilla on Instagram at @objects.nyc.
Nordic design fans, browse our Scandinavian archive for many more of our favorites, such as: