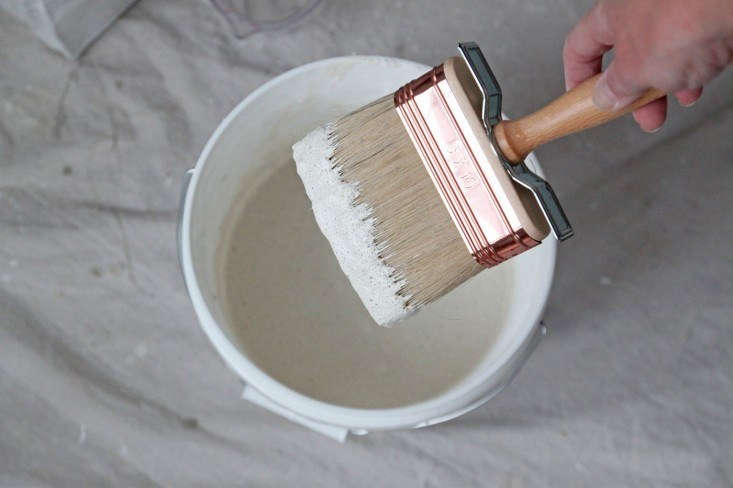 How is limewash applied?
Limewash should be applied in several thin coats using a long-haired or masonry paintbrush that creates feathered strokes. Never use a roller. Kalklitir of Sweden's "How to Apply Lime Color to a Wall" video details the application process and shows how the paint soaks in and dries.
How do I clean my limewashed walls?
Cleaning limewashed walls is not recommended, nor is it often required: Limewash's mottled, shadowy effect shows much less dirt than standard painted surfaces do. But should walls need a touch-up, simply apply a diluted re-coat of limewash.
Limewash Recap
Pros
Breathable (no condensation in damp conditions).
Natural, solvent-free, and hypoallergenic.
Absorbs odors.
Naturally bacteria-resistant.
Cons
Limited color palette.
Mottled appearance hard to control and not to everyone's liking.
May require several coats to get the desired effect.
Not easily cleaned; may require a re-coat.
Our resident paint expert, Meredith, presents All You Need to Know about VOCs in Paint. Considering wallpaper instead? Alexa found a Handmade Wallpaper Inspired by Nature. And, see all our Palette & Paints Features.
For more paint advice:
N.B.: This post is an update; the original story ran on October 2, 2014.
(Visited 54,056 times, 3 visits today)
Frequently asked questions
What is limewash?
Limewash is a type of paint that is made from a mixture of slaked lime, water, and natural pigments. It has been used for centuries to create a soft, matte finish on walls and has a unique, chalky appearance.
What are the advantages of using limewash?
Limewash offers several benefits. It creates a breathable finish that allows walls to "breathe," preventing moisture buildup and promoting healthy indoor air quality. Limewash also provides a natural and textured look, is environmentally friendly, and can be applied to a variety of surfaces, including plaster, brick, and stone.
Can I use limewash on interior and exterior walls?
Yes, limewash can be used on both interior and exterior walls. It is particularly popular for exterior applications, as it helps protect the walls from weathering and provides a beautiful, aged appearance. In interiors, limewash adds character and a sense of history to spaces.
How is limewash different from traditional paint?
Limewash is different from traditional paint in several ways. Unlike regular paint, which forms a film on the surface, limewash penetrates the substrate and forms a chemical bond with the material. It also has a more translucent and textured finish compared to the opaque and smooth finish of regular paint.
Can I apply limewash directly to any surface?
Limewash is most commonly applied to porous surfaces such as plaster, brick, and stone. These materials allow for better adhesion and breathability. Before applying limewash, it's important to ensure the surface is clean, free from loose debris, and properly prepared to promote good adhesion.
Can I change the color of limewash?
Yes, the color of limewash can be customized by adding natural pigments. This allows for a range of color options, from traditional white and off-white shades to earthy tones like ochre, sienna, or charcoal. The amount of pigment added can be adjusted to achieve the desired hue.
How long does limewash last?
The longevity of limewash depends on several factors, including the quality of the application, the porosity of the surface, and the exposure to weather conditions. Generally, limewash develops a beautiful patina over time but may require touch-ups or reapplication every few years to maintain its appearance.