Painting a room white can make it feel open, clean, spacious, quiet, or simple, and it's always the go-to when it comes time for us to paint our interiors. But there's more to white paint than you think. For example: tiny variations between white paints can give a vastly different effect on your space. Here are 10 things to know before you paint a room white.
1. Only a few white paints are actually pure white.
Many people mistakenly believe that all white paints are pretty much the same—and that are all devoid of color. Not the case: "White paints can come with bluish, reddish, yellowish, and even greenish undertones," says architect Amy Alper in Remodeling 101: How to Choose the Perfect White Paint. To see the differences, follow the suggestion of interior designer Ellen Hamilton and hold the samples against a sheet of white paper. Suddenly you'll notice the many differences and complexities in what, at first glance, seems like plain white.
Most white paints fall into three categories: warm-toned (not too bright or sterile), cool-toned (which add dimension), and "gallery" whites (which are the purest white paints, used often in art galleries). To get a sense of which is which, we surveyed architects for their favorites in each category; see:
2. All paints start out as white.
Notes California-based designer Michaela Scherrer—whose whole Pasadena house is dressed in shades of white (and who dresses herself in only white): "All paint starts out as white," she points out, "and then has tints added to it." Scherrer mixes her own white paints, starting with a base paint—like Benjamin Moore Regal's pastel base, Decorator's White, Paper White, or the white base from Fine Paints of Europe—and adding universal tints, drop by drop, to add subtle hues. Read more about her methods (and how to mix your own custom white paints) in DIY: How to Mix the Perfect White Paint with LA Designer Michaela Scherrer.
3. The same white paint will look different in Seattle than in Florida.
Ever notice that your eye color changes slightly depending on what you have on? The same rule applies to white paints. A white paint on a wall will look very different depending on where in the world you live, on what sort of light your room gets (north-facing looks entirely different than west-facing), even on what else is in the room: dark wood molding vs. white molding, or a red couch vs. a blue couch. For how to take these factors into account, consult Expert Advice: How to Choose Paint Like a Pro.
4. A fresh coat of white paint is the cheapest way to make over a room.
Can't take on a full renovation? "Paint is well-known as the cheapest and quickest way to make over a room," says veteran remodeler—and actress—Amanda Pays in 11 Money-Saving Remodeling Strategies from a Hollywood House Flipper. At an average of $30 per gallon of flat paint, plus primer (which runs $7-$15 per gallon) and supplies, a DIY paint job, done right, can transform a room on the cheap.
5. It takes 570 gallons of white paint to paint the exterior of the White House.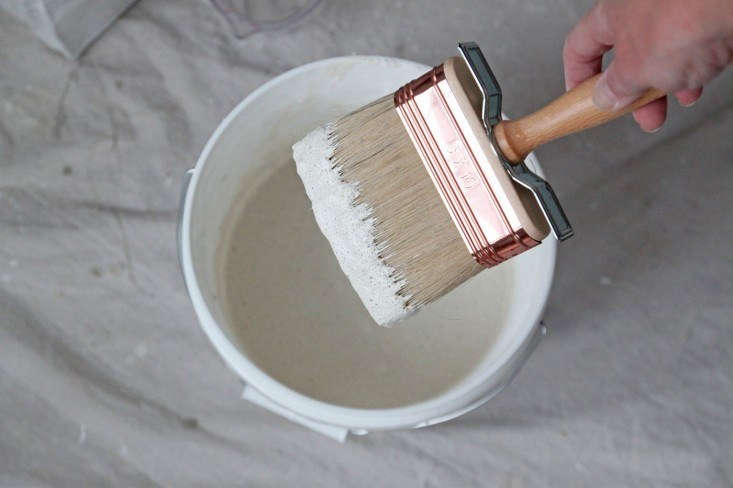 The most iconic house in the U.S. is, you guessed it, white, and it takes quite a bit of paint to keep it looking fresh year after year. (The color? It's reportedly Duron's "Whisper White," now made by Sherwin-Williams.)
6. What looks good to you now might look yellow to you later.
In her latest column for The Wall Street Journal, Michelle reveals that our perception of color changes over time: "Our physical sense of color, smell and touch changes as we get older, which means things that looked and felt good to us when we were younger may not anymore," she writes. Says expert Sally Augustin: "'The lenses in our eyes yellow as we age, so colors in spaces actually take on a tinge. When you paint the walls white and you're age 50, the color might look lovely and crisp. But to an 85-year-old, those same walls might look icky.'" Keep longevity in mind (and maybe opt for a white that skews cooler, not yellower).
7. A white bedroom can help you sleep better.
"If you're sleep-challenged—isn't everyone these days?—consider creating your own cloud chamber," writes Margot in The White Album: 27 Sleep-Inducing Bedrooms in Shades of Pale. "Fans of all-white bedrooms use words like 'tranquil,' 'blank slate,' 'no distractions,' and 'Zen' to describe the appeal." The Better Sleep Council agrees: painting a bedroom a soft white can help you relax and wind down for bed.
8. Avoid handprints and marks with gloss or semi-gloss paint.
When painting the interiors of her New Jersey house white, Fan was given an unexpected piece of advice: paint high-traffic areas—like the walls of the stairwell—in semigloss or gloss. This will make it easier to wipe off smudges and fingerprints from little (and big) hands.
9. Add dimension by using one shade of white in multiple finishes.
To transform her small house in Connecticut, stylist Kate McCann simply gave the interiors a fresh coat of white paint. The secret? She used the same shade—Benjamin Moore White OC-151—in various finishes throughout the house: matte on the walls; pearl on the doors, trim, wainscoting, and mantel; and flat on the ceiling. Photograph by David Prince; see more of the transformation in Reader Rehab: A Country House Makeover Courtesy of White Paint.
10. Selling or renting your house? White walls will help.
When Margot interviewed in-demand Brooklyn interior staging specialists Hollister and Porter Hovey for the most fail-proof ways to get your place to sell, their second most-important tip (right behind getting rid of clutter) was paint it white. "No matter how pretty the gray or how warm and charming the cream, white walls look better online, where nearly all your potential buyers will see the space for the first time," they say. "Paint the walls, the moldings, the ceilings, and the doors (unless they're beautiful natural wood, which they're probably not). The uniform blank slate will make the space look bigger and the ceilings higher. If your kitchen looks dated, paint the cabinets, too." For more of their tried-and-true tips, see Real Estate Staging with Style and Affordability: 8 Insider Tips from Hollister and Porter Hovey.
For much more on choosing white paints, see: