Why reinvent the wheel every time you need to paint a room? Even architects and designers turn to their favorite colors—versatile and universally flattering—again and again. The members of the Remodelista Architect and Designer Directory were generous enough to let us in on their secrets.
1. Simply White from Benjamin Moore
Shown here, architects Gregory Merkel and Ana Catalina Rojas used Simply White throughout their remodel featured in Two Young Architects Tackle Their Own Brooklyn Townhouse. Photograph by Carl Bellavia, courtesy of Gregory Merkel.
(For much more on what to know about white, see 10 Things Nobody Tells You About Painting a Room White.)
2. Hague Blue from Farrow & Ball
Star London chef Skye Gyngell used Hague Blue on her British Standard kitchen cabinets, shown here and featured in In the Kitchen with Skye Gyngell, London's Chef du Jour. Photograph by Alexis Hamilton, courtesy of British Standard.
3. White Dove from Benjamin Moore
It's also the color chosen by architect John Alee and designer Hannah Childs in Before & After: A Summer Cottage Reborn on the Connecticut Coast.
4. Iron Mountain from Benjamin Moore
Tatum Kendrick of Studio Hus in Los Angeles used the color in the Venice Beach bedroom shown here. "It can go classic, modern, or earthy depending on your environment and furniture," she says. Photograph courtesy of Studio Hus.
5. Chantilly Lace from Benjamin Moore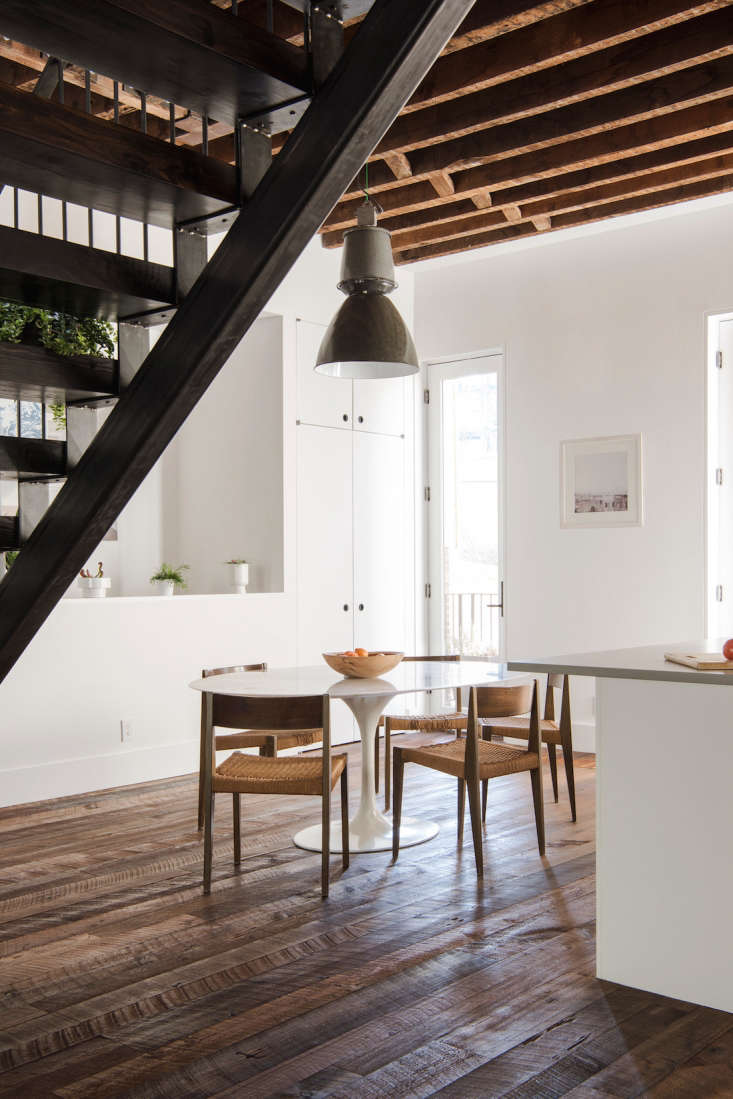 Architect Elizabeth Roberts used Chantilly Lace in this Williamsburg townhouse featured in A Whole-House Overhaul in Brooklyn with a High/Low Mix. Photograph courtesy of Elizabeth Roberts.
6. Nimbus from Benjamin Moore
Remodelista contributing editor Justine Hand used Nimbus on the bed frame in her daughter Solvi's room, shown here and featured in The Soulful Side of Old Cape Cod: Justine's Family Cottage. Photograph by Matthew Williams for Remodelista.
7. Thunder from Benjamin Moore
Justine Hand used Thunder to create a forest pattern in her son Oliver's room. See more at DIY: The Stenciled Kid's Room, Boreal Forest Edition. Photograph by Justine Hand.
8. Clunch from Farrow & Ball
Paint expert Eve Ashcraft and writer Heather Smith MacIsaac also picked Clunch as a favorite soft white in our story Expert Advice: Living in Black and White.
9. Pitch Black from Farrow & Ball
It's also a favorite of NYC architect Steven Harris, who chose the color for our story Black Magic: Architects' 8 Top Paint Picks.
10. Calamine from Farrow & Ball
Candace Partain used Calamine in her daughters' bedroom in their Bozeman, Montana, home, shown. Photograph by Vanessa Pleasants, featured in An Inspirational Montana Home, courtesy of Vintage Whites.
For more on paint, see:
N.B.: This post is an update; the original story ran on June 13, 2016.