When we think of clawfoot bathtubs, we think of luxury: deep baths you could spend all day in, with candles (and maybe a glass of Champagne). Aesthetically, we tend to prefer freestanding baths over built-in versions: they feel classic and timeless in any washroom.
But there are, we admit, a few practical downsides that could outweigh the positives. If any of the following 10 apply to you, you may want to rethink springing for a freestanding bathtub. (And remember that it's always a good idea to take a test drive: if possible, climb into a tub to check it out before committing.)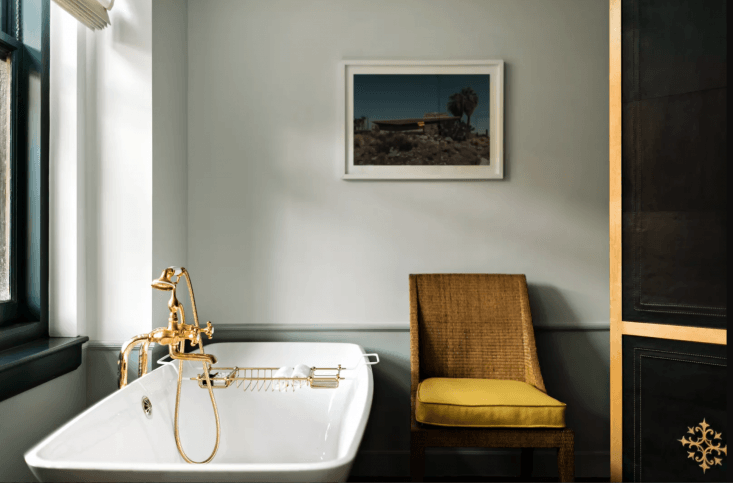 First, take note of terminology: "Traditionally, claw-foot baths had a Victorian-style ball-and-claw design, but today any tub on feet is often called a claw-foot," writes our correspondent Barbara Peck in Remodeling 101: Romance in the Bath: Built-In vs. Freestanding Bathtubs. And, not all freestanding baths have feet at all: some of the more modern, sleek versions sit flush on the floor. Nevertheless, if you're mulling over a freestanding clawfoot bathtub instead of a built-in, most of these considerations apply.
1. You like keeping soap within arm's reach.
Picture this: you're just getting into a hot bath, sink in, lean back, and start to relax, only to realize you can't reach the shampoo. A feature of built-in bathtubs that's often taken for granted is the ledge around two or three sides of the tub for stashing soap, shampoo, cloths, and candles. If you opt for a freestanding bath, you'll find you need to come up with clever new ways to keep essentials within reach—a solvable problem, for sure, but a consideration to keep in mind.
2. You're envisioning long, hot baths.
Old clawfoot bathtubs are often associated with long, luxurious baths, but unless you're OK with baths that are briefly luxurious, you may want to opt for a newer model. "Some say that the bathwater in a freestanding tub will cool faster, since it's surrounded by air," writes Barbara in Remodeling 101: Built-In vs. Freestanding Bathtubs. "If you want to ensure long, hot baths, consider a built-in, where the insulation added to the wall behind it will keep the water warm even longer, or an acrylic model, which will hold the heat longer than cast iron." (Or, just add more hot water as it cools.)
3. You have a petite bathroom.
If size is a consideration in your bath, keep in mind that older, freestanding baths tend to take up more space: they're often bigger than built-in models, and are generally installed with some space between the bath and the wall. Plus, hardware will take up extra room (see: point no. 4). Built-in options can go a longer way towards fitting a bath into a tight space.
4. You like your hardware streamlined.
Renovators (particularly those with minimalist taste) should know that the hardware in a freestanding bath will be more out in the open than in a built-in bath, where faucets and pipes can be set into the wall. The good news: there are plenty of good-looking fixtures on the market, including sleeker, more streamlined versions for those with modern tastes.
Thinking of switching from a built-in bath to a freestanding option? "Any tub requires the same basic plumbing: a water source (faucets can be mounted on the wall or on a deck beside a built-in tub), a drain, and, in most tubs, an overflow to prevent flooding if you leave the water running," notes Barbara in Remodeling 101: Built-In vs. Freestanding Bathtubs. But a freestanding clawfoot bathtub might need plumbing lines coming up through the floor. If you want to switch from one to the other, consult a plumber to see what's feasible."
5. You have limited patience when it comes to cleaning.
One consideration you may not have thought of: if you opt for a footed tub, you'll need to clean beneath it (and around the feet). Even freestanding tubs that sit flush on the floor will leave a gap between the wall and the bath that may be tough to reach when cleaning.
On the other hand, freestanding baths can be accessible from all sides if placed further from the wall or in the center of the room, making scrubbing easier.
6. You have sloping floors.
While an old, clawfoot bath is a natural aesthetic choice for an old home, keep in mind that really old homes with sloping floors will result in a sloped bath. It's easier to disguise uneven flooring with a built-in bath, which can be cut to fit (and the shoring-up covered with cladding).
7. Your bathroom is on the second floor.
Another consideration for owners of old homes: weight. "Your bathroom floor must be strong enough to support not just the weight of the tub you choose, but the weight when it's filled with water and has someone sitting inside," notes Barbara in Remodeling 101: Built-In vs. Freestanding Bathtubs. Pay careful attention to material: cast iron baths, whether built-in or freestanding, will always be heavier than acrylic. If your heart is set on a vintage cast-iron bath, or if you have an older house, always consult with a plumber or engineer first: you may need to reinforce the floor (at additional cost). Plus, cast iron baths will be extremely heavy, sometimes prohibitively so, to carry upstairs.
8. You're short.
If you're petite, have kids who will be using the bath, or are planning for the future in your home, you may want to opt for a built-in bath. Freestanding baths are harder to get in and out of: there are no walls to hold onto, they can be deeper, and footed tubs are raised an additional several inches off of the floor.
9. You have kids who like to splash.
Most of the time, built-in baths are surrounded by tiled walls on two or three sides, while freestanding baths aren't always—leaving walls and floors more exposed to water damage. If this is your only hangup about getting a freestanding bath, a simple workaround is to tile the floor and walls around the bath for a splash-proof zone (like in the bathroom above).
10. You're more a showerer than a bather.
Be honest: how often do you actually take a bath? If the answer is "once in a while," and you find yourself showering every day instead, you'll want to opt for a built-in bath over a freestanding one, hands down. You could rig a freestanding bath with a shower and curtain, but it's not ideal: water is more likely to splash out, plus being fully surrounded by a curtain can get irritating. A built-in bath will give you the flexibility of easy, mess-free showers, plus a bath, for when you're in the mood.
Lately we're debunking remodeling myths. Before you start a project, take a look at a few misconceptions, corrected:
You need to login or register to view and manage your bookmarks.