Antoine Ricardou is a perfectionist. As co-founder of Saint-Lazare, a Paris and New York-based creative studio that designs brands, places, and objects, he strives for ultimate beauty in everything he touches, from chic clothing companies like Sézane to well-appointed hotels like Le Moulin to minimalist furniture, like this A.S.L wood workbench. And he's able to achieve it because of his deep involvement in every aspect of a project. "My job is to be super focused on every single detail that is part of the narrative," he explains.
This emphasis on aesthetic excellence extends to Antoine's two-story 1950s Montmartre apartment. His landscape architect wife is equally devoted to a flawless look, but getting their two children on board is more of a challenge. "When it was just the two of us, the house was perfectly organized," remembers Antoine. "Now, it's a family home, so it's always an organic and messy place because we live in it…but I'm teaching the kids about making things beautiful."
Whether they're setting the table or cooking a meal, Antoine attempts to nudge his children towards crafting an attractive vignette. "When you come back from the market and you want to prepare lunch, sometimes the ham is packed in plastic, but other times you go to the butcher with the beautiful paper, so I'm teaching them how to make a beautiful scene with everything you bought."
Fortunately, Antoine's simple yet meticulously curated kitchen serves as a handsome backdrop for just about any spread. With clean lines and natural materials, it's a Parisian classic. Let's take a closer look.
Photography by Benoit Linero.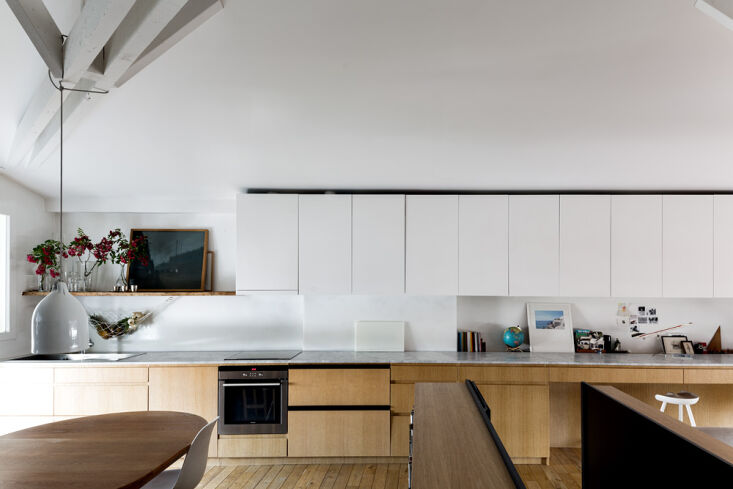 For the cabinetry, Antoine opted for clear oak on the lowers and white paint on the uppers. "I like to have a dark color on the bottom and a light color on top," he says, adding that the natural wood cupboards and matching floors anchor the space.
Antoine's small, two-drawer refrigerator, however, was more of a visual choice. He didn't want any tall, vertical appliances breaking up the horizontal planes created by his cabinetry, but the compact compartments of the drawer fridge limit him from bulk grocery shopping. "We prefer to buy food for one or two days, so it works for us," he says. "But for other people who stock a lot of food, it would not be a fit for them."
For more Parisian kitchens, see:
(Visited 11,462 times, 1 visits today)
Frequently asked questions
Where is the kitchen located?
The kitchen is located in Montmartre, Paris.
What is the style of the kitchen?
The kitchen features a beautiful, contemporary design.
What are the key features of this kitchen?
The key features of this kitchen include high-quality materials, ample storage space, and a stylish island.
Can you provide more details about the materials used in the kitchen?
The kitchen is made with a combination of natural stone countertops, wooden cabinetry, and stainless steel appliances.
Is there enough space for cooking and food preparation?
Yes, the kitchen offers plenty of space for cooking and food preparation, thanks to its large countertops and well-organized layout.
Does the kitchen have enough storage?
Yes, the kitchen has ample storage options, including spacious cabinets and drawers.
What is unique about the kitchen's island?
The kitchen's island serves as a multipurpose space, featuring a built-in sink, additional storage, and a breakfast bar.
Is the kitchen well-lit?
Yes, the kitchen is well-lit with a combination of natural light and strategically placed artificial lighting fixtures.
Are there any notable appliances in the kitchen?
Yes, the kitchen is equipped with top-of-the-line stainless steel appliances, including a refrigerator, oven, and dishwasher.
Can you share some design tips from this kitchen?
Some design tips from this kitchen include incorporating a mix of materials, maximizing storage space, and incorporating efficient lighting.