For all the wild popularity of subway tile (over 200 stories in our archives mention the term—we checked), it turns out there's still a lot to learn. Here on the Remodelista team, we've long known that subway tile is practical, timeless, and works in interiors of all types. But what exactly counts as subway tile? And, where did it come from? We have to admit, we weren't sure. So we did some digging. Here are 10 things you might not know.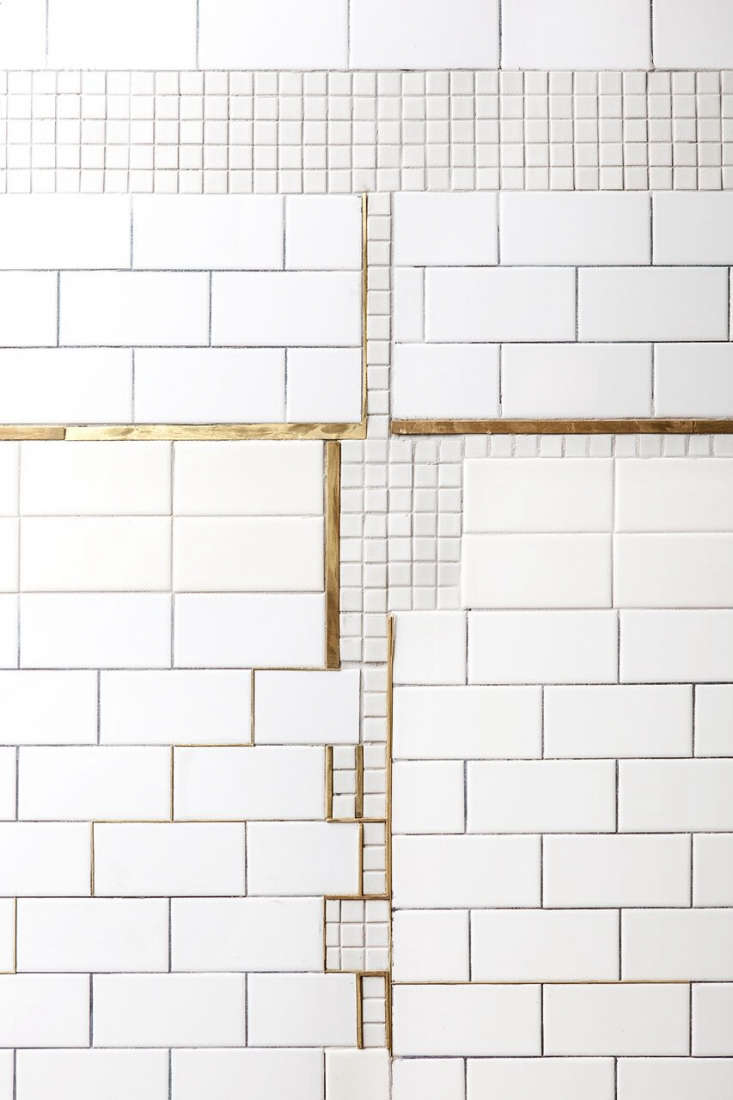 1. It originated beneath Manhattan.
As you've probably put together by now, the first subway tiles showed up below ground—in New York City's subway system. When it opened in 1904, designers Christopher Grand La Farge and George C. Heins were tasked with a tricky ask: design a surface that was easily cleaned, but would also feel familiar, safe, and friendly to city-dwellers using underground transit for the very first time. Their solution—tiles with slightly curved edges and a glossy finish—meant that the subway stations were sanitary, polished, and bright.
2. You can catch a glimpse the first subway tile—in an abandoned subway station.
Sleuths and design obsessives who want to catch a glimpse of the first subway tile can secure a visit to New York City's first subway station: the City Hall stop, now abandoned. The New York Transit Museum offers tours—but New Yorkers have been known to covertly stay on the 6 train to catch a glimpse, too.
3. It arose from an obsession with hygiene.
Subway tiles arose out of a Victorian-era fixation on cleanliness. Because of their glossy, glazed finish, they're stain-resistant, easy to clean, and reflect light. They quickly earned a reputation for being utilitarian and sanitary, and became the wall covering of choice elsewhere, from baths and kitchens to butcher shops. Nowadays, these same properties make them a practical choice for modern kitchens, baths, and more.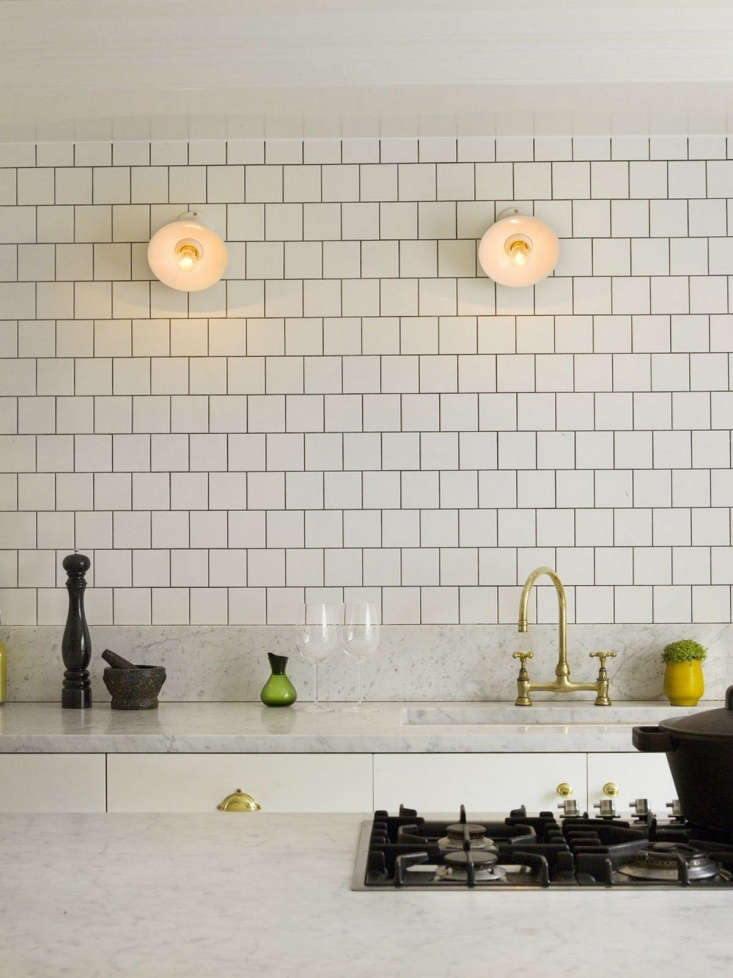 4. The classic dimensions? That's up for debate.
What exactly is subway tile? It's a bit tough to define—especially if you connote subway tile with a specific rectangular shape. While the classic subway tile measures three by six inches, the definition is expanding. Nowadays, tiles that are twice as long as they are wide are generally referred to as subway tile. And, it turns out, they aren't always rectangular anymore: "Subway tiles can be square," reveals Christine in Remodeling 101: White Tile Pattern Glossary.
5. It comes in glass and stone, too.
And if you thought subway tile could be defined by how it's made, think again. The official definition is a thin, low-fired, glazed ceramic tile. But according to the Washington Post, those very first versions in the New York City subway were actually made of white glass. Nowadays, "subway tile" is available in a variety of materials, like glass, stone, and marble, just to name a few.
6. It can cost under $1.
Subway tile varies wildly in price. The unfussy, hardware-store varieties can ring in under $1 per tile (or $8 per square foot), as in the Daltile Ceramic Bullnose Wall Tile from Home Depot; while handmade, artisan interpretations can run upwards of $60 per square foot, as in the offerings from Heath Ceramics. For a range of favorite sources (at a variety of price points), see 7 Favorite Architect-Approved Sources for Subway Tile.
7. Grout matters.
After the thought (and expense) that goes into sourcing tile, grout may be an afterthought. But it shouldn't be: the grout you choose could completely change the look and style of your subway tile. For the many considerations, from dark to light and everywhere in between, see Remodeling 101: How to Choose the Right Tile Grout and Remodeling 101: Everything You Always Wanted to Know About Grout and Caulk (but Were Afraid to Ask).
8. The pattern possibilities are endless.
You're probably picturing subway tile laid in the usual horizontal "brick" pattern. But did you know you can lay subway tile vertically—or even in a herringbone or geometric L-shaped pattern? See just a few of the possibilities in Remodeling 101: White Tile Pattern Glossary.
9. It's not for floors.
The one place you shouldn't use subway tile? On floors. Because subway tiles are relatively thin, they won't stand up to the wear and tear.
10. It's the design equivalent of a good pair of jeans.
"It's become a classic, like jeans and a T-shirt," Deborah Osburn, founder of California-based Clé Tile, told us. Think of subway tile as a timeless, practical wardrobe staple that goes with just about everything. "You can create a design statement with even the most economical tile, and dress it up or down," Osburn says. Read more of her tips in Remodeling 101: A Guide to the Only 7 Types of Tile You Need to Know.
Every week on Remodelista, we're debunking remodeling myths and unveiling a few things you might not know about design. For more in the series, see:
N.B.: Featured photograph via Light Locations, from Kitchen of the Week: Eclectic English Kitchen, Color Included.
(Visited 17,314 times, 24 visits today)
Frequently asked questions
What is subway tile?
Subway tile is a type of ceramic or porcelain tile that originated in the early 20th century and was commonly used in the New York City subway system. It is characterized by its rectangular shape, typically 3 inches by 6 inches, and its clean and simple design.
Can subway tile only be used in subway-inspired designs?
No, subway tile has become a versatile and popular choice for various design styles. While it is often associated with a classic and timeless aesthetic, it can be used in a wide range of design themes, from traditional to contemporary.
What are the different materials available for subway tile?
Subway tile is commonly available in ceramic and porcelain materials. However, there are also options in glass, natural stone, and even metal. Each material has its own unique characteristics and appearance, so you can choose the one that suits your preferences and needs.
What are the standard sizes of subway tile?
The most common size of subway tile is 3 inches by 6 inches, which is known as the classic subway tile size. However, there are other sizes available, such as 2 inches by 4 inches and 4 inches by 8 inches. Additionally, subway tile can also be found in larger formats for a modern twist.
How should subway tile be installed?
Subway tile can be installed in various patterns, such as the classic running bond pattern (also known as brick pattern) or herringbone pattern. It is typically installed using thinset mortar and grout, ensuring proper adhesion and a finished look. Hiring a professional installer is recommended for a precise and durable installation.
Can subway tile be used in areas other than the kitchen and bathroom?
Absolutely! Subway tile can be used in many areas of the home, including but not limited to kitchen backsplashes, bathroom walls and showers, laundry rooms, mudrooms, and even as fireplace surrounds. Its versatility makes it suitable for both residential and commercial spaces.
Is subway tile easy to clean and maintain?
Yes, subway tile is generally easy to clean and maintain. Ceramic and porcelain subway tiles are non-porous and resistant to stains, making them relatively low-maintenance. Regular cleaning with a mild detergent and non-abrasive cloth is usually sufficient to keep subway tile looking its best.
Can subway tile be used outdoors?
While subway tile is primarily designed for indoor use, there are certain types of subway tile, such as porcelain or specific glass tiles, that are suitable for outdoor applications. It's important to choose a tile specifically labeled for outdoor use and to follow the manufacturer's recommendations.
Can subway tile be painted?
Yes, subway tile can be painted, but it requires proper surface preparation and the use of suitable paint products designed for tile. It's important to follow the recommended techniques and consult with a professional painter for the best results.
Where can I purchase subway tile?
Subway tile is widely available at home improvement stores, tile showrooms, and online retailers. It's recommended to visit local stores to see and feel the tiles in person, and to check online sources for a broader range of options and competitive pricing.