Do you dream of a colorful bedroom? Thanks to architect Jess Thomas we do. Her Brooklyn townhouse is filled with a lot of good ideas—see our post, the Sentimental Minimalist—but it was her pale pink-on-pink guest room that really piqued our interest. As her place demonstrates, a monochromatic bedroom telegraphs an inviting completeness and calmness. The trick to achieving the look? Use serene colors and avoid monotony by introducing a range of hues and textures: the goal is a tone-on-tone, single-color space that's both nuanced and restful.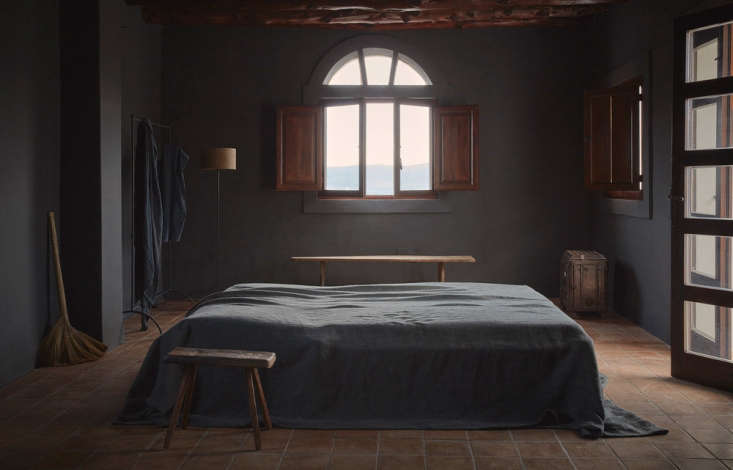 For more color inspiration, browse our Paint & Palettes posts.
Here are more bedroom ideas:
(Visited 1,246 times, 9 visits today)
Frequently asked questions
What are monochrome bedrooms?
Monochrome bedrooms are rooms decorated with a single color or variations of a single color.
What is the trend alert for monochrome bedrooms?
The trend alert is for sexy monochrome bedrooms, with a focus on 10 bedrooms from all pink to black on black.
What are some examples of monochrome bedrooms?
Examples of monochrome bedrooms include all white, all black, all pink, all gray, and variations of these colors.
What are some tips for decorating a monochrome bedroom?
Tips for decorating a monochrome bedroom include using different textures and shades of the same color, incorporating pops of metallic or contrasting colors, and using plenty of lighting to add dimension to the space.
Why are monochrome bedrooms popular?
Monochrome bedrooms are popular because they can create a sense of calm and serenity, and they allow for a focus on texture and detail rather than bright colors or patterns.