Ada Egloff and Rick Banister bought their Victorian row house in South Philly for a steal back in 2007, when they were fresh out of college: "Philadelphia real estate: How is the secret not yet out?" she asks. They've been chipping away at their place themselves ever since. And though neither came to the project with remodeling experience, they each brought talents to the table: A former vintage clothing store owner and buyer for Anthropologie, Ada runs Young Ladies, a brand-consulting agency that fosters young design companies. She has the eye and knows how to source what she's after. Rick is a UX (user experience) designer at Automattic who works on WordPress, and happens to be a hobbyist woodworker.
"The house had great bones–all original moldings, stained glass–but the 1990s kitchen was a nightmare," she says: "Drop ceilings with missing tiles, beige linoleum floors, and flimsy oak veneer cabinetry. But we left it until we had saved just enough to do it right." They gutted the room the summer of 2012, only to discover plumbing problems in that drop ceiling that derailed plans for the next six months
Finally back on track, they built out the kitchen over the course of many, many weekends, nights, and vacations, hand chiseling out the old tile and keeping a close watch on expenses every step of the way. Now complete with soapstone counters built from remnants and a secondhand Viking found on Craigslist, the kitchen is all that they had hoped. Total budget? "Since we tackled so much of the work ourselves, we were able to do it for under $20k," says Ada.  
Photography by Michael Persico.
After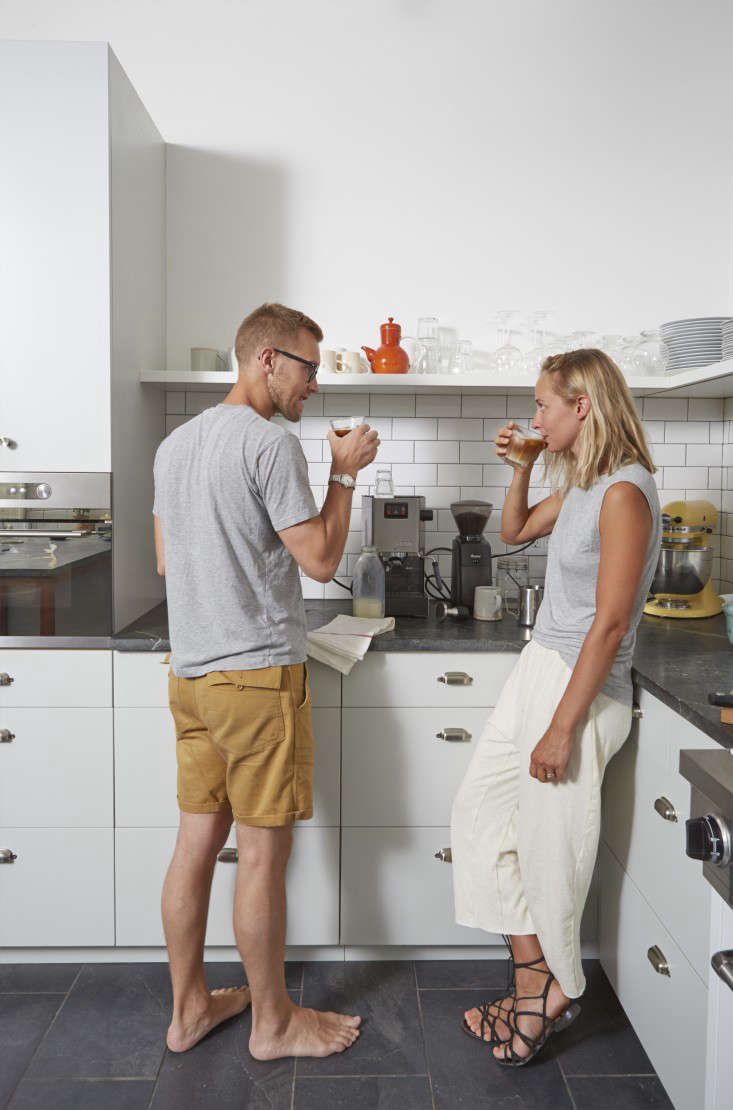 Above: Rick and Ada at their own coffee bar. 
Surprise detail? The floor looks like slate but is actually hardwearing porcelain tile found at Earthstone Tile Works in Philadelphia for about $6.50 per square foot. 
Above: The space is about 200 square feet, and Ada calls the layout "a U with a little extra something–sort of a G." Of the setup she explained: "Workspace flow was really important. We do a lot of cooking and entertaining, and wanted to be able to move easily from sink to stove, and from island to fridge. We also wanted to maximize under-counter storage so we could avoid upper cabinets and keep the space feeling open and light. As it turns out, we have more storage than we even need with just one floating shelf around the perimeter of the room."
Above: Rick built the cabinets with the help of their friend Tim Lewis, a builder/furniture designer who has his own Philadelphia studio. "The task of making them on our own would have been really daunting." They're birch plywood and have MDF fronts with hardwood-edge banding. The bin pulls are from Horten Brasses and the knobs from Restoration Hardware. (For more ideas, see 10 Easy Pieces: Bin Pulls.)
Ada and Rick bought the Viking range from a local seller on Craigslist–"it needed some updating and parts, but it was a steal at $500," she says. The stainless exhaust hood is Ikea's $399 Luftig.
Above: The farmhouse sink is made by Alfie and has an Essen Single-Handle Pull-Down Faucet. Prepping the walls before they could be painted and tiled took some doing: "Two of the walls are structural, so we had to carefully chisel off the original early 1900s subway tile that was underneath the 1990s renovation," Rick told us. "I wish it had been salvageable because they just don't make tile like that these days, but much of it was damaged, so it had to go. We then had to wire mesh and reapply the masonry layers to those walls before we could plaster and tile. It was a grueling few weeks, but a good workout."
Above: The new subway tile is Daltile's three-by-six-inch Rittenhouse Square design in a semigloss with gray grout and the counters are soapstone: "By purchasing cutoffs and seconds and cutting them ourselves, we got a deal at $15/square foot." The espresso maker is a Gaggia Classic, and the yellow mixer is from KitchenAid's Artisan Series 5. (See more options in 10 Easy Pieces: Kitchen Stand Mixers.) The orange teapot is vintage Danish.
Above: A black walnut island serves as both a prep area, grocery unloading station (the fridge stands opposite), and table. In addition to designing and creating it, Rick built the paneled ceiling and milled trim to match the original in the rest of the house. "The plywood ceiling panels come from the dance floor Rick and my father built for our wedding," says Ada. "We used three-inch poplar strips to emulate that old English tavern style."
Of the overall palette, she says, "We stuck with neutrals–white, gray and black, save for the black walnut island, which brings some warmth to the room. We wanted to have a workspace that would double as an eating area for breakfast and casual dinners, and we forfeited the potential storage space of an island for the open and airy feeling of a table."
Above: The soapstone used on the island is heavily veined: "When we rub the counters with mineral oil, the peach and mint color in the stone really shines through," says Ada. "And we like that each piece has its own character."
Above: The side-by-side refrigerator, positioned so it's convenient but not prominent, is Ikea's Nutid, and the built-in microwave next to it is also from Ikea's Nutid line. (For advice and more ideas, go to 10 Easy Pieces: Built-In Microwaves.) "We were really surprised by the quality of Ikea's appliances, including our dishwasher," says Ada. "So far, they've served us really well." The storage cupboards over the fridge are used for "dog food, paper towels, baking sheets, and weird roasting pans that don't fit anywhere else." 
Before
Above: "The place was dingy and came with pests we had to get under control."
Above: The first weekend of demolition.
Above: Peeling back the layers revealed damaged wallpaper and subway tile. "We wanted to modernize the space but keep the overall vibe true to the earliest kitchen this house would have had."
Remodeling your own kitchen? Explore our Kitchens of the Week, including A Young Couple's Brooklyn Kitchen Reinvented and a Low-Cost Cabin Kitchen for a Family of Five, Faux Soapstone Included.
You need to login or register to view and manage your bookmarks.