What happens when a new homeowner with an aversion to window coverings moves into a period flat in London adorned with shutters? She falls in love. I speak from firsthand experience. Until then, shutters had conjured up images of Southern plantations and retirement community homes; in other words, I didn't think they were for me. But my time in London set me straight. More versatile than shades and curtains, shutters allow you to filter light at exactly the level you want while offering privacy, insulation, and air circulation. Can this time-honored, low-tech window treatment do it all?
How did shutters come to be?
Shutters were originally used on the inside of windows before glass was affordable to keep out light, noise, pests, and the elements. After plate glass was developed, shutters continued to be used to provide privacy and protect the glass (it was expensive). Early shutters were typically flat wood or board-and-batten panels. Louvered shutters, which provide both ventilation and privacy, arrived in the mid 18th century and adjustable louvers were developed in the mid 19th century.
Interior shutters, common in houses in Europe and in early America, lost favor in the Victorian era, when heavy interior drapes became de rigueur. Shutters made a comeback with the revival of classical architecture, but the development of new building technologies (storm windows, screens, and HVAC systems) and the popularity of postwar building materials, such as aluminum and plastics, relegated them to a mostly decorative role in the 20th century. Of late, as green building efforts gain momentum, these old-style architectural features are again on the rise.
What are the benefits of interior shutters?
Offer flexible light and privacy control that you can't get with curtains, shades, or blinds.
Allow ventilation in warm months—unlike drapery, they let in breezes while providing privacy.
Act as a sunshade and light reflector, keeping interiors cool.
Provide a layer of insulation in cold months.
Protect interior furnishings and floors from sun damage.
Can be custom designed to fit virtually any window.
Take up very little space, both physically and visually, making them a good solution for windows with little adjacent wall real estate for curtains.
Available in different styles and configurations.
Fit a range of architectural styles, from classic to minimalist.
What are the different types of shutters?
Shutters differ in how they're mounted and how they're made.
Solid Panel
The ultimate privacy screen, solid-panel shutters are also good insulators against cold and are effective at dampening noise from outdoors.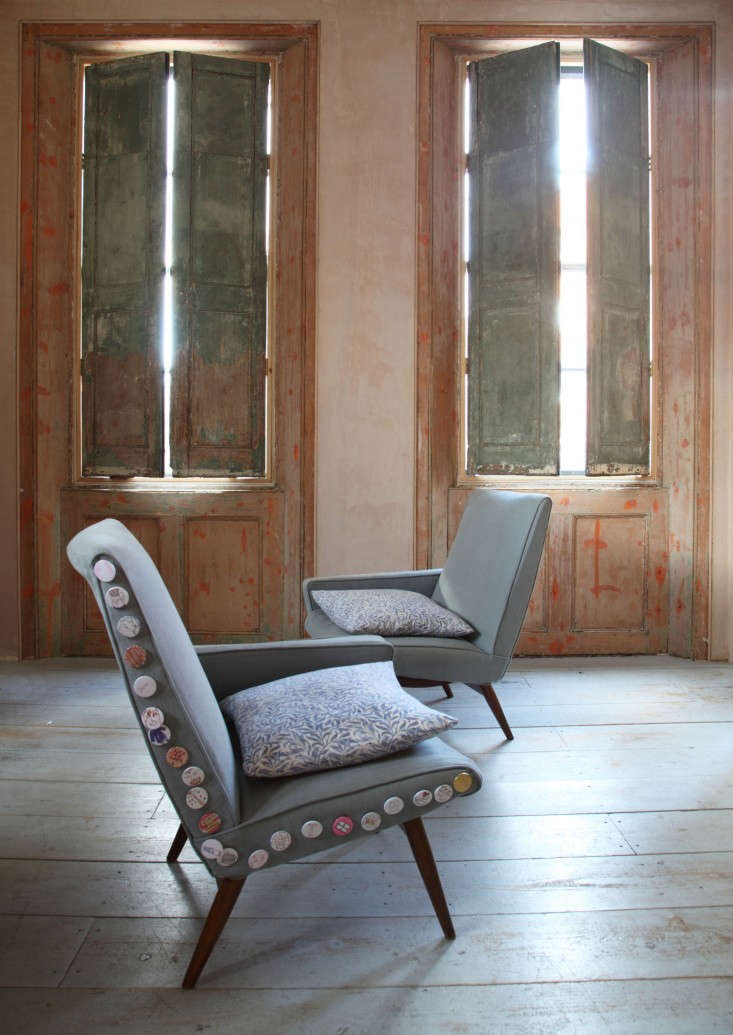 Louvered
Adaptable to different light, privacy, and air-circulation needs, louvered shutters are the most flexible option. They can be adjusted for maximum privacy while allowing light and circulation. Louvered shutters are generally classified as traditional or plantation. What's the difference? Plantation shutters have wider blades, allowing for more flow of light and air.
Tier on Tier
Tier-on-tier shutters have stacked upper and lower panels that function separately. They offer the most flexibility in light and privacy control. You can open the top level to let in light while keeping the bottom panels closed for privacy.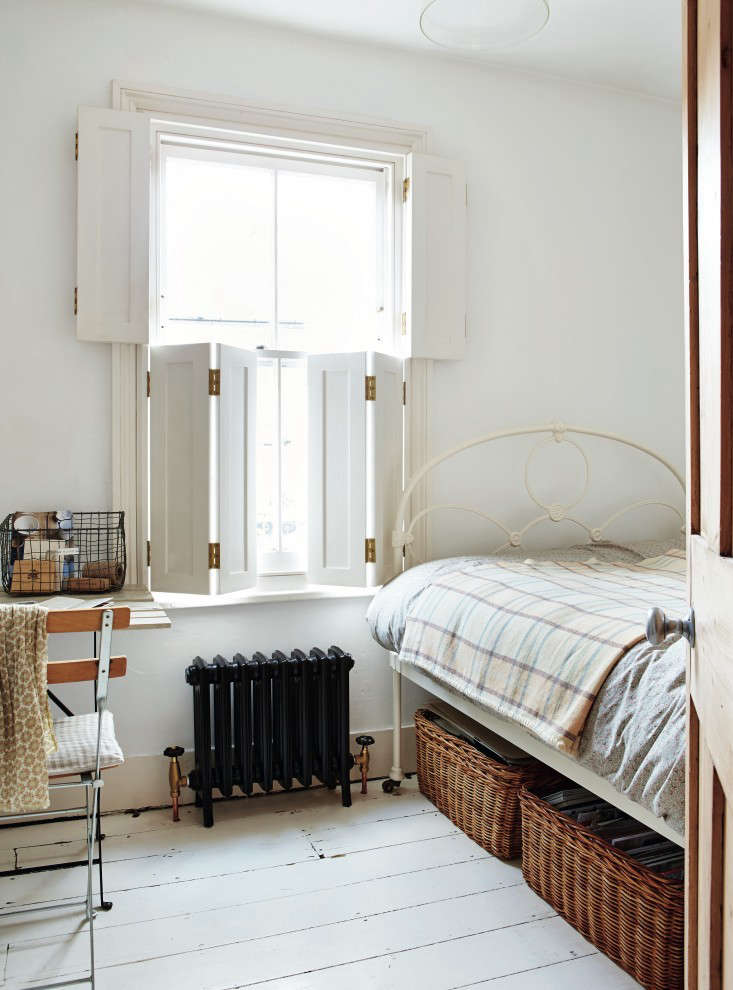 Cafe
Cafe shutters cover only the lower portion of the window, providing privacy as well as loads of light.
Full Height
Where can shutters be used?
They work anywhere that there's a window, whether living room, kitchen, bedroom, or bath. When selecting shutters consider the architecture of the window itself. For example, if your window has two panes, it will look more balanced with a two-paneled shutter.
How are interior shutters mounted?
As far as we're concerned, the only shutters worth considering are the ones that are operable—forget about the faux variety—and installation is easy. In historic construction, shutters typically were attached to the window casing and given their own specially constructed pockets next to windows to tuck into when open. Most windows don't have such deep-set surrounds anymore. Instead shutters are generally attached to the outside of the window casing, so they can swing a full 180 degrees when open (the hinge fold needs to sit just outside the casing for full range of motion). Sometimes this requires an additional frame set into the window opening. Panels can also be hinged together, creating a space-efficient folding shutter mounted to only one side of the window. This Old House offers a thorough tutorial on Hanging Interior Shutters.
How much do shutters cost and where can I get them?
Shutters come in a wide range of sizes and prices, from ready-made versions you install yourself to custom designs. Average prices for shutters run between $20 and $35 per square foot, depending on the wood selection, whether they're stock sizes or made to measure, and painted or unfinished. Carpenters will be able to fashion solid or plantation shutters for you, but it can be cheaper to instead use a specialist company. There are a lot of shutter businesses out there, ranging from large national chains, such as the Shutter Store, that offer a variety of stock sizing and materials options, to Colonial Shutterworks, which handcrafts all orders. Many companies have easy-to-use pricing calculators on their sites.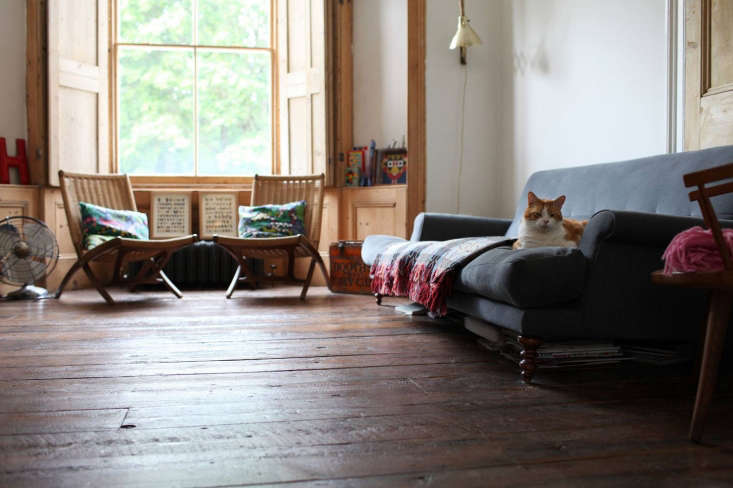 Interior Shutters Recap
Pros
Allow flexible control of light and privacy.
Insulate against winter cold and summer heat.
Take up little space.
Provide an affordable alternative to drapery.
Are easy to clean and maintain.
Cons
Don't offer the soft look of curtains.
Solid-panel varieties lack flexibility for light and circulation control.
For more window treatment ideas, see: