My accommodations in architecture school came with windows but no window treatments. Living on a student budget, I did nothing, a solution that suited me just fine—the purist in me strongly believed that windows should be allowed to do their job of letting light in unfettered by the messiness of curtains or the clutter of Venetian blinds. And then one day a friend pointed out that while I may be comfortable exposing myself for the sake of architecture, those with a view into my room at night might not feel the same way. The owner of the local hardware store suggested roller shades. I installed them myself—my first DIY—and have been committed to their simple effectiveness ever since. Read on to see why roller shades have been my one and only window treatment everywhere I've lived.
What are roller shades?
A roller shade is a rectangular swath of material attached to a wooden dowel or metal tube and mounted between two brackets. A chain pulley system or a spring mechanism rolls the fabric up and down. Automated roller shades are available, but automation seems to unnecessarily complicate things. That said, hanging cords and loops present a bona fide hazard in houses with young kids; read this New York Times report on the subject before selecting the right model for you.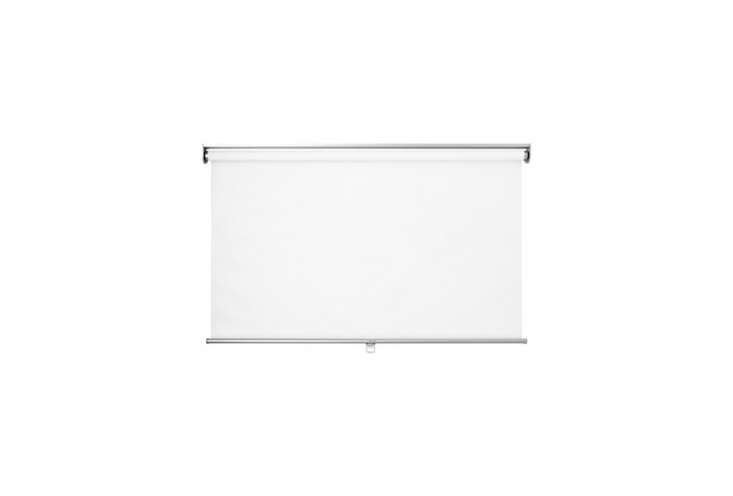 Why are roller shades the best window treatment?
I like for the dimensions of my windows to be fully exposed, and in their open position, roller shades disappear in a way that curtains, shutters, Venetian blinds, and Roman shades never do. And when I have to lower them, roller shades have a visual consistency that allows them to become part of the architecture as opposed to an added layer of decoration. Though, conversely, curtains can add a grandeur that shades lack, and they can keep out drafts.
How much light can roller shades let in or block out?
There are scores of roller shade fabric options, from sheer to opaque, to provide the degree of control you're after. In our house in London, we wanted two extremes: to let in as much light as possible during the day but to black out all early morning light. We needed shades on all our windows because we have a privacy issue on the street front, and throughout the house the windows cause computer glare. For visual consistency, we chose the same sheer fabric for all windows, and our solution in the bedrooms was to install a double roller shade with sheer fabric on one roller and a blackout shade on the other.
What type of settings do roller shades work well in?
In their simplicity, roller shades have a neutral appearance and go with all styles of decor, from traditional to contemporary. They can be mounted a number of ways: in between the window frames (but beware that some light may leak in from the sides), in front of the window frames, or even from the ceiling. The mounting options, of course, depend on your existing conditions. When roller shades are mounted between the frames, the windows stand out; if they're mounted in front of the window frames, they typically mask the frames; and a ceiling mount can make a room feel taller.
Do roller shades require upkeep?
It's recommended that roller shades be cleaned once a year (curtains, because they harbor dust mites, require more frequent cleaning—three to four times a year depending on how prone your family is to allergies). Cleaning roller shades is relatively straightforward: Remove them from their brackets, roll them out on the floor, and towel them off with a mild cleaning solution. Curtains, on the other hand, need to be dismantled, washed, and pressed—or dry-cleaned—and then remounted. In my time-pressed schedule, maintaining roller shades doesn't fill me with nearly the dread that cleaning curtains does, increasing the likelihood that it may happen.
How much do roller shades cost, and where can I get them?
Roller shades come in a wide range of sizes and prices, from ready-made versions you install yourself to designs that are made to measure. At Home Depot, a Bali Cut-to-Size White Light Filtering Vinyl Roller Shade costs 50 cents a square foot, while made-to-measure roller shades from Levolor, The Shade Store, and Smith & Noble cost around $9 to $15 a square foot, depending on fabric and accessories. The Shade Store offers trained installers who will come to your house to measure—and later hang—your shades at an additional cost; Margot tried this and was happy with the results. Well-known brands such as Levolor and Hunter Douglas may be ordered online or through window covering specialists in your area. In the Bay Area, Julie uses Burris Window Shades.
Roller Shades Recap
Pros
A clean look that becomes part of the architecture.
More cost-effective than curtains.
Easier to clean and maintain than other window treatments.
Cons
Roller shades with cords present a safety hazard for young kids.
Not as effective as curtains at keeping out drafts.
When installed between window frames, a bit of light seeps in through the tiny gap between the shade and the frame.
Less formal or elegant than curtains.
For more window treatment ideas, see Five Ways to Cover 50 Windows on a Budget, The Shingled House DIY: Easy Burlap Shades (for Less Than $20 Each), and Remodeling 101: The Ins and Outs of Smart Window Shades. Contemplating a remodel? Have a look at all our Remodeling 101 posts.
N.B.: This post is an update; the original story ran on March 6, 2014, as part of our Velvet Underground issue.
(Visited 1,264 times, 2 visits today)
Frequently asked questions
What are roller blinds?
Roller blinds are window coverings made of a single piece of fabric that can be rolled up or down using a mechanism at the top. They provide privacy, light control, and can be used for both decorative and functional purposes.
Can roller blinds be customized to fit my windows?
Yes, roller blinds can be customized to fit different window sizes. Many manufacturers offer made-to-measure options, allowing you to choose the exact dimensions to suit your windows.
What types of fabric are available for roller blinds?
Roller blinds come in a variety of fabrics, including sheer, blackout, and sunscreen materials. Sheer fabrics allow diffused light to enter while providing privacy, blackout fabrics block out light entirely, and sunscreen fabrics filter light while maintaining visibility.
Are roller blinds easy to install?
Roller blinds are generally easy to install, especially if you choose a standard size that can be easily mounted within the window frame. However, if you opt for custom-made blinds or have complex window structures, professional installation may be recommended.
How do I clean roller blinds?
The cleaning method for roller blinds depends on the type of fabric. Most fabric blinds can be cleaned with a soft cloth or a vacuum cleaner with a brush attachment. For tougher stains, spot cleaning with mild soap and water is usually effective. It's important to check the manufacturer's cleaning instructions for specific guidance.
Can roller blinds be motorized?
Yes, roller blinds can be motorized for added convenience. Motorization allows you to control the blinds using a remote control, smartphone app, or even through home automation systems. Motorized blinds are particularly useful for hard-to-reach windows or when you want to automate their operation.
How long do roller blinds typically last?
The lifespan of roller blinds can vary depending on the quality of the materials and how well they are maintained. On average, good-quality roller blinds can last anywhere from 5 to 10 years or more with proper care.