The average life expectancy of refrigerators is 10 to 20 years, meaning we buy fridges less frequently than cars. But most of us spend just a fraction of the time and energy researching and test driving fridges than we do our next set of wheels. Meanwhile, the menu of refrigerator options in size, style, configuration, and features keeps growing. Where to begin? Simplify the process by narrowing your focus to what will best fit your kitchen, your food-shopping and storage habits, and your aesthetics.
The good news is that there's a fridge for virtually every budget, space, and cook's need. Also rest assured that the latest refrigerators are likely to more energy efficient than the one currently sitting in your kitchen—that's thanks to more efficient cooling technology and enhanced insulation. That said, the models to look for are Energy Star–certified, meaning they use 20 percent less energy than current federal standards and 40 percent less than models produced a decade ago.
Ready to start shopping? Before you begin, here's what you need to know.
What are your kitchen's size constraints?
Refrigerators–and refrigerator openings–are not standard in size. To figure out what's viable for your kitchen, pull out a measuring tape and jot down measurements for the following three areas.
The Maximum Size of Your Fridge Opening: The size of the opening where the refrigerator will live determines the types and variety of selection available. It's important to know not only the height and width, but also the depth of the opening. Also, most refrigerators need about an inch of clearance on all sides to prevent overheating.
Available Space for Your Door Swing: "Not considering door swing clearance is the most common mistake we see people make," says Julie LaCap, owner of Contractor's Appliance Source in San Francisco. This is especially important if the refrigerator is across from an island or if it is placed next to a wall. If the handle of the refrigerator opens into the wall, the door can't open fully. Space considerations will affect the choice of whether the door opens from the left or the right, and the style of door configuration (see below).
The Size of Your Kitchen Entrance: While a 48-inch wide refrigerator may sit beautifully along your kitchen wall, it might not be able to squeeze through the kitchen door for installation.
What kind of cook and food shopper are you?
A key driver in selecting a refrigerator is storage needs, both in terms of capacity and interior configurations. Interior capacity is measured in cubic feet. The industry definition of a typical storage need is four to six cubic feet per person—but typical when it comes to food storage needs is tricky to pinpoint. That's why it's important to assess your cooking, food shopping, and food storage habits.
Are you a once-a-week shopper who needs to maximize capacity, or a daily market shopper who needs less space but more produce drawers?
Are you an entertainer? Think carefully about what you need to refrigerate and store for your dinner parties. Maximum shelf area for platters? Flexible door shelving to hold bottled drinks?
Do you cook and freeze? Do you keep a large selection of frozen foods on hand? Then pay close attention to the freezer configurations. Scrutinize not only the division of space between refrigerator and freezer, but also the inner configuration of the freezer itself.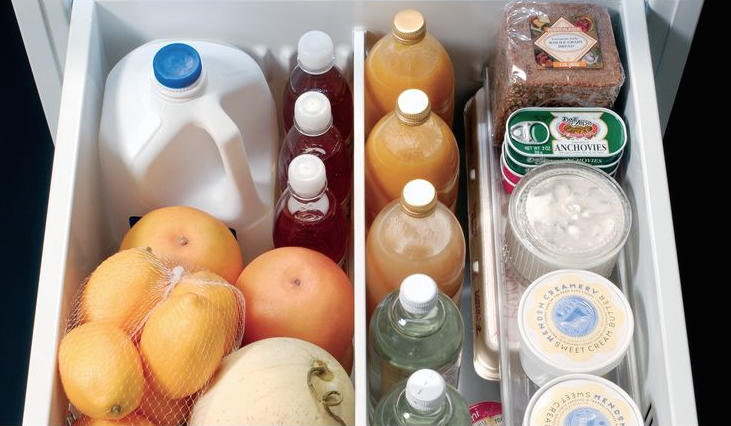 What types of refrigerators are available?
There are four primary types to consider:
Freestanding Refrigerators: These refrigerators come fully finished on both sides and on top, so they can stand adjacent to a counter without any custom cabinetry required. Most often freestanding refrigerators slide in an alcove that has been designed for such use. This type is best for the budget-conscious buyer. Word of warning for those replacing an old freestanding refrigerator with a new one: Don't assume the new fridge will be an exact fit, even if it's the same model updated: advances in energy efficiency have brought the need for more insulation and have added a few inches to the depth of many units.
Built-In Refrigerators:  Installed to be flush with the surrounding cabinets, built-ins typically have custom door fronts (added to match the cabinetry), and require installation by a contractor. Most commonly offered in 24- to 48-inch widths and hovering around 84-inches tall (thanks to vents at the top or the bottom), these refrigerators are shallower than typical freestanding models. The lack of depth is typically made up for in wider widths. Some people prefer the shallower space because it's easier to see and reach items. Built-ins are at the high end of the cost spectrum.
Cabinet-Depth Refrigerators: Designed to give the built-in look at a lower cost and without custom cabinet work, these freestanding refrigerators align flush with cabinets (to make this work, these designs are typically 24 inches deep–standard cabinet depth–while most freestanding models are 27 inches deep). Note that cabinet-depth models require an inch or so of breathing room on the sides and top so as not to overheat. A flexible option, cabinet-depth refrigerators are available in many heights.
Under-Counter Refrigerators: Refrigerator drawers and compact, swing-door models have gained traction in the past few years as a great solution for small kitchens; they also work well as second fridges for beverages and party foods. They typically measure 24-by-36 inches and fit into a standard dishwasher-sized cabinet opening. Built-in models sit flush with cabinetry and vent out the front. Freestanding compact refrigerators vent out the back and require ample room on all sides to avoid overheating.
What are the different styles and configurations?
When it comes to full-size refrigerator selection, the door style and freezer/refrigerator configuration are key. The good news is that a proliferation of sizes and styles are available at a wide range of price points. Here are the four most common types to consider:
Top Freezer Refrigerators: These offer the best storage-to-size ratio of all the options—and at the most affordable prices. How are your knees and back? A drawback is that you have to bend down to access the lower fridge shelves and produce drawers.
Bottom Freezer Refrigerators: Bottom freezer fridges are the bestselling style, and for good reason: Most people access their refrigerator compartment 10 times more frequently than the freezer, so it makes sense to have the refrigerator at eye (and arm) level. Bending down is required for freezer access, but choosing a bottom freezer drawer instead of a door makes access easier.
Side-By-Side Models: Side by sides offer two full-height freezer and refrigerator compartments with doors that open from the center. The doors are half the width of standard refrigerator doors, making this style a good choice for spaces with tight door clearance. A downside is narrow interior compartments that prevent placement of platters and other large items.
French Door Refrigerators: This setup has two side-by-side doors fronting the refrigerator compartment plus a bottom freezer drawer. Favored by many for their space efficiency (opening the doors requires half the space of full-size doors) and energy efficiency (opening one French door keeps more cold air inside as compared to one large swing door), they are loathed by others who complain about the clumsy two-door maneuvering (one door has to close before the other for it to seal properly).
What features are important to you?
The menu of enticements offered by manufacturers is vast. Offerings range from the practical (adjustable door bins) to the over-the-top (built-in entertainment centers). One thing is certain: More features translate into a higher price tag. Before succumbing to the bells and whistles, look hard at your cooking and shopping habits (see above). And, take a test drive. Visit showrooms to see, touch, and test the extras. Some of the key features to consider include:
Adjustable Shelves and Door Bins: This feature is at the top of my list. Adjustable shelves and door bins increase the functionality of the interior enabling instantaneous interior configuration changes to handle the infrequent oversized birthday cake or case of bottled water for a party. Pullout shelves are another option.
Ice Makers: What used to be a rarity is now a built-in feature in many models. If not part of the package, it can be added without a huge outlay.  Bear in mind, however, that a waterline connection is required.
Water and Ice Dispensers: Many refrigerators have external water and ice dispenser options. This is a choice of convenience (will you use it?) and aesthetics (do you mind the dispenser-opening on the front?). Recently, more makes are offering internal water dispensers that solve the aesthetic issue.
Individual Cooling Zones: This is a recent phenomenon offered in high-end refrigerators enabling designated sections to be cooled at different temperatures for optimal food storage (and, manufacturers say, longer food life).
Lighting: As anyone who has fumbled in the dark looking for the secret sauce in the back corner of the fridge can testify, lighting is not to be ignored. Again, try this out at the showroom. What may be illuminating for some can feel like Broadway lights to others.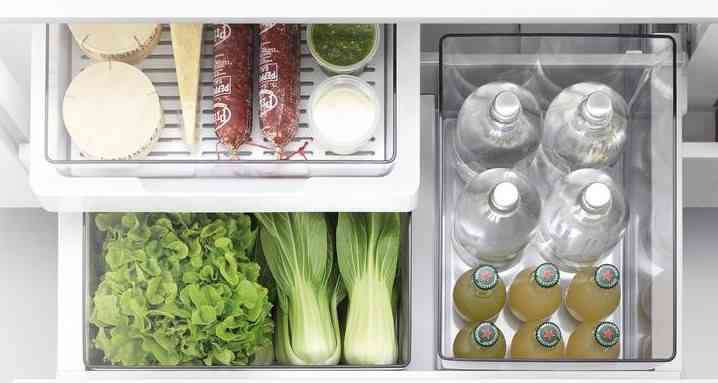 What about the aesthetics?
For those overwhelmed by all the options, the good news is that the finish choices are more limited in scope. Most refrigerators are offered in white, black, and stainless. High-performance refrigerators tend to be limited to stainless steel or panel-ready (add your own custom cabinetry). For those who want a distinctive look or color, specialty brands such as Aga and Marvel, Smeg, and Big Chill are worth considering. Handles are another consideration, though many models do not offer a choice.
Refrigerator Care Tips
Periodically vacuum accumulated dust from the refrigerator's condenser coils. These are typically located along the back of the machine on stand-alone models, and behind the grill vent (on the top or bottom front) of built-in models.
Clean the door seals once or twice a year (or as needed) with a soft-bristled brush and mild cleaning solution, such as vinegar or baking soda and water. Built-up dirt and food residue on the door seals reduces their effectiveness, allowing air to escape and requiring your refrigerator to work harder to keep cool.
Change your water filter periodically if your refrigerator has a water dispenser or ice maker. Requirements vary from model to model; consult your appliance manual.
Refrigerator Selection Recap
Key Considerations:
Determine your budget.
Know your size constraints.
Assess your cooking and shopping habits to determine your storage needs.
Explore the types and styles of refrigerators that best match your needs and desired looks.
Take stock of the features available.
Select a finish.
Provide your fridge with periodic care—it's the equivalent of changing the oil in your car.
For information on specific refrigerators brands and models, see our posts:
Remodeling your kitchen?  Read our Remodeling 101 Features, and don't miss Expert Advice: 15 Essential Tips for Designing a Kitchen.
Finally, get more ideas on how to evaluate and choose your kitchen refrigerator in our Remodeling 101 Guide: Kitchen Refrigerators.
N.B. This post is an update; the original story ran on April 17, 2014.
You need to login or register to view and manage your bookmarks.