Perfectly situated in the corner of my Cape Cod kitchen (which you can see in our new book, Remodelista: A Manual for the Considered Home), stands the cottage's original wooden icebox. Alas, no longer functional, it's used for storage of sundry utensils and pans. But often when admiring its craftsmanship, I fantasize about its contemporary equivalent–something equally spare and beautiful on the outside, and fully modern on the inside.
It appears that my dream has been answered: Italian manufacture Meneghini makes a line of premium refrigerators based on "la ghiacciaia," the icebox. Housing a sleek interior engineered by top German manufacturer Liebherr, Meneghini refrigerators look remarkably similar to my antique version, right down to the wooden door panels and large hinges. Better yet, these made-to-order fridges are fully customizable in terms of size, features, and finish, making them a perfect option for any space.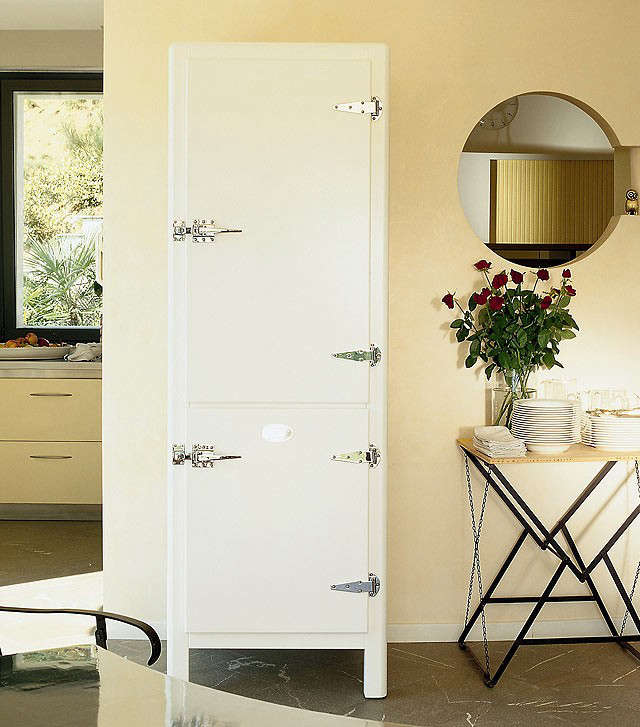 Above: Available via UK appliance dealer Robeys, Meneghini's Single Tall Refrigerator/Freezer is ideal for small spaces, though, unfortunately, not small budgets–at £6,880 for this compact model, a Meneghini fridge is definitely an heirloom item.
Above: A roomier option, Meneghini's original La Ghiacciaia Icebox, £7,997, is Nigella Lawson's choice. For maximum capacity, Meneghini also makes a three-door fridge, La Cambusa; £16,400.  La Ghiacciaia models, like all Meneghini refrigerators, are available in 250 different lacquered finishes, as well as in cherry wood, aged walnut, cedar of Lebanon, mahogany, fir, and oak.
Above: Almost as elegant on the inside as on the exterior, a Meneghini refrigerator can be customized with all the modern bells and whistles.
Above: Yet another stylish option, Meneghini's Mia features freezer drawers and sleek claw feet; £6,960.
Looking for more ways to keep your cool? See all our dream refrigerator picks.
You need to login or register to view and manage your bookmarks.