Consider this: Most people purchase cars more frequently than they do refrigerators. So while a high-end refrigerator may seem like an extravagance, over time, it pays off. Here are our top picks based on personal experience, consumer ratings, reader comments, and recommendations from kitchen appliance specialty stores (for more options, see Undercounter Refrigerators and Appliances for Small Kitchens).
N.B.: While we've provided links to online retailers, note that several brands can only be sold in the state where the appliance will be installed. Visit the manufacturer's website to locate dealers in your area.
Above: Sub-Zero is the standard-bearer, with dual compressors (separate cooling units for the freezer and the refrigerator provide control over temperature and humidity and prevent freezer burn). The latest models are Energy Star–rated and feature an airier interior with brighter lighting. The Sub-Zero BI-36U 36-Inch Built-In Bottom-Freezer Refrigerator is $9,249 through approved dealers.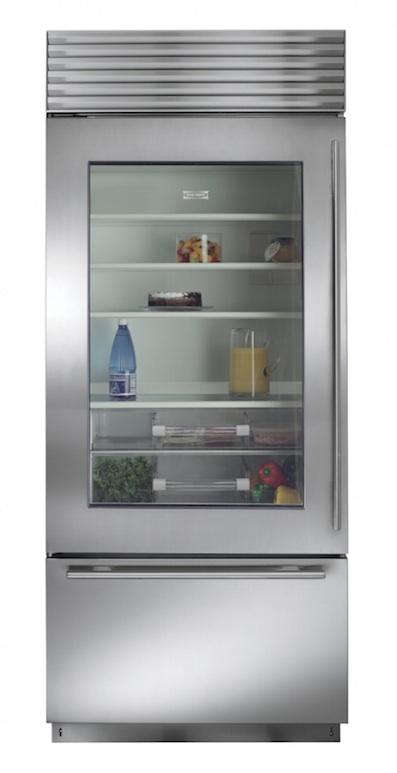 Above: We are personal fans of the Sub-Zero BIUG-36; $9,949 through approved dealers.
Above: The dual-compressor Miele Independence Series KF1911SFSS Stainless Steel Refrigerator features a streamlined profile and independent temperature controls for food drawers and a (very bright) ClearView Lighting System, which has its fans as well as its detractors; $8,395 at AJ Madison.
Above: The Leibherr HC-2060 Built-In 36-Inch Refrigerator offers dual-compressor refrigeration at a significantly lower price point than Sub-Zero and Miele; it's Energy Star–rated and has garnered good consumer reviews. The shelving and lighting are not quite at the level of the top brands, but the freezer is conveniently divided into two drawers; $5,799 at Plessers.
.
Above: The Thermador Freedom Collection (T36IB70NSP) 36-Inch Refrigerator is a highly rated, Energy Star–qualified dual-compressor unit that installs flush with cabinetry. The Thermador interior features shallower main shelves and deep, insulated door shelves and an exceptionally large freezer; $7,099 (panel-ready; a stainless steel panel kit is an additional cost) at AJ Madison.
Above: The Jenn-Air 36-Inch Fully Integrated Built-In Bottom-Freezer Refrigerator (JB36NXFXRW) gets consistently high ratings from consumers and gains kudos for its superior energy efficiency (though it is not Energy Star–qualified) and the quietness of its operation; $5,599 (panel-ready) at Hawthorne Appliances.
Above: The highly rated, Energy Star–qualified GE Monogram ZICS36NXRH has excellent shelving and sealed drawers for food storage; $5,848 at US Appliance.
Above: Another crowd-pleaser is the Energy Star–qualified Kitchenaid Architect Series 36-Inch Built-In Bottom-Freezer Refrigerator (KBRC36FTS); $5,449 at Plessers.
Above: The Electrolux Icon Professional Counter-Depth Refrigerator (E23BC68JPS) with French doors and bottom freezer looks similar to more expensive built-in models and costs $3,199 at Plessers.
Above: Another refrigerator with a built-in look to consider is the LG Cabinet Depth French Door Refrigerator (LFC21776ST); $2,199 at Plessers.
Finally, get more ideas on how to evaluate and choose your kitchen refrigerator in our Remodeling 101 Guide: Kitchen Refrigerators.