Who doesn't long for a bedroom that acts like a lullaby? If you're sleep-challenged—isn't everyone these days?—consider creating your own cloud chamber. Fans of all-white bedrooms use words like "tranquil," "blank slate," "no distractions," and "Zen" to describe the appeal. There's also an automatic tidy look that comes with opting for all white: a single color creates cohesion and, like a T-shirt, can stylistically go in any direction.
Too much etherealness, however, can be chilly and soporific (not necessarily in a good way). The key to a successful all-white approach is to introduce texture, slip in subtle patterns or varying shades of pale, and to accessorize with books, art, plants—or simply a wonderful view. Here are 27 standouts that demonstrate the great versatility of all white.
Under the Rafters
How to select the right white for your room? For advice, take a look at 10 Easy Pieces: Architects' White Paint Picks and How to Choose the Perfect White Paint.
Explore the whole project in our book Remodelista: A Manual for the Considered Home. Photograph by Matthew Williams for Remodelista.
Her advice is to take stock of your shades of white and make sure they "marry up" by holding them against each other: "You may not realize it, but your white bed linen could be a very warm white and your white joinery might be a very blue white." Her paint of choice for bedrooms is pure white pigment (titanium dioxide), "the base they use for mixing all whites: it's a fresh, glowing white that works with everything."
Minimalist's Dream
Bright (Removable) Accents
Historic White
Explore the rest of the project in
The Architect Is In: The New Connecticut Farmhouse, Sustainable Edition
. And find more Shaker inspiration in
16 Ideas to Steal from Canterbury Shaker Village
.
Studio Apartment White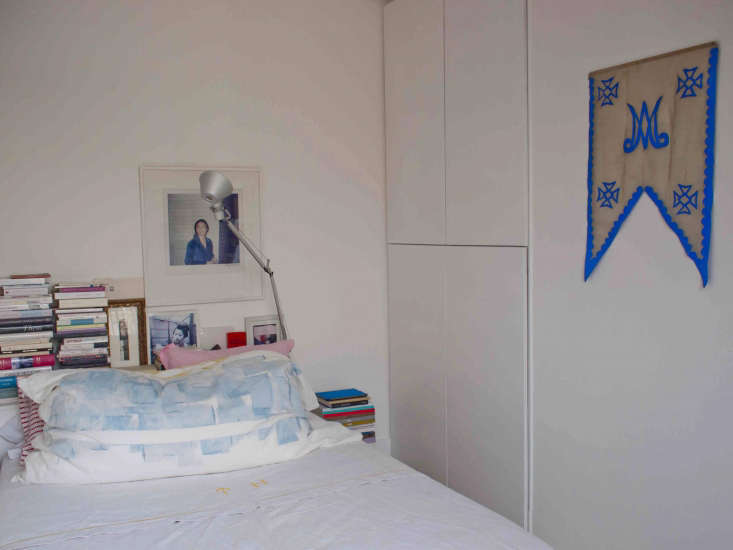 The 36-square-meter (387.5-square-foot) vacation space, explain architects Matteo Colombo and Andrea Serboli, is all about "silence and light." Photograph by Roberto Ruiz, courtesy of CaSA (Colombo and Serboli Architecture).
Barely Noticeable Built-In Storage
See the rest of the space in The Perfect Two-Room Paris Pied-a-Terre, Ikea Kitchen Included. Photograph courtesy of Philippe Harden.
For more bedroom storage ideas, take a look at Architectural Built-Ins for the Bedroom. Photograph by Matthew Williams for Remodelista.
The Paneled Chamber
Tour all four floors in Nordic Beauty: A Brooklyn Brownstone Reinvented with Style—and Restraint. Photograph by Matthew Williams for Remodelista.
The flip side of all white: 10 Sexy Monochrome Bedrooms in colors from pale pink to black on black.
Still awake? Here's 10 Secrets for a Better Night's Sleep.