Today, to inaugurate our Scandi Midsummer issue, we're exploring unseen rooms and corners of Tiina Laakonen and Jon Rosen's Finnish-accented house (we first featured it in the Remodelista book)–and exploring her use of indigo. As the fashion stylist and owner of Tiina the Store explains: "I find blue incredibly soothing. Plus, I'm a one-trick pony, I like to do variations on a theme." 
LIVING/DINING
Above: The compound consists of a trio of connected barn-like structures that Tiina and Jon, a photographer turned tech entrepreneur, designed with the help of two moonlighting young architects, Tim Furzer and Nandini Bagchee. The central structure houses an open-living space that introduces the gray, white, black, and blue palette used throughout–an ode to Tiina's childhood in Finland. A 9-by-12-foot sliding glass door (one of two) opens to the outdoors and adds lush greens to the mix. Tiina's furnishings include a pair of decades-old George Sherlock sofas that she reupholstered in a patchwork of Marimekko prints, and a collection of square poufs by her friend Christina Kim of Dosa (who is currently having a Dosa 30th birthday show at Tiina the Store).
Above: The dining table, one of Piet Hein Eek's scrapwood designs, is set for a lunch with a Marimekko tablecloth (most of Tiina's Marimekko patterns are 1960s designs by Maijo Isola that are still in production). The glass-and-wrought-iron candelabra is by Erik Höglund for Costa Boda, a piece Tiina purchased in Stockholm 10 years ago. The walls of the entire interior are sheathed with custom 8-inch wide poplar shiplap, a sophisticated riff on classic barn siding.
Above: Many of Tiina's favorite everyday items, including these Iittala Kartio Tumblers and Pitchers by Kaj Franck, have made their way into her store–the idea for the shop came about as Tiina was gathering things for the house and finding herself in search of Finnish classics from the fifties and sixties: "Over the years, you become enamored of things from your origins. I've lived abroad for so long, but what I like is my own tightly curated version of all things Finnish."
Above: Tiina grew up in Imatra, Finland, an industrial town on the border of Russia; she left for Paris at 19, and, after an international modeling career, got her start in fashion by assisting Karl Lagerfeld. The low table behind her displays her collection of rice grain porcelain made by Arabia of Finland, and collected piece by piece largely by trolling eBay.
Above: Vintage Arabia ceramics in deep blue pattern the upper shelves of the kitchen. The black-and-white tableware includes pieces by Arabia and Iittala; the owl-patterned Taika Mug is by contemporary Finnish designer Klaus Haapaniem.
Bed Rooms
Above: The master bedroom is housed in its own wing, reached by stairs wallpapered in Night of the Skylarks, a 1950s pattern by Birger Kaipiainen, a Finnish ceramicist and designer who Tiina calls her greatest source of inspiration. The wallpaper reappears in several places in the house; here, it's paired with walls painted Farrow & Ball Drawing Room Blue. "I felt those halls needed a color to make them feel cozy and less hall-like," says Tiina. Stay tuned: On Thursday we'll be presenting Scandi Palette & Paints inspired by Tiina's choices.
Above: In the guest barn, a Marimekko Quilt, handstitched in Finland from vintage fabric, covers a cast-iron bed from Charles P. Rogers & Co. The rag rugs were made by Tiina's sister-in-law: "I wanted rag rugs because they're old-school Finnish," says Tiina.
Above: The room's antique bedside table holds a mercury glass lamp, a 1969 piece by Finnish designer Helena Tynell for Luxus of Sweden. The heart garlands are from Dosa's Corazn Milagro project (see A Housewares Collection with a Cult Following.)
Above: Another guest room has its own seating nook with a Restoration Hardware sofa–"it was half off, minus 20 percent," says Tiina–and a throw rug from West Elm. The 1940s portrait was a gift from Jon's grandmother. The tray table is by Design House Stockholm.
Above: A Ted Muehling Egg vase by Nymphenburg.
Above: In the kids' guest room, Uglydolls occupy a Mademoiselle Lounge Chair, a 1956 Iimari Tapiovaara design for Artek that's still in production. Birger Kaipiainen's Night of the Skylarks wallpaper reappears here in a different combination of blues.
Office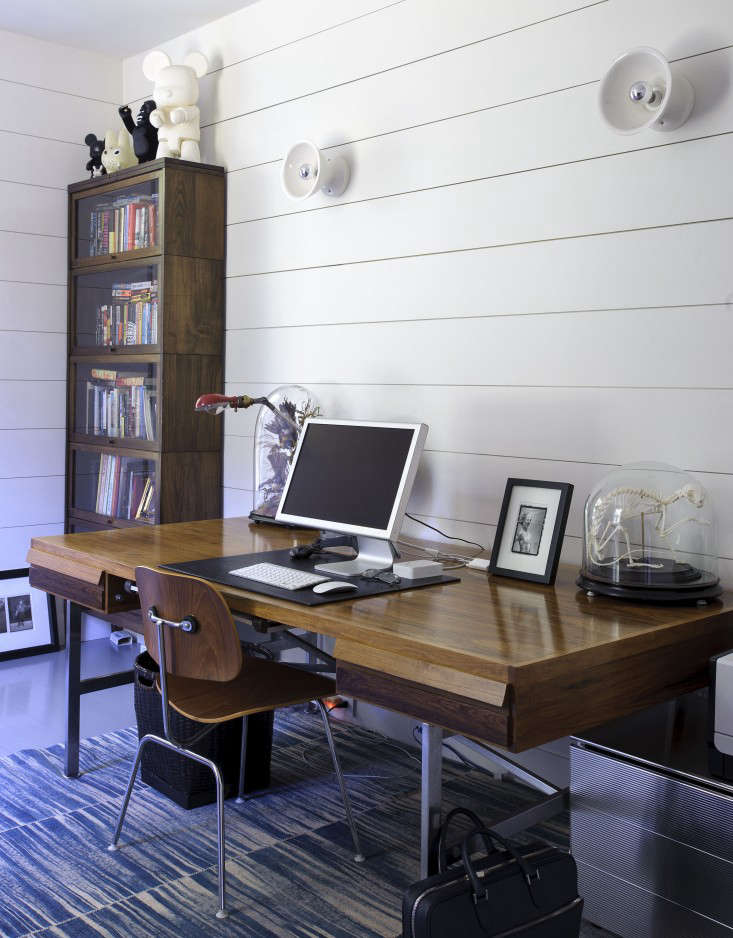 Above: Jon owns Nucleus Imaging, a digital post-production company–and has an enviable work setup at home. His desk is a vintage Swedish design that traveled with the couple from their original apartment. The wall lights are Schoolhouse Electric Alabax Lights.

Pool
Above: The backyard slopes down to a pool house with a zinc roof. See our recent Remodeling 101 for the lowdown on Standing Seam Metal Roofs. 
Above: Tiina's blue palette extends to the outdoors.
Above: A pitch pine is one of several memorable trees on the property.
Above: Blue hydrangeas frame the pool.
See more of Tiina and Jon's house on pages 30 – 45 of the Remodelista book. And stay tuned for a summer table set by Tiina. 
On Gardenista, see 10 Landscapes Designed Around A Single Tree and How to Deal with Tree Stumps.
You need to login or register to view and manage your bookmarks.