Lauren Wegel is an architect who loves succinctness. She began her career working for another New York minimalist, Annabelle Selldorf, which is how we met: see A Hardworking Brooklyn Kitchen By A Big Gun Architect. That was back in 2013, and, in recent years, Wegel has been running her own tiny firm.
The thought and care she puts into projects have won her a number of clients who have become good friends and repeat customers. Such was the case with fashion stylist Barbara Abbatemaggio and creative director Jakob Daschek. In 2015, one of Wegel's first solo projects was their Reinvented East Village Galley Kitchen. Five years later and in need of more space for their two boys and many guests, the couple got Wegel to collaborate with them on the creation of an equally streamlined galley in their new East Village digs. Fun fact: the apartment, in a pre-war building, formerly belonged to actor Alan Cumming (scroll to the end to see what it looked like before).
Photography by Ed Hueber of Archphoto, unless noted, courtesy of Lauren Wegel.
"The wood has the effect  of weaving together the materials and palette, so that the kitchen, although modern, feels integral to the rest of the apartment." The Arctic Pear chandelier just visible in the foreground traveled with the family from their last place. The brass sconce is the Double Uptown by Jones County Road.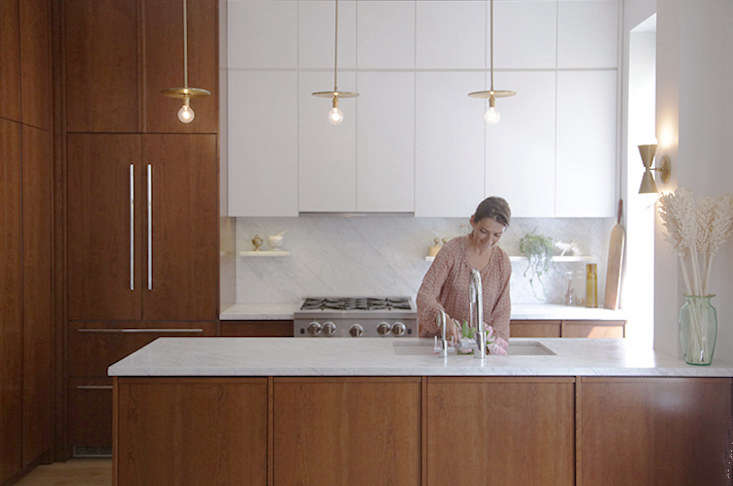 Of the mixed finishes, Wegel explains: "We didn't want to overdo the darker stain color on the upper cabinets because it would make the kitchen feel much smaller. And this time around, we all agreed to far fewer open shelves: Barbara gained more storage with cabinets, and, frankly, I prefer less visible clutter. That's why the upper cabinets above the range counter are white: to sort of fade into background. And we kept them plain and simple with no visible hardware, just integral pulls. The backsplash is marble all the way across for the same reason—to simplify and streamline this wall since it's so open to the rest of the apartment." Photograph by Lauren Wegel.
Notes Wegel: "The only metal elements are the lights, range, plumbing fittings, and pulls on the refrigerator, so that these moments of bling stand out against the rest of the kitchen. And we intentionally did not match these finishes because I think that would have been too much: at Annabelle Selldorf's office, we often mixed metals intentionally and I have never forgotten that lesson. It's a bit less rigid and most of the time, I prefer it."
Before
Here's another Lauren Wegel project that formerly belonged to a famous figure: Washington Post Editor Ben Bradlee's Georgetown House Transformed.
Browse our kitchen archive for more design ideas, including:
(Visited 1,197 times, 5 visits today)