When I was growing up, wood paneling was a dirty word. It meant dark, knotty pine (or worse, faux wood) that sucked all the light out of the room. Fortunately such cladding has come a long way. Or, more accurately, happily we've revitalized age-old paneling such as shiplap, beadboard, and V-groove.
A most versatile design element, today's wooden paneling or cladding has manifold interior applications. It can be installed vertically to emphasize the height of a room or horizontally to add a sense of dynamism. It can be used on ceilings and walls to create visual interest or to cover a multitude of sins. Cladding can be applied to make a small space seem more expansive or a large one more intimate. It can be painted or, for a more rustic feel, left unfinished. Finally, it is equally at home in a country cottage or a contemporary flat.
But we've noticed that people often confuse different types of paneling. So today, with the help of our friends Percy Bright and Tara Mangini from Jersey Ice Cream Co., we're taking a closer look at three of the most popular interior wood cladding: beadboard, V-groove, and shiplap.
1. Beadboard
What is beadboard?
Old-fashioned beadboard cladding consists of individual, generally narrow, boards with a routered "bead" edge on one side and beveled edge on the other. Placed tightly together via a tongue and groove, they create a decorative profile as seen below. Today's beadboard looks the same as the older variety, but comes in an easy-to-install sheets, instead of individual boards.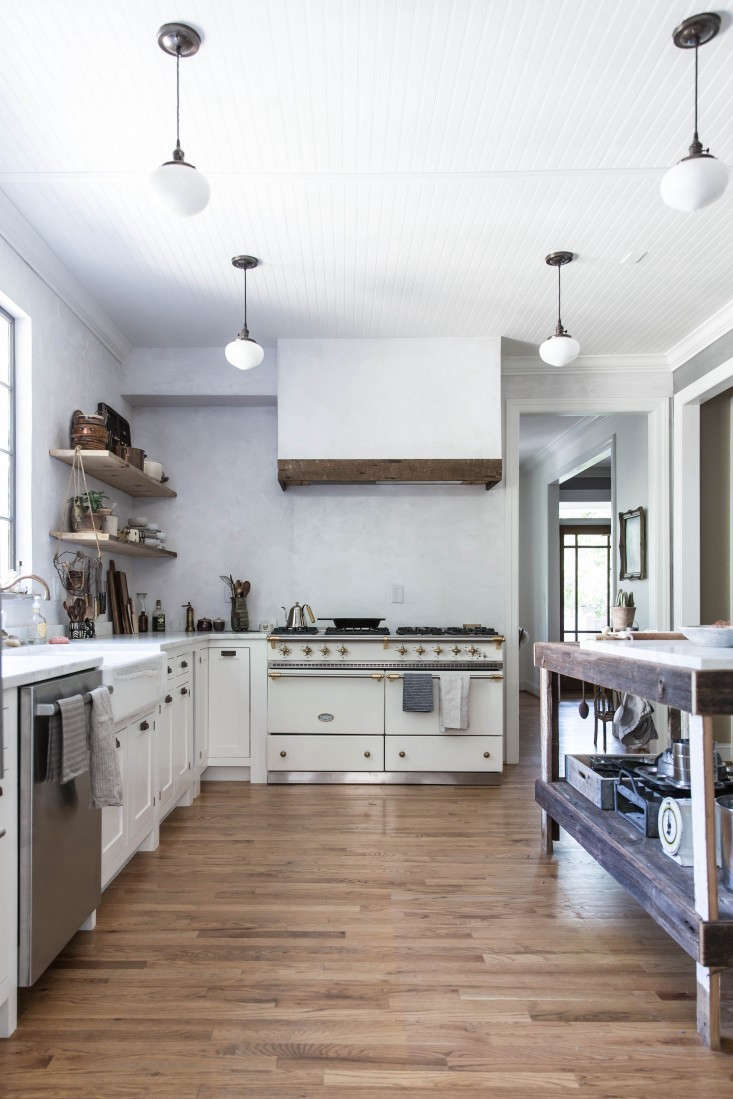 Where and how do I use it?
Everyone knows that if you want to achieve an instant New England cottage bathroom, install beadboard wainscoting halfway up the wall. While it's true that beadboard has a country feel, it can also be used to make what might otherwise be a stark, modern space a bit more friendly.
Easily installed and relatively affordable, beadboard is great for quick fixes such an instant backsplash (see Kitchen of the Week: A DIY Kitchen Overhaul for Under $500) or ceiling rehab (see Rehab Diaries: DIY Beadboard Ceilings).
2. V-Groove
What is V-groove?
Typically wider than beadboard, V-groove planks have a chamfered edge, that when fit together, via a tongue-and-groove joint, results in a V-shape in-between the boards. Like beadboard, V-groove is now available in sheets.
Where and how do I use it?
V-groove, like beadboard, can be used to add character and soul to a room. However, with exception of ceiling applications, it is typically used to cover a larger area, or in a setting where beadboard might appear too precious. With its wider planks, V-groove has a more substantial feel, but as a natural, textured material, it still softens a room, making it feel more intimate. In a historic setting, V-groove is more formal than beadboard, which definitely has more of a cottage vibe. Because V-groove is less ornate and has "cleaner" lines than beadboard, it can work better in a modern setting.
3. Shiplap
What is shiplap?
Unlike beadboard and V-groove, which are connected via tongue and groove, shiplap boards are joined with an overlapping "rabbet" joint, which usually creates a 90 degree-angled gap in between the boards. (I say, "usually," because just to confuse things, there is V-groove shiplap with a beveled edge.) As a result, the boards can be set to a wider or lesser degree apart.

Above: In this remote Norwegian retreat, Kolman Boye Architects used shiplap to dramatic effect on the walls and ceiling of their contemporary cabin.
Where and how do I use it?
Perhaps due to the fact that there is more distinct visual contrast between the boards, shiplap has the strongest lines and is therefore often considered the most contemporary of all the paneling examined here. Unlike beadboard and V-groove, which can feel cozy, shiplap is a bit more dynamic, as it draws your eye around the room. Therefore shiplap is ideal for modern spaces in which you want to add a bit of a crafted feel or in updated historic contexts. Like beadboard and V-groove, it can be applied vertically or horizontally, on ceilings or walls. For more on shiplap, see: Expert Advice: The Enduring Appeal of Shiplap.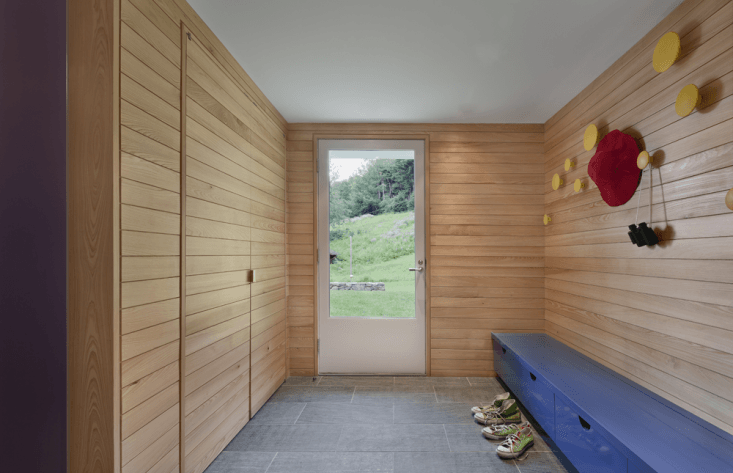 Interested in more updated cladding choices?
N.B.: This post is an update; the original story ran on April 27, 2017.