Rivka Baake and Wilfrid Kreutz's story is a tale of romance, creative collaboration, and the power of social media. The two met 18 years ago at an art opening in Frankfurt, where Wilfrid trained as a silversmith and Rivka, then a single mother of two young kids, was working at a children's art school while studying art history. They became a family and the couple started patching together a living: selling vintage furniture, making their own designs under the name Lappalainen, and taking in metalwork commissions from Frankfurt silver dealers. In recent years, after a long hunt for a place to live and work—"it needed to be a building where loud (hammering on anvils) and dirty (welding, soldering, etc.) work could be done"—the family ended up settling in an old brick industrial building in Hanau, within easy striking distance of Frankfurt. The structure had at different points been a carpenter's workshop, a pub, and a music venue known as KuBa (KulturBasar): "We used to come regularly for concerts. Nirvana played here," says Rivka.
Granted a five-year rental lease—which they recently extended—they took a sensible approach and overhauled the interior economically with a lot of white paint. And then they made a mobile to hang in their cavernous new quarters. The Alexander Calder–inspired brass design caught the attention of friends, who immediately asked for their own. That was by request and entirely local until Rivka started posting as @lpln.de on Instagram. In the past  few years, Lappalainen has been fielding orders from around the world; look and you'll notice Lappalainen mobiles all over Instagram in the homes of a certain band of Scandi-loving aesthetes from Amsterdam to Tokyo. Count us among the admirers; a while back we presented their work—see Object of Desire—and today we're exploring their headquarters.
Photography by Marc Krause for Lappalainen, unless otherwise noted.
 Living Quarters
"The top floor, where we live," she explains, "had been a party house, divided into six rooms, each a different color. We tore down some of the walls and painted everything white from floorboards to the wooden beams." The result is a room that fulfills many functions: a dining area that can seat up to 10, a simple kitchen, a home office, a play area for their three-year-old, Maria, and a cozy living area.
Art on the gallery wall includes paintings and prints by 
Silke Bonde
, and photographer/blogger Riika Kantinoski of
Weekday Carnival
.
The top floor has 54 windows. Though the building is equipped with "an ancient oil heating system," the family instead relies on wood stoves, one on each floor (see top photo). "It's a lot of work to constantly carry firewood, but it creates a wonderful and romantic warmth," says Rivka.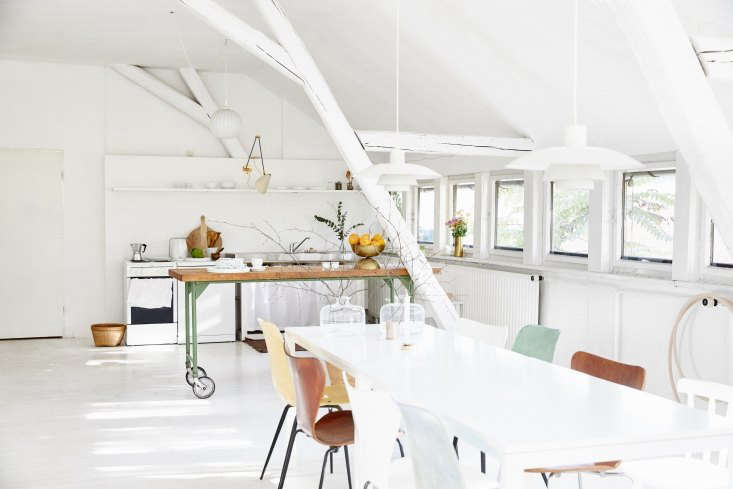 The lights hanging over the dining table are Louis Poulsen's iconic PH 4/3 Pendant Light, which are known for being glare-free: "They don't dazzle when you sit at the table; they make the most perfect light," says Rivka.
The floor, Rivka says, was painted with a water-based paint and has to be redone every year: "It's a lot of work."
Note Maria's toy storage in baskets on metal and wood shelves made by Wilfrid. "One shelf is hidden immediately behind the sofa, so that the first glimpse of the room is calm rather than toy-filled," says Rivka.
Studio
Wilfrid made the sculpture by wrapping branches in iron and then burning the wood away. The articulated lights are a forthcoming Lappailanen design.
The Building
Explore three more artists at home:
N.B.: This post is an update; the original story ran on January 14, 2018.
(Visited 825 times, 2 visits today)