"I'm a born and raised Brooklyn girl who turns out to have a soft spot for the country," says Casey Scieszka. "Before moving to the Catskills last year, I lived around the world in places as far-flung as China, San Francisco, Morocco, and Timbuktu. Literally. I'm a writer and graphic designer, which is what I did full time before I had this crazy idea to open an inn."
"A tall, bearded guy"—Casey's husband, children's book author and illustrator Steven Weinberg—joined her in this venture, and together the two have hammered and nailed one of the most inviting weekends away from New York. "Nine rooms. One bar. So many stars," is how they bill their bed-and-bar, now named the Spruceton Inn.
Above: The guest house is set in a defunct 1960s Catskills motel, Schwarzenegger's Sunshine Valley House. ("Yep. That Schwarzenegger," says Casey. "It was built by Arnold's cousin Karl.)
Situated in West Kill, New York, in a green valley with a farmhouse (Casey and Steven's new quarters), the place hadn't been touched in decades: "We're talking cracked teal linoleum, ancient brown carpets, faux wood paneling, and one long strip of oil-powered baseboard heat for entire building," says Casey. "But the bones of the place were great." She and Steven hired a father/son carpenter duo to help them tackle things beyond their DIY abilities, "like replacing windows, installing new trim, and bringing the bathrooms down to the studs. We also had an electrician and plumber bring things up to date." All else? They kept things uncomplicated and did it themselves. Photograph from Far and Close.
Above: The hotel has nine rooms, each with bedside tables that Casey and Steven built using their own barn wood. Framed maps—"vintage but still accurate"—hang throughout. As for the faux wood walls, all they required was some white paint. The bedside globe light is from Ikea.
Above: "My guiding design idea was to let the great outdoors be the star," Casey tells us. "That's why there are so few things in the rooms—and big picture windows. It's very purposefully muted and streamlined, so that the guest experience can be focused on returning to the simple pleasures of life: waking up in a cozy bed with a view of a wild meadow and mountains, going for a stroll, having a beer by the creek." Photograph from Far and Close.
Above: "The bedding—and curtains, too—are painter's drop cloths sewn down to size and washed to softness," says Casey. The paintings throughout are by Steven—all created since the couple headed for the hills two years ago. You can see more of his work at Steven Weinberg Studio.
Above: The rooms are TV-free, but there are towels aplenty. The carpets are indoor/outdoor Mad Mats woven from recycled plastic.
Above: The bar/breakfast room is furnished with the couple's barn wood tables, Ikea folding chairs, and Steven's art. Photograph from Far and Close.
Above: For breakfast, there's coffee and Pop-Tarts (and a great diner down the road). Several of the rooms also have well-stocked kitchenettes.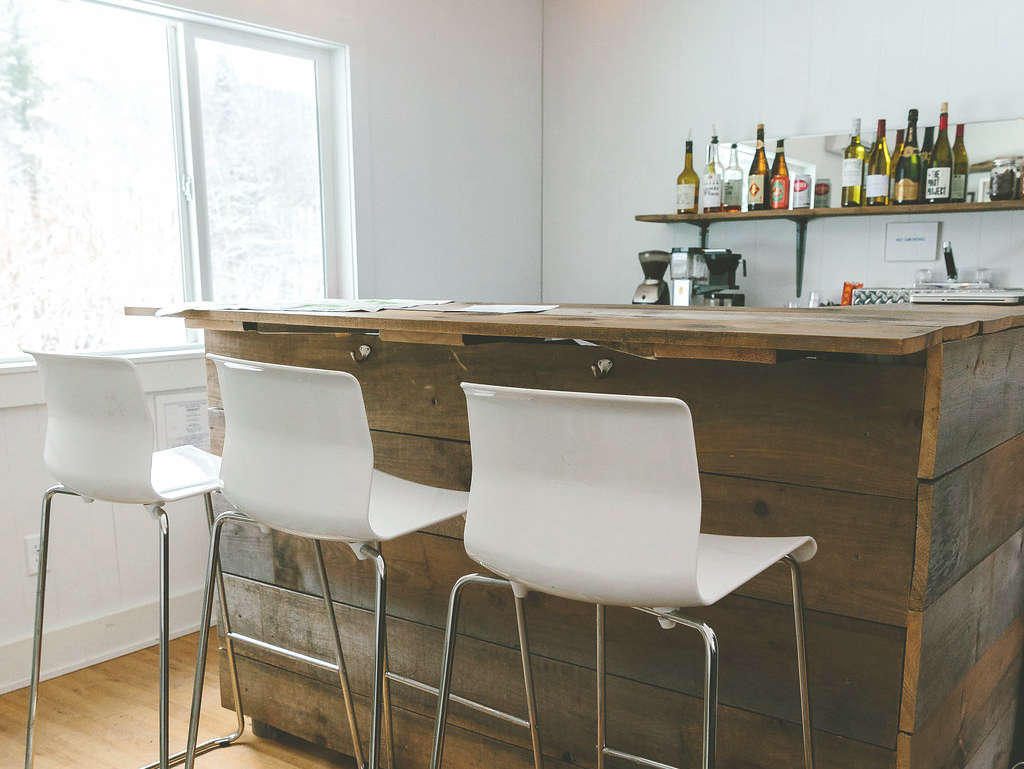 Above: Steven and Casey dubbed their bar Conan's Corner. They serve West Kill Brewing craft beer along with wine and cider. And perhaps to ensure that they always have interesting company, the two run an Artist-in-Residence Program open to visual artists and writers that offers six recipients each a weeklong stay at the inn throughout the year.
Above: A bouquet in a can.
Above: Steven painting the motel eaves.
Above: Casey building the Spruceton bar.
Above: There are three fire pits on the property and four Weber grills. S'mores fixings and other country staples are for sale in the canteen.
Above: West Kill, New York, is about two hours north of NYC (and not far from the upstate towns of Phoenicia and Hudson). For more details, go to the Spruceton Inn: a Catskills Bed-and-Bar.
Go to our Travel Guides for more of our Hotel & Lodging tips, including:
N.B.: This post is an update; the original story ran on March 24, 2015.
(Visited 578 times, 1 visits today)