Marie Hennechart is a documentary-style photographer and self-described "good sport with a ready smile and updated Red Cross skills." More often than not, she's on the go—to cover a London and a Bay Area family swapping houses for Travel + Leisure magazine (which is where the two of us first crossed paths), or to Sicily or Tokyo to take portraits of walls for a project about the passing of time, or to Nablus, to work on the next in her cookbook series with Laurence Phitoussi.
Between trips, Marie circles back to her home base in Paris, a studio apartment overlooking the rooftops of Montmartre. She has occupied this perch for more than a decade—she bought it at a good price from a notary in her hometown in northern France ("a far relative died and the inheritor did not even care to see the place when he heard there was no bathroom.") Join us chez Marie for a look at how she carved out not only a bath but a new kitchen, as well as a living and dining area, office, bedroom, and plenty of unobtrusive storage in 42 square meters (452 square feet) of barely divided space.
Photography by Marie Hennechart. Portrait of Marie by Millie Christie-Dervaux.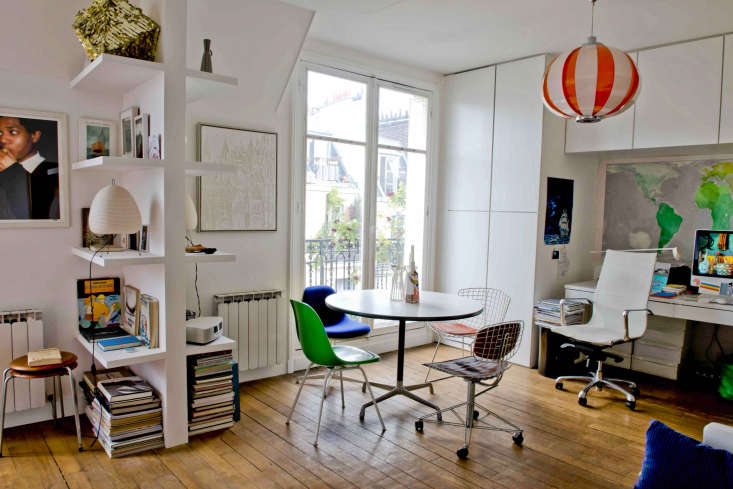 She gained additional space by removing two "not-very-pretty fireplaces." Her work area with a Future Map of the world anchors one end of the room. Note the built-in cabinets that surround her desk: "A British friend, artist George Skelcher, was visiting while I was working on my flat. He sketched the storage and my amazing carpenter built it. I collect fabric and lots of other things, so my cabinets are very useful."
Marie found her beachball-like hanging light at a flea market in Tel Aviv: "It's Italian; I love its joyful presence."