If Brooklyn townhouses could speak this one would have a detectable British accent. The structure's local claim to fame is two-fold: its intensive renovation was done entirely in character with its first half of the 19th century Greek Revival/Italianate heritage, a job tackled by Brooklyn It Firm Elizabeth Roberts Architecture & Design. And the kitchen is the very first that Plain English installed in this country (the longstanding Remodelista favorite recently established a Manhattan showroom).
Back in 2010, the owners, a European couple who work in finance, found the property to their amazement on Craiglist. Situated on one of Brooklyn Heights' stateliest streets, the place hadn't been lived in for so long it still had gas fixtures: "Nothing was working and the kitchen looked like a scary movie," says the design-minded member of the couple. She reached out to Elizabeth Roberts for what was initially going to be a "light-touch project." Back then the architect, who also has a masters in historic preservation, ran a two-person office out of her own Clinton Hill townhouse–see House Call and pages 76 to 91 of Remodelista: A Manual for the Considered Home. The firm has since expanded to a team of 19.
Along the way the couple had two children, and an assessment of requirements for the house and family morphed into a gut remodel plus an addition: "very little was in good enough shape to save, including the stairs and doors," explains the owner. Having lived in London for a time, she has an eye for traditional workmanship and old-school detailing—and was able to swing for what she wanted. "While remaining very faithful to the original layout, great care was taken to create a new home with historic character throughout," says Josh Lekwa, who, with Roberts, served as head architect and historian. Come see the house as it was (scroll to the very end) and now.
Photography by Dustin Aksland, courtesy of Elizabeth Roberts Architecture & Design, unless noted.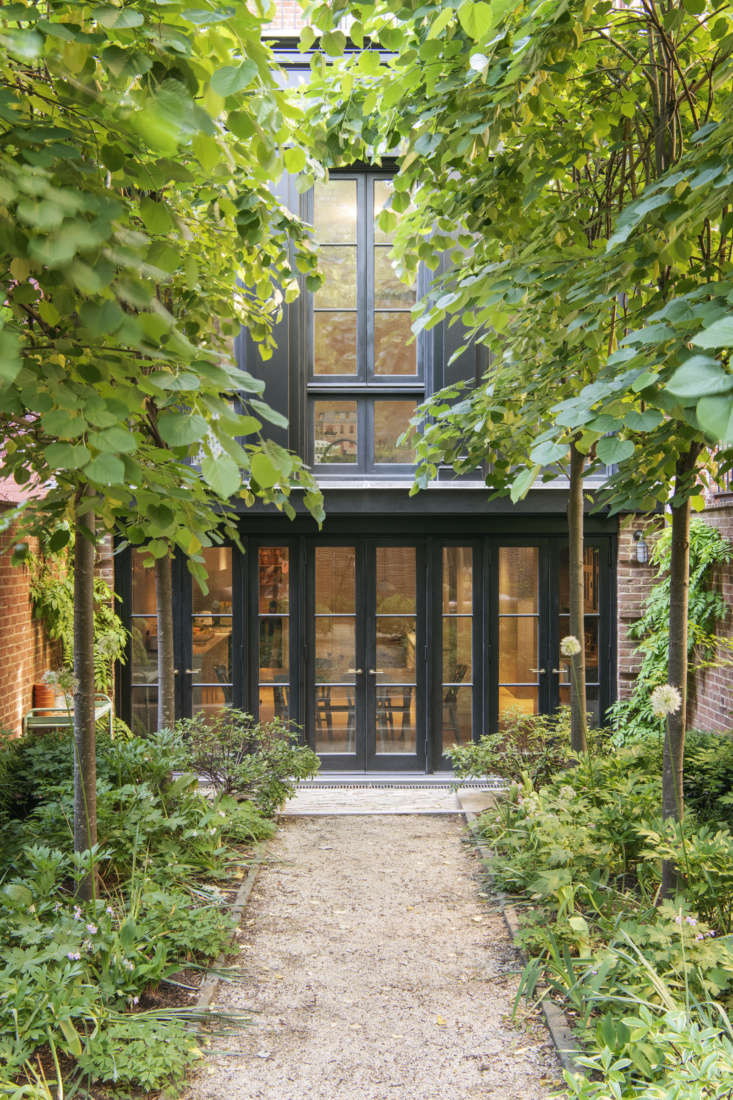 The custom mahogany windows were built by Architectural Components and the surrounding walls are handmade brick from the Old Carolina Brick Co. Stay tuned: we'll be exploring the Miranda Brooks-designed garden on Gardenista.
The family enter the house at the garden level front of the house (the façade wasn't worked on during the remodel and no photos are available).
Garden Level
Christopher Howe painted Windsor Chairs surround a Spanish table the family have used in various ways: "it's been everything from a dining table to a desk." The hanging lights are Lucia Pendants from British company Hector Finch. The white oak chevron floorboards from The Hudson Company are finished with Rubio Monocoat.
Plain English supplied the unlacquered brass cabinet hardware. The scissor lights are Christian Dell's Kaiser Idell wall lamps from Fritz Hansen. Photograph courtesy of Plain English.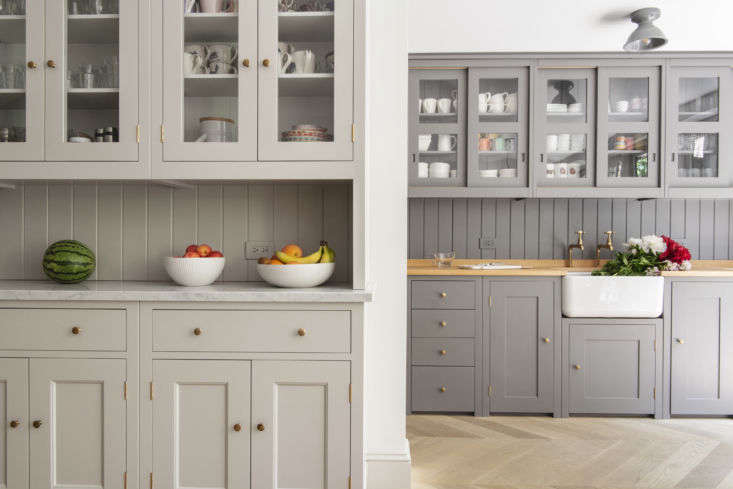 The cabinets and chairs are painted in Dark Lead 118 and the surrounding pale gray is French Grey 113, both in hard-wearing oil eggshell from Little Greene Paint of London.
Above L: The cabinetry was shipped from England already painted; it was given a second coat on site. The outlet is a painted Lutron with a screwless plate. Above R: A handy niche. The light switches throughout are by Forbes & Lomax.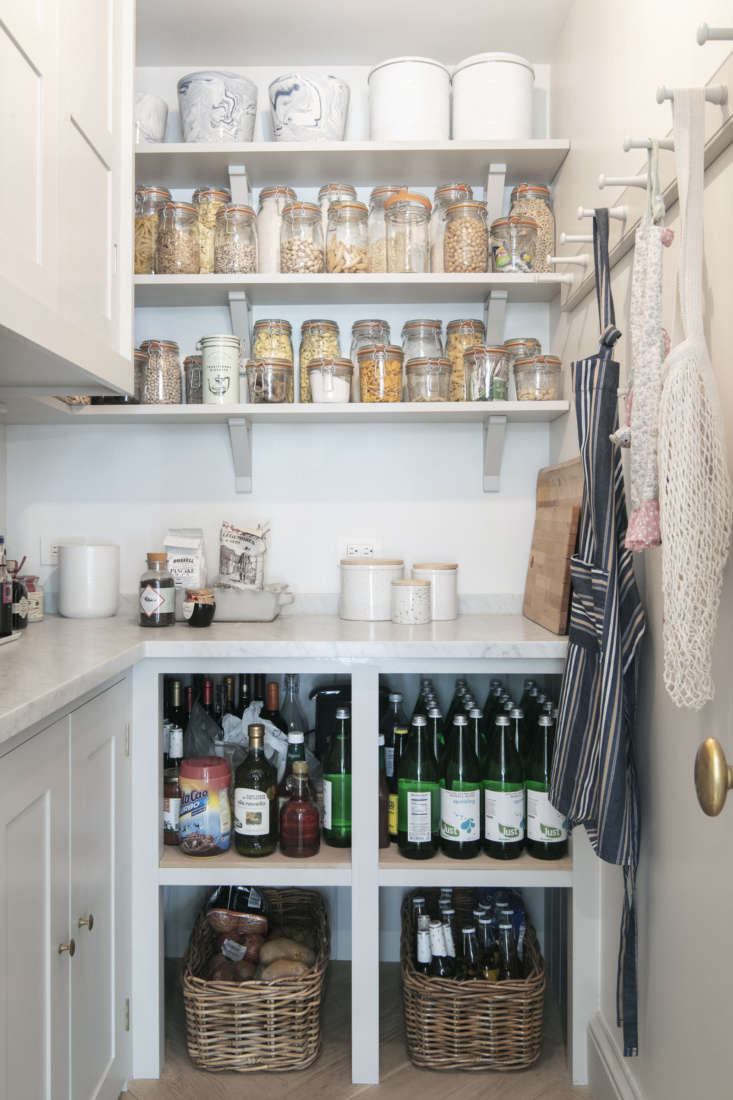 Above L: The house's doorknobs are Nanz's No. 1019 in unlacquered brass. Above R: Linocut prints by Hugo Guinness.
After the long process of securing building permits, general contractor Douglas Cohen of D.H.E. Company was on the job for two years.
Parlor Floor
The owner is doing all the furnishing and decorating herself: "I have a job and kids, so it's taking a long time—my husband was threatening to go to Ikea to buy a sofa himself." (They now we have one coming from Christopher Howe.) Shown here are placeholders: a settee purchased long ago on eBay—"it's the most uncomfortable thing ever"—and a loveseat from their former entry.
Second Floor
The owner bought the bath from a UK antiques dealer on eBay and asked if he'd hold onto it for her—construction on the house hadn't even begun. She wasn't back in touch with him for six years: "I was scared to find out he'd gone out of business. When I finally did call, he said, "'Oh hi,' as if no time had passed. He had it at the bottom of a storage facility and just asked for two weeks notice when we were ready for it."
The room's woodwork is painted in Farrow & Ball's Shadow White and the walls are Benjamin Moore's White Dove.
Third Floor
Before
Three more Elizabeth Roberts' townhouse transformations: