If Brooklyn townhouses could speak this one would have a detectable British accent. The structure's local claim to fame is two-fold: its intensive renovation was done entirely in character with its first half of the 19th century Greek Revival/Italianate heritage, a job tackled by Brooklyn It Firm Elizabeth Roberts Architecture & Design. And the kitchen is the very first that Plain English installed in this country (the longstanding Remodelista favorite recently established a Manhattan showroom).
Back in 2010, the owners, a European couple who work in finance, found the property to their amazement on Craiglist. Situated on one of Brooklyn Heights' stateliest streets, the place hadn't been lived in for so long it still had gas fixtures: "Nothing was working and the kitchen looked like a scary movie," says the design-minded member of the couple. She reached out to Elizabeth Roberts for what was initially going to be a "light-touch project." Back then the architect, who also has a masters in historic preservation, ran a two-person office out of her own Clinton Hill townhouse–see House Call and pages 76 to 91 of Remodelista: A Manual for the Considered Home. The firm has since expanded to a team of 19.
Along the way the couple had two children, and an assessment of requirements for the house and family morphed into a gut remodel plus an addition: "very little was in good enough shape to save, including the stairs and doors," explains the owner. Having lived in London for a time, she has an eye for traditional workmanship and old-school detailing—and was able to swing for what she wanted. "While remaining very faithful to the original layout, great care was taken to create a new home with historic character throughout," says Josh Lekwa, who, with Roberts, served as head architect and historian. Come see the house as it was (scroll to the very end) and now.
Photography by Dustin Aksland, courtesy of Elizabeth Roberts Architecture & Design, unless noted.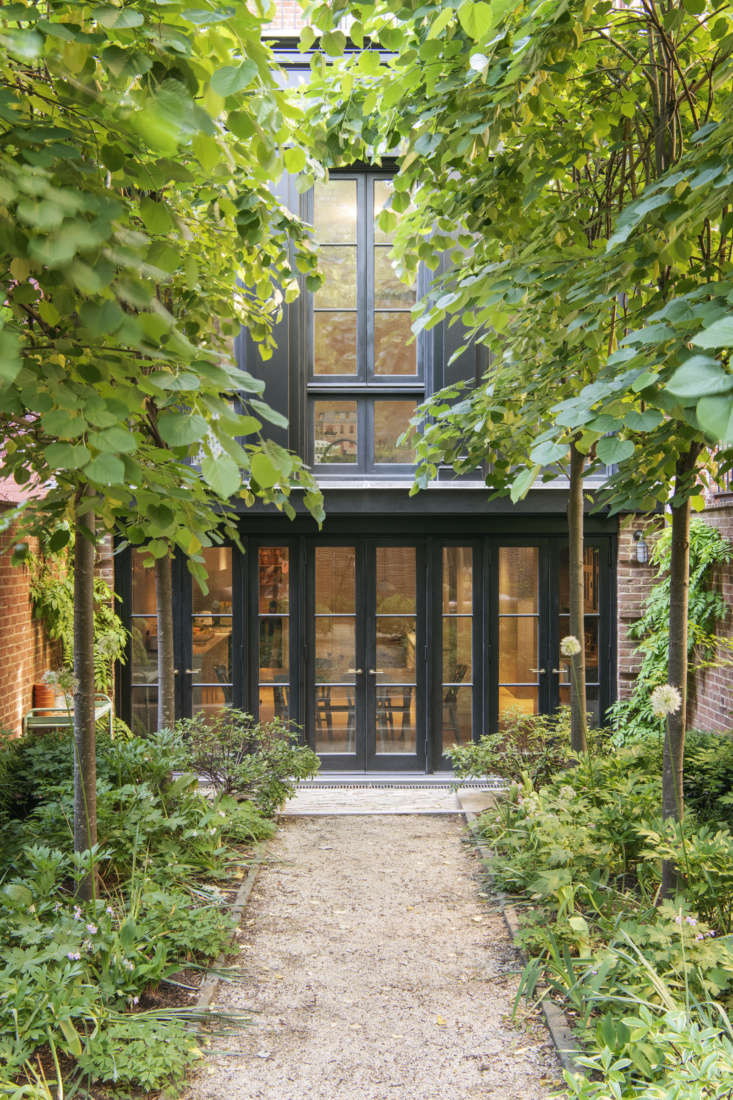 The custom mahogany windows were built by Architectural Components and the surrounding walls are handmade brick from the Old Carolina Brick Co. Stay tuned: we'll be exploring the Miranda Brooks-designed garden on Gardenista.