Full-service remodelers Tara Mangini and Percy Bright of Jersey Ice Cream Co. are vagabonds who move where their work is and live in their project until it's done. Not long ago, they holed up for eight months in an 18th-century Catskills farmhouse that had been done up in an incongruous mix of heavy wood furniture and disco-era purples and oranges. Its NYC-based owners, Gideon Friedman and Rachael Bedard (he's in real estate, she's a doctor), told Tara and Percy to turn it into the sort of place where Wes Anderson would go as a creative escape. They pointed to some Arts & Craft wallpaper of angels and devils and encouraged them to let loose: "think color and pattern and vintage." The results? Let's just say movie set design and decoration might well be the couple's next calling.
Photography by Beth Kirby of Local Milk (who has a Jersey Ice Cream Co. kitchen; see The One-Month Makeover).
Above: Tara and Percy's first move? "We cleared out the forest of furniture—a very nice dealer came and took it all, even the things he didn't want"—and we primed all the walls, so we could finally see what we had." They then performed a complete makeover in every room, starting with the front parlor, shown here. It has two-toned pigmented plastered walls, a specialty of Percy's that took years to master, and a collection of artwork and vintage furnishing, all of it gathered by Tara for a song "online, at Brimfield, ReStores…I look everywhere." The floral sofa, she says, "turned up for $150 at a local estate sale a week before we were done."
Above: The room opens to one of the nicest spots in the house: a screened-in back porch that's today's Before & After project on Gardenista. The wide-plank wood floor is original, "a blessing," says Percy. The couple considered painting the dark beams, but are glad they stayed hands off. Tara painted all trim in the house in shades of gray—"that took an eternity because it's all slightly different: What looks one way in one room looks five shades darker in the next. And even knowing that, in several cases I repainted it when it wasn't quite right." Here, the trim is Rockport Gray from Benjamin Moore.
Above: The eat-in farm kitchen was completely reconfigured. It has custom cabinets and a 36-inch Kohler Whitehaven Apron-Front Sink ("we've used it for several projects; it's really deep and it's available on Amazon"). The brass faucet is from Cifial—"we found it when we were working on Beth Kirby's kitchen, but it had a 12-week lead time, so we ordered it and it worked well here," says Tara. The ceiling lights are School House Electric's Otis design in matte bronze. Tara bought the vintage brass pulls on eBay: "They came in their original amazing packaging from the 1940s."
Above: The counters are butcher block from Lumber Liquidators. The inset shelves are original. "I knew I wanted to fill the kitchen with white ceramics," says Tara. "I collected it piece by piece, some for $1, as we worked on the house."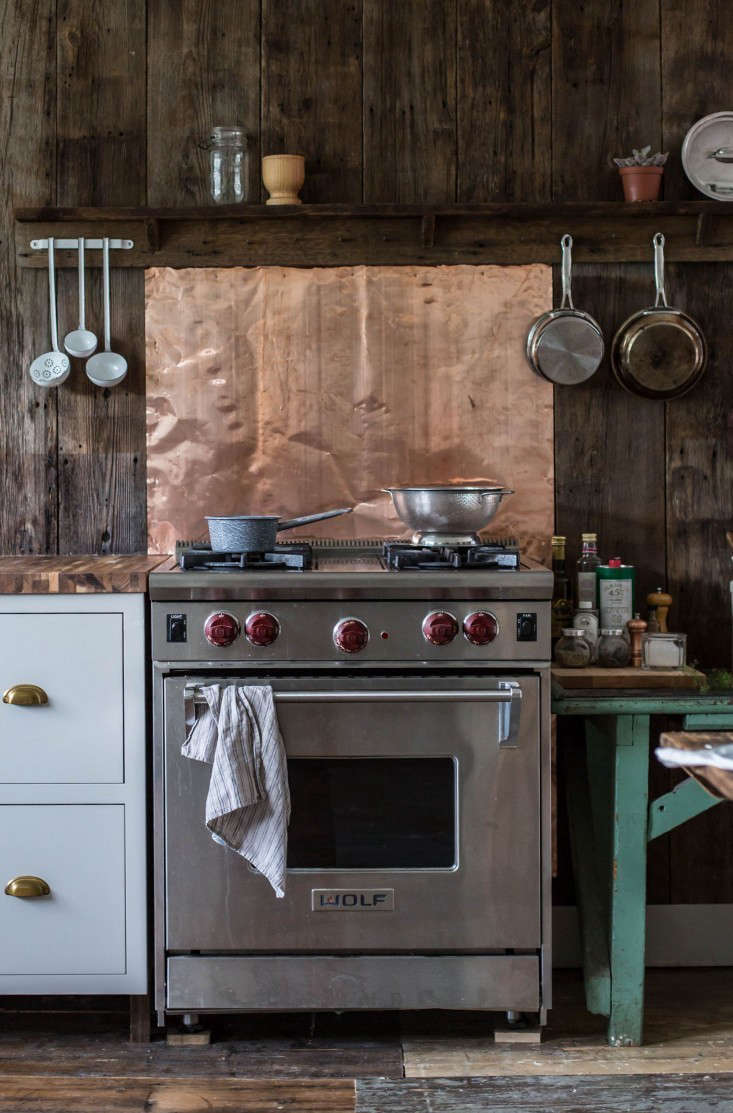 Above: Percy paneled the back walls with barn board purchased in the Berkshires from "a nice dude named Dave; for once, it was clean and sanded and we didn't even have to remove any nails," says Tara. They created an ingenious backsplash out of copper flashing purchased inexpensively online and nailed in place with copper tacks. The Wolf range came with the kitchen.
The floor was one of the trickiest jobs in the house. Noting its rotting understructure, Percy initially planned to lay down barn wood, but after ripping out several layers of linoleum, he discovered a surprise section of gray-painted wood flooring. It felt sacrilegious to remove, so he painstakingly restored and rebuilt the floor as a patchwork.
Above: A distressed but solid folding table from the Brimfield flea market felt just right for the room. "It can be carried outside," says Tara, "and like the barn wood, everything looks good against it." The perforated ceramic pendant light is the Claylight, $129, from Etsy seller Lightexture.
Above: A breakfast nook off the kitchen overlooks the barn. They sourced all the house's potted plants from Ikea and Home Depot.
Above: On the stair landing, Percy built a surprise perch out of barn wood with inset bookshelves underneath. The swing-out windows are original.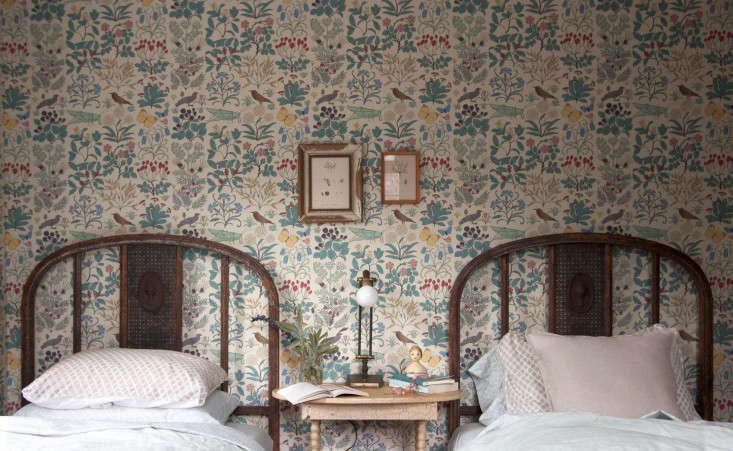 Above: The house has four bedrooms; our favorite, shown here, is papered in a CFA Voysey design called Apothecary's Garden; a reproduction of a 1926 pattern, it's from English Arts & Crafts wallpaper specialist Trustworth Studios of Plymouth, Massachusetts.
The iron bed frames came from Brimfield. The couple's buying strategy? "We often find one or two dealers who have good things and are looking to unload them for very little at the end of the day." The bedding is a mix from Target, West Elm, and Restoration Hardware.
Above: The couple paneled the powder room and painted it Seaworthy from Sherwood Williams. The sink was in the room, and its brass taps came from Wayfair. The sconces were also found in the house and given new glass shades from School House Electric. The lion's head towel holder is from eBay.
Above: "Wallpapering is the one thing we don't do ourselves," says Tara. "Pros do it so well and so quickly." Shown here, Temptation, an eccentric 1889 CFA Voysey pattern from Trustworth Studios that the owners picked out at the start of the project ("Along the way, they visited a few times, but really let us do our thing," says Tara. "The house came together so much in the last weeks that there was a big reveal at the end"). Percy built the headboard from barn wood. The brass lamp is a $10 Brimfield find.
Above: The lofty master bedroom—formerly "painted red, blue, and yellow with a huge black pillar bed and cascading seventies chandelier"—was quieted down with tinted plaster walls and barn paneling (built-in ledge headboard included). Tara spotted the Twigs Pendant Light (which is, unfortunately, discontinued) on Wayfair: "When I first saw it, I thought it was weird. Then I ordered something else, and seeing it made me long for the weird bird's nest." Source a similar light from VIWEI, a seller on Etsy. The built-in bookshelf is original. The bedding is from House of Baltic Linen on Etsy.
Above: The master bath—also custom-plastered and here sealed with polyurethane—features a metal-top rustic sink, likely from a potting shed, that a friend's mother spotted at a Massachusetts flea market. Percy and Tara replaced a "nasty little glass shower stall" with an open design patterned with marble hex tiles from Home Depot. The globe sconces came from a favorite local source, Zaborski Emporium, architectural salvage specialists in Kingston, New York.
Above: The house sits nestled on a hillside surrounded by woods. Percy and Tara left the exterior as is, but introduced an antique front door inset with circular glass for a bright entry, a nice detail should Wes Anderson happen to come calling.
See the back porch's transformation on Gardenista.
We've been avidly following the Jersey Ice Cream Co.'s work:
N.B.: This post is an update; the original story ran on June 29, 2015.






(Visited 883 times, 9 visits today)