After 11 years of living in their Brooklyn brownstone, architect Anat Soudry's friends were ready: they wanted to replace the Ikea shoebox kitchen that came with their otherwise well-preserved 1889 townhouse.
John and Danielle—he's a magazine journalist; she's an early education teacher and former fashion designer—are aesthetes who love to cook and have three young kids. They had outsized hopes and dreams (and a realistic budget) for their new design. Knowing that they love the Italianate plasterwork, moldings, and other original details in their landmarked home, Soudry, their former neighbor who runs her own firm, immediately suggested they work with Plain English Design to make the cabinets.
But how to fit all that the couple hoped into the existing space? The plan was to flip the kitchen/dining area: the new kitchen would fill the former dining room and the table would replace the adjacent former galley kitchen. It was a tidy approach but not quite big enough to house the desired range, island, and mega-storage. Because of zoning and cost constraints, a ground-up addition was not an option. Read on to see the solutions Soudry pulled out of her architectural bag of tricks.
Photographs by Kyle Norton, courtesy of Plain English and Anat Soudry Architect.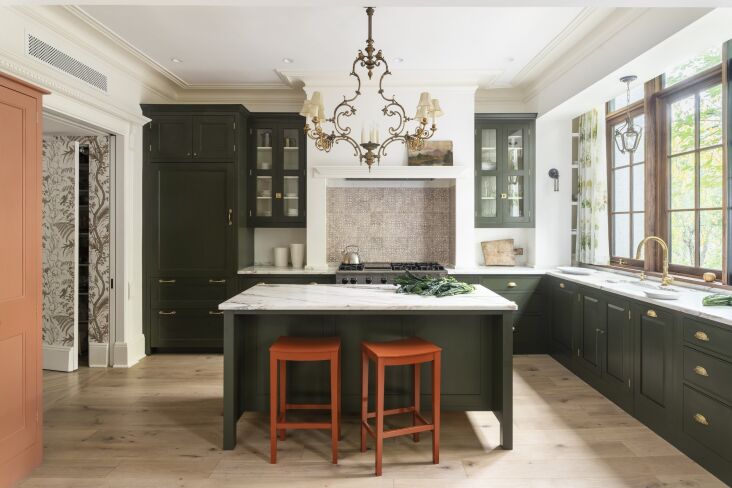 Plain English provided the millwork, including the fridge surround and the island. A longstanding Remodelista favorite based in the UK—with a showroom in NYC's East Village and a kitchen shop at Nickey Kehoe in LA—the company specializes in bespoke kitchen cabinetry and are proud traditionalists. As they say: "We've spent 30 years studying with fascination the Georgian sensibility of form and proportion and this runs through all of our designs in any number of architectural settings." As for the wallpapered door: for extra storage, Soudry converted a closet into a second pantry and wallpapered it, at Danielle's request, in Brunschwig & Fils's Bird and Thistle pattern.
John and Danielle bought the vintage gilded hanging lights over the window and the island at Bijan Royal, an antiques store at 60 East 11th Street in NYC.
Thanks to her fashion skills, Danielle wanted pattern and color in the kitchen. In lieu of the roller shade Soudry suggested, they went with a curtain in an Osborne & Little floral. And Soudry herself brought past training to the job: in Israel, where she grew up, she studied meteorology during her mandatory time in the army, and worked as a weather person for Channel 2 in Israel while she was in architecture school. "The reason I was drawn to weather is because I'm drawn to the environment: nature, buildings, and how they co-exist—it's all related," she says. Soudry also has a certificate in historic preservation from NYU.
Plain English's furniture, paints, and Georgian brass hardware are available exclusively to customers and are not sold à la carte, but work tables and standing cabinets can be purchased on their own.
The new wide-board floor is engineered white oak from PID Floors.
The French doors replaced a small window and are a new addition painstakingly designed to appear as if they've always been there: the windows are made by Parrett Windows & Doors, which also supplied the bay window. "We attached a P.E. Guerin surface-mount bolt to add a vintage look," says Soudry.
Here are three more favorite Plain English designs:
(Visited 12,780 times, 31 visits today)