Concrete gets a bad rap: rough, clunky, cold, best suited for brutalist interiors. But lately we've spotted appealing sinks made of concrete in all kinds of spaces, from a snug house on an island in Maine to an indoor-outdoor escape, available for rent, in Mexico. As it turns out, the concrete sink is coming into its own as one of the most versatile sinks we've seen, aesthetically. But is it practical?
We asked designer Fu-Tung Cheng of Berkeley-based Cheng Design (who literally wrote the book on the subject: Concrete Countertops: Design, Forms, and Finishes for the New Kitchen and Bath) our pressing questions on concrete sinks: What are the advantages? Can you use it in the kitchen? Are there options beyond plain, sidewalk-colored gray? Here's the intel.
Why would you want a concrete sink?
It makes a statement: The concrete sink takes an inexpensive material, formerly used only for construction and foundations, and turns it into something sculptural and bespoke. "We live in a world of manufactured items, with everything channeled to the mass market," says Cheng. "So here's the chance to use a relatively inexpensive material and finish it into something that's unique." A customized sink made of ceramic, for example, is considerably harder to produce, as it requires kiln-firing at high temperatures. But concrete, a much more forgiving material, is easily transformed into almost any shape you can imagine.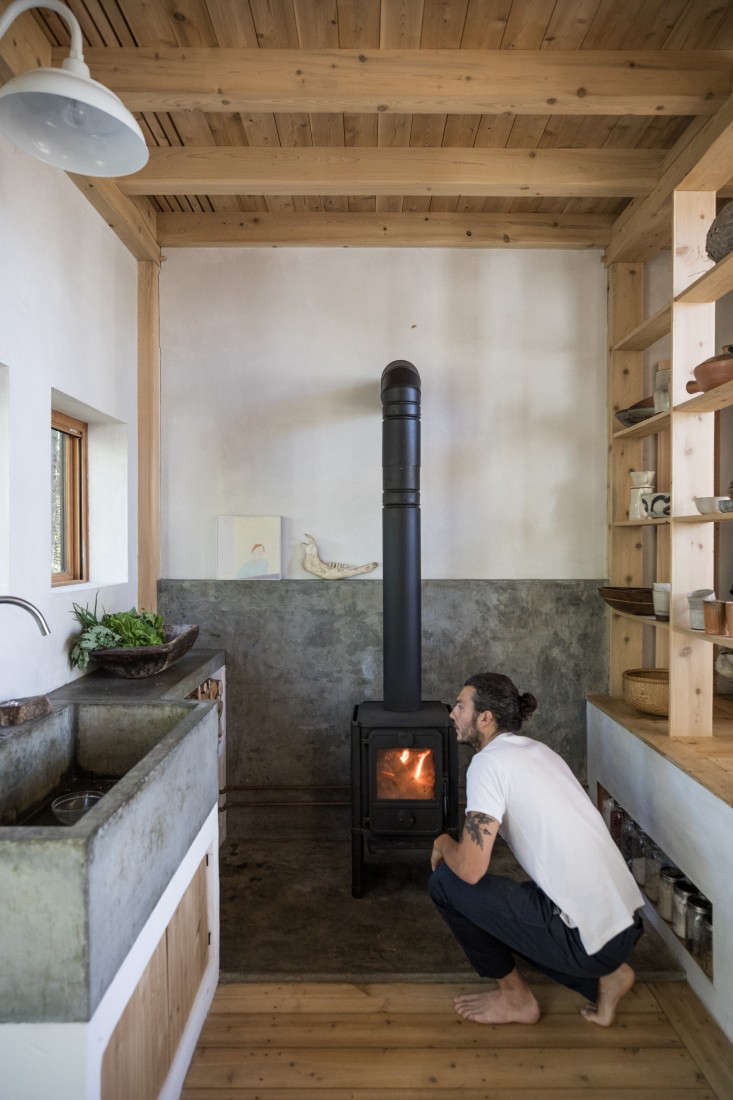 What are the advantages of a concrete sink?
You get to choose the size, shape, color, and surface texture, so you can have a sink that fits perfectly, size-wise, into your space and suits your home style-wise. The look of concrete works with a wide range of design styles—rustic or contemporary, traditional or hip. And unlike most marble, granite, and engineered stone, which often has to be shipped from abroad, concrete is made of locally sourced material—gravel rock, sand, and cement—and thus has a smaller carbon footprint.
What are the disadvantages of a concrete sink?
Perfectionists need not apply. Concrete has natural variations in color and texture that might irk those looking for a uniform look, and it will show wear—or, to use a more appealing expression, develop a patina.
But the main drawback, as Cheng points out, is that "no matter what you put in your concrete, it'll never be as hard as granite or engineered stone. Concrete is more like limestone in terms of hardness." That means it's porous and must be treated to prevent staining and discoloration. It also means that the surface is fairly easily scratched and nicked.
Can you use a concrete sink in the kitchen?
"I've never recommended putting a concrete sink in a kitchen," says Cheng. "The finish just won't hold up over time, owing to the constant abrasion from pots, food chemicals, and harsh cleansers." Nevertheless, many people are indeed installing concrete sinks in their kitchens and embracing the well-worn look that might come along with it.
For those less tolerant of imperfection, however, the bathroom provides a gentler home for the concrete sink; there, it's subjected to little more than tooth-brushing and face-washing.
What types of concrete sinks are available?
The great thing about concrete sinks is that, when customized, they can be made in whatever length, width, and depth you want. And the style is variable too: Cheng often creates long trough sinks with two spigots for the bathroom, so that family members can share the space. Double sinks are also an option, as are vessel sinks, especially in smaller baths or powder rooms.
What textures and colors are available?
The surface texture can range from smooth and polished to matte or rough-hewn. As for the color, it's no longer one-size-fits-all gray. Today's concrete can be tinted in a vast array of colors, though Cheng generally chooses a neutral shade. "I'm a big proponent of good design that's timeless," he says. "Some people will use white cement to create light pastel-y colors, but I prefer colors like those in nature, that aren't too bright—and will stand the test of time. Your concrete will be in place for the long run."
How do you care for a concrete sink?
Because concrete is porous, the surface must be sealed to protect it from stains and discoloration. There are two types of sealant, according to Cheng: "Something like urethane epoxy will keep out moisture and prevent staining, but it looks like plastic and can be impossible to refinish without stripping it off altogether," he says. He prefers a slightly penetrating sealer that maintains a more natural look. "It's not bulletproof, but it gives you a surface that's very restorable." A newly installed sink may come with sealant already applied; ideally, the homeowner will maintain the finish by spritzing on a polishing agent or using a wax. "If you do either of those every few months, you may not have to refinish for a decade or more," Cheng says.
It's still possible that stains or discoloration could appear—if, say, an irresponsible house guest spills an acidic food like red wine, vinegar, or lemon juice and allows it to seep in. "Then you usually need a professional to polish out the stain using a very fine diamond pad, and reapply the finish," says Cheng.
When in doubt, Cheng's Concrete Exchange is also a good source for products: Cheng-approved sealants and waxes, plus cleansers, stain removers, sheepskin buffing pads, and repair products.
How much does a concrete sink cost?
Despite a relatively inexpensive material, concrete sinks are "not inexpensive," Cheng warns. These are one-of-a-kind custom pieces of sculpture. The price tag, of course, depends on size and design, but you can expect to spend in the thousands. (For example, a small powder-room sink Cheng recently designed cost about $3,000 before installation.)
Are concrete sinks sold in stores?
True concrete sinks hard to find in stores and online, since they're most often made custom, but companies such as Trueform Concrete and even Etsy shops such as CreatingConcrete offer ready-to-buy sinks in a variety of designs.
Does a concrete sink have to go with a concrete countertop?
It's fine to mix and match your sink and countertop. But Cheng says his clients are often seduced by the idea of a sink made from the same material as the countertop: "An integrated concrete counter and sink always looks beautiful," he says. For people who want an integrated look in their kitchen, Cheng created a work-around: adding a granite bottom to the sink. "That means the splash area that gets the abuse is hard stone. It works, but it's difficult—and expensive—to create a slope in the granite," he says.
When are concrete sinks cast on site?
Only in the case of a major project, says Cheng. They're usually cast in the shop, where workers have total control over the conditions (high-density plastic molds, temperature, and the like).
What special features are available?
Since these sinks are custom-made, you call the shots. Cheng says you can contour the dimensions "any way that can be shaped in a mold." That could mean different edge finishes, such as rolled or bullnose, as well as built-in features such as drainboards.
Can I make my own concrete sink?
Maybe. While books and online instructions for DIY concrete countertops abound, there's not so much about making concrete sinks. Creating the mold can be complex; you need to make sure the sink bottom slopes toward the drain so the water runs out. And then there's the plumbing. If you do attempt to make a simple vessel sink yourself, Cheng suggests using ShapeCrete, a concrete-like product he invented. But we think this might be one area best left to the pros.
More in the world of sinks:
Finally, get more ideas on how to evaluate and choose your bathroom sink and faucet in our Remodeling 101 Guide: Bathroom Sinks & Faucets.