Sculptor turned builder Anthony Esteves' work is haunted by the dark side of old New England. "The homes of the 1600s have a ghostly quality," he says. "They are defined by simplicity of shape and adornment, and stand to be noticed in the landscape. I bring those guiding principles to my work."
This tradition is evident in the Soot House, a charred black structure that Esteves built by hand with a sculptor's eye, and where he now lives with his partner, Julie O'Rourke, and their small son in a small clearing on Spruce Head in Maine. (Just a few paces away is a 1754 Cape, painted in oyster white milk paint, which he restored for his mother; see more on that here.) In building the Soot House, he took cues from the island's craggy, wild landscape, with its black spruce and lichens; from rambling, old New England buildings; from efficient Japanese techniques, and from his training, at Rhode Island School of Design, as a sculptor. "I treat the work as a sculpture and balance traditional aesthetics with high-performance building techniques and materials," he says. "My style is informed in part by the first generation of homes built in America, known as post-medieval English."
Here's a look at this small, efficient house that channels New England gothic.
Photography courtesy of Greta Rybus.
Esteves built the Soot House from scratch, despite having been trained formally in sculpture, not architecture. It has influences from both old New England and Japan: The shape and scale of the structure and roof is decidedly New England, and the main part of the building is fitted with traditional colonial clapboards (visible nails included). But the cladding is painted with a Japanese-style, fermented paint that Esteves makes out of soot, water, and persimmon. "It absorbs into the wood like a stain.  The color is extremely matte because of its high pigment content," he says; it's rot resistant and will never chip. The small addition is fitted with wide-plank boards that have been burned using the Japanese shou sugi ban technique. The house is small ("it's just shy of 600 square feet," Esteves says) and designed to be super-efficient during Maine winters, heated only by a wood stove.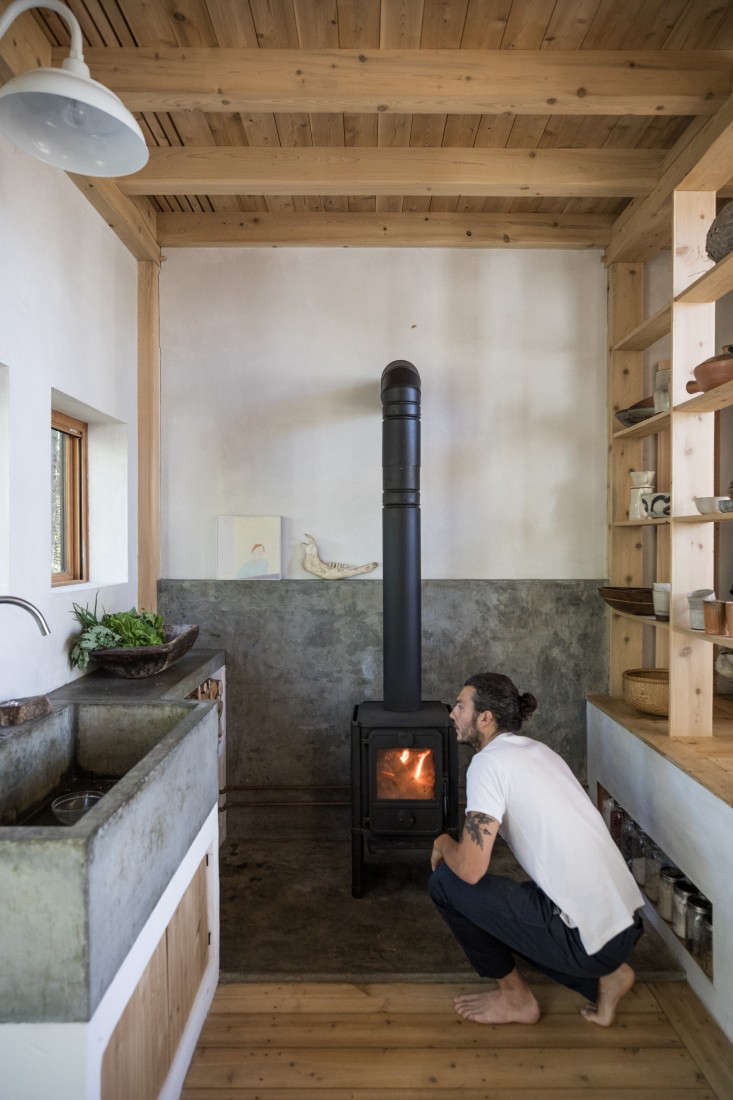 Even through the island's long, cold winters, the wood stove is the house's only source of heat. The secret is Esteves's smart, efficient design: The heat from the wood stove, centered in the low-level kitchen, rises into the loft directly above. A floor grate that runs the length of the loft then pulls the hot air back down, in a convection cycle. "This airflow maintains a consistency in temperature throughout the house, and the loft stays within one to two degrees of the main floor," Esteves says. It's economically and ecologically efficient as well: "We use about half a cord of wood a year, roughly $150," he says.
Above: At left, built-in wood storage. At right, Esteves made use of empty space beneath the floor to create niches for jars of spices and dry goods. The family also stashes out-of-season clothes and bedding there.
For a look inside the white Cape at right, see The New New England: A 1754 Cape on Spruce Head in Maine.
More Gothic-inspired interiors: