In 1927, sculptor Alexander Calder welcomed Jean Cocteau and Joan Miro to his ground-floor studio in the 14th Arrondissement of Paris. After Calder, there was a German artist, and then an American printmaker, Harold Altman. While Altman was working in the Rue Cels studio, architect Nicolas Soulier and artist Cécile Daladier were bringing up their four children in Lyon.
In the early 2000s, the Soulier-Daladier family returned to Paris and met Altman, who was, by happy coincidence, looking to pass the studio on to another artist. When he approached the design of the family's new home, Nicolas wanted to maintain the framework of the building while renovating it from the inside. "We could not change anything without reinforcing it; we were lucky to be able to even install this metal structure," Nicolas says of the staircase. After a tour of the garden and Cécile's atelier, we ascended the stairs for a tour of the rest of the home.
Photography by Natalie Weiss (except where noted); styling by Alexa Hotz.
Above: A dark green metal gate at the front of the driveway on Rue Cels. For a look at Nicolas and Cécile's garden, see our post on Gardenista: In the Garden and Atelier with Cécile Daladier.
Above L: Concrete floors and an iron structure in a super-washed-out blue. Above R: A garland of colored felt flags hangs over the stairs.
Above: On the second floor, above the atelier, is the spacious living room. During the renovation, Nicolas changed the height of the ceiling to give the room more space and light. In the corner, a Noguchi lamp—Cécile's prized possession. "Everything I do is inspired by Noguchi," she explains.
Above: Hidden storage: A closet niche is hidden behind built-in bookshelves.
Above: A collection of glassware from industrial Weimar Bauhaus artist Wilhem Wagenfeld.
Above: The living room table began as a Capteur, a garden sculpture designed by the couple's collaborative project, Assaï. After topping with glass, it's now a coffee table. "It's a little like our house, it's been transformed," Nicolas says.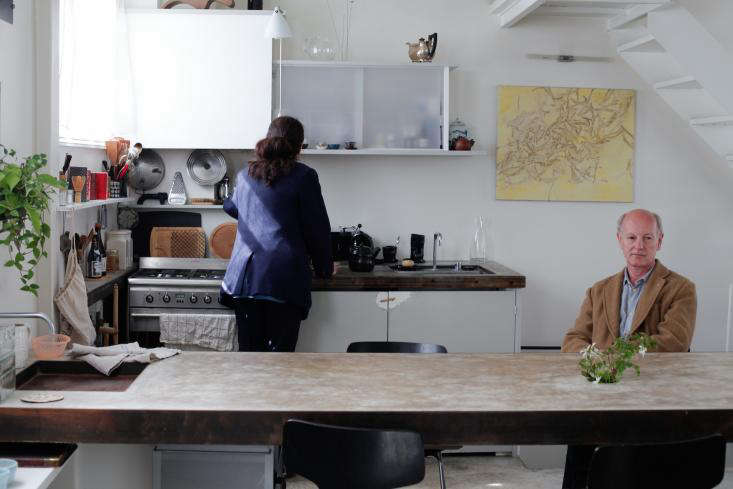 Above: Cécile and Nicolas preparing afternoon tea in the kitchen.
Above: Nicolas designed the concrete sink.
Above: Nicolas recounts the building of the concrete table: "The stone mason was not happy to work with so much concrete and told us, 'No, it is impossible to make a table in concrete,' but it worked perfectly fine. Later I found him sitting at the table eating a meal and he remembered, 'When I was a child, I ate dinner with my mother at a concrete table.' It wasn't until he sat there that he remembered this aspect of his childhood."
Above: In a sense, the concrete table represents the couple's work together. Within the concrete and iron table, an Ikebana-inspired vase for Cécile's flowers.
Above: A view of the integrated vase and iron table from beneath.
Above: In the upstairs window, a built-in zinc shelf supports a garden of potted flowers.
Above: The small upstairs bath is custom-designed by the couple; zinc window boxes seen in the garden outside are also found here.
Above: The couple's bedroom under the eaves; photograph by Alexa Hotz for Remodelista.
Above: Antique fans, a paper flower, and a linen cocktail napkin from Coral & Tusk.
Above: In the bedroom, a mix of patterned quilts and bright-colored fabrics.
Above L: A large bedroom window looks across the courtyard. Above R: A trio of vases holding jewelry and a flower cutting rest on the marble-topped chest of drawers.
When we first discovered Cécile and Nicolas' work, we posted about them in A Ceramicist and an Architect in Paris and Flower Arranging a la Parisienne.
N.B.: This post is an update; the original story ran on June 6, 2013.
You need to login or register to view and manage your bookmarks.