Inspired by Thoreau's Walden, Casa Tiny is a minimalist hideaway constructed of concrete and parota wood (did we mention that it's available on Airbnb for $82 a night?). We were intrigued, so we did some sleuthing and tracked down the unidentified designer. Last week, I met with 27-year-old architect Aranza de Ariño at Harvard's Graduate School of Design, where she's currently getting a degree in architecture and urban design. At her desk surrounded by fellow students prepping for midterm reviews, she filled me in on the story behind her first commission.
Photography by Camila Cossio, courtesy of Casa Tiny.
The casita was commissioned by a friend of Aranza's, Mexico City–based film and theater producer Claudio Sodi, when she was 25 and finishing up her architecture degree at Universidad Iberoamericana in Mexico City. "The beach is only 200 meters away, but we liked the idea of a making it a house you discover in the middle of green vegetation," Aranza explained. "You can hear the waves, but what you see are trees, plants, and the Sierra Mountains in the distance. It's about connecting to the outdoors."
There's no glass or screens on the louvered openings. And to further compel occupants to commune with the surroundings, a cast concrete table extends from indoors to out.
Construction costs, Aranza says, came to approximately $45,000, including "the pool, terraces, access road, and all the installations (such as water, electric, sewage, cistern, and passive solar heaters for the water in the bathroom and kitchen)." Aranza hired her crew using members of the team that built the nearby Casa Wabi, a Tadao Ando-designed artist's retreat and foundation established by Claudio's brother, painter Bosco Sodi (tours arranged on request for Casa Tiny guests).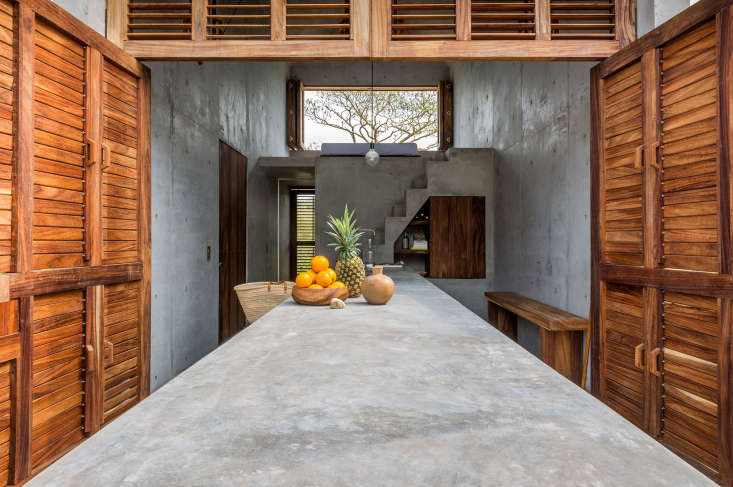 Aranza explains that the circle pattern on the walls is from the in-situ casting: "It's through those circles that the wooden 'mold' is tied together to make it possible to pour in the concrete."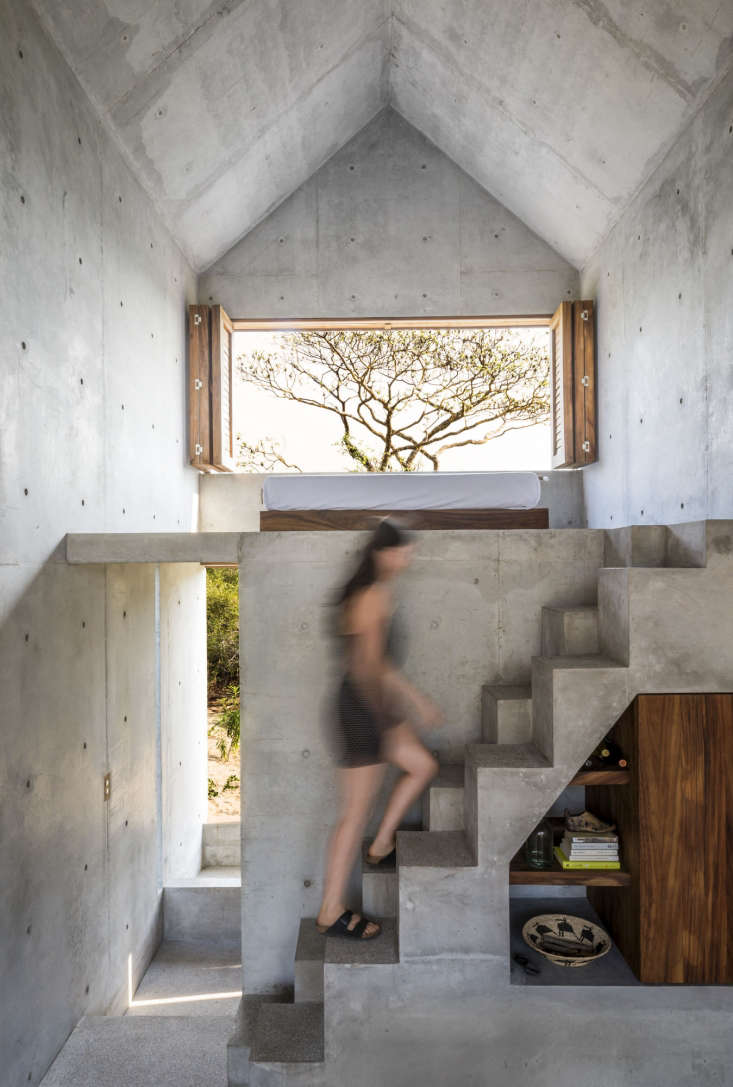 The bed rests on a wooden platform and is flanked by brass sconces Aranza made herself from hardware and metal store parts. "I bent the arms myself in a metal shop." Guests fall asleep to the sounds of the desert and wake up to birdsong. Those bothered by heat and wandering lizards and insects could stay away; this is an experience for design-loving naturalists.
"The tree behind the house faces north; the long table is oriented south toward the beach, and the pool and main door are on the west side," explains Aranza. "The house is aligned north-south with the dominant winds, so that they flow through it, cooling it down.
Casa Tiny is located in sleepy Punta Altares, 30 minutes down the coast from the surf town of Puerto Escondido (the place to rent a car and stock up on supplies). Hotel Escondido, A Hidden Beach Hotel in Oaxaca, is near the casita and has a lively restaurant and bar.
For more getaway destinations, see 7 Favorite Design Hotels in Mexico.
(Visited 853 times, 1 visits today)
Frequently asked questions
What is Casa Tiny?
Casa Tiny is a tiny house located in Oaxaca, Mexico that is available for rent on Airbnb.
How much does it cost to stay at Casa Tiny?
Rates vary depending on the time of year, but typically range from $100-$150 USD per night.
How many people can stay at Casa Tiny?
Casa Tiny is designed for two people, but can also accommodate a third person on a small futon.
Is there a kitchen at Casa Tiny?
Yes, Casa Tiny has a small kitchenette with a mini-fridge, gas stovetop, and basic cooking equipment.
Is there a bathroom at Casa Tiny?
Yes, Casa Tiny has a bathroom with a shower, sink, and composting toilet.
Is Casa Tiny eco-friendly?
Yes, Casa Tiny was designed to have a low environmental impact with features such as a composting toilet and rainwater collection system.
Is there air conditioning at Casa Tiny?
No, Casa Tiny does not have air conditioning, but it does have a ceiling fan and plenty of windows to let in the breeze.
Is there wifi at Casa Tiny?
Is Casa Tiny pet-friendly?
No, Casa Tiny is not pet-friendly.
Is smoking allowed at Casa Tiny?
No, smoking is not allowed at Casa Tiny.