A soapstone sink makes a statement in the kitchen or in the bath. This natural stone has been used since the 1800s to make sinks and countertops, most notably in laboratories because of its unique properties—it's not affected by chemicals, acids, or temperature. We talked with Glenn Bowman, the owner of Vermont Soapstone, to learn some of the ins and outs of soapstone sinks. The company, based in Perkinsville, Vermont, dates back to 1856; Bowman has been there for 32 years, working with craftsmen who make and install about 500 sinks a year.
Why would you want a soapstone sink? 
"There are two good reasons," says Bowman. "One is for the aesthetic, and the second is because it can be built in virtually any size you need." Because soapstone sinks are made from slabs of stone (rather than made of a piece like, say, stainless steel sinks), they're easily customizable. Bowman adds: "Let's say you have a space that's 29 3/8 inches—we can make you a sink in that exact size."
What are the advantages of a soapstone sink? 
Because soapstone is impermeable, it's very low-maintenance: It never requires sealing and doesn't harbor bacteria. It's durable and won't stain. Besides all that, it's a handsome stone that just looks better with age.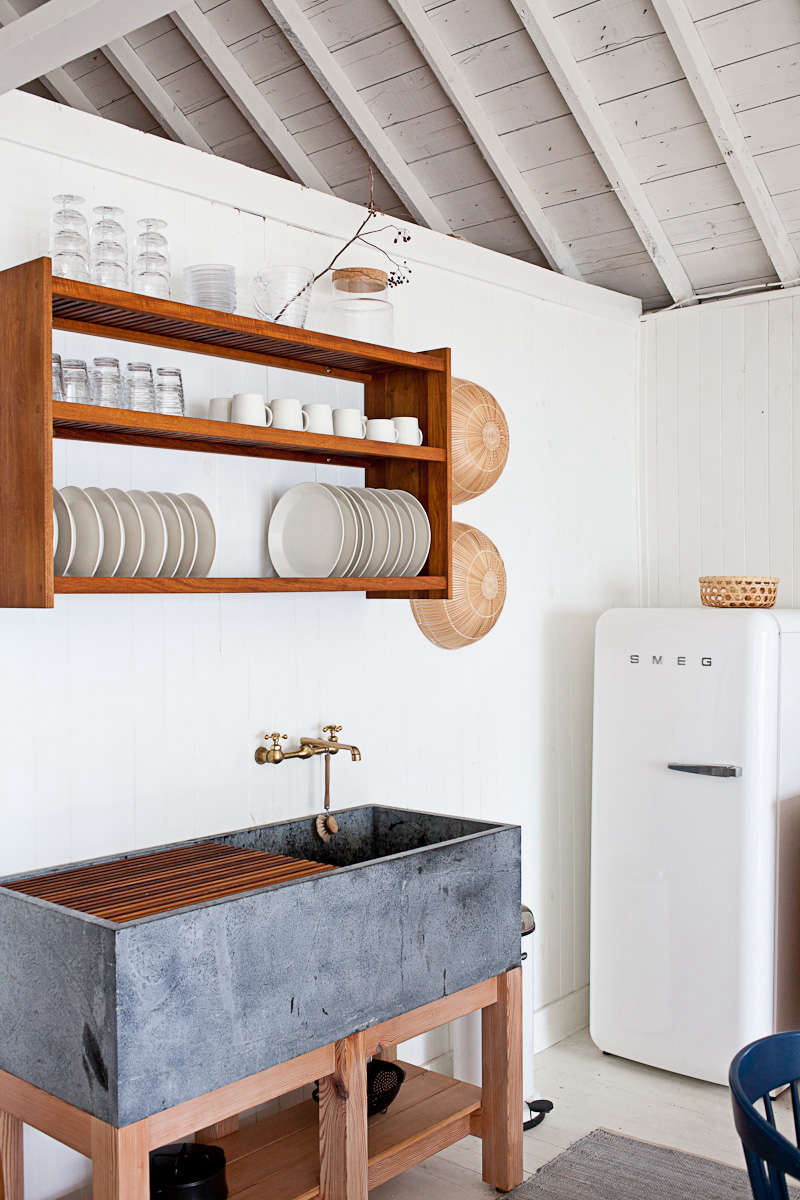 What types of soapstone sinks are available?
The sinks most often made by Vermont Soapstone are constructed from slabs of stone cut to size and assembled with an epoxy-type glue they've been using for the past 50 years. But bowl-shaped sinks, carved from a solid block of soapstone, are also available, and are often used in bathrooms. (Those don't have square corners, which some find easier to clean.) Bowman says that their most popular soapstone product is the apron-front sink, which is installed with the front face exposed. It's also called a farmhouse sink, because of its rustic look.
How do you care for a soapstone sink? 
After a new soapstone sink has been installed, the top edges and front of the sink should be wiped down with mineral oil—the same way you treat a soapstone countertop—which will give it a rich, glossy charcoal shade. To treat the front and top of a new sink, brush away any dust residue and use a clean rag to wipe on a coat of mineral oil. (Any type of food-grade mineral oil will do—you'll find it at hardware stores and pharmacies, or pick up a 12-ounce bottle for $9.99 at Amazon.) Once you've applied an even coat, wipe away any excess oil with a clean rag or paper towel. (For more on how to oil soapstone, see Remodeling 101: A Low-Maintenance Guide to Maintaining Soapstone Counters.)
However, you only need to oil the front and top of the sink, not the interior. "The inside will darken very quickly," Bowman says. "That part will be constantly exposed to soap and water, and any oil you apply will quickly be washed away."
For the first few months of use, you'll want to keep applying mineral oil to the outside of the sink every few weeks. But eventually you'll only need to do it every few months—whatever it takes to maintain the dark rich shade you like. "The more you use the sink, the less you have to take care of it," says Bowman.
As for daily care, any household cleanser will do. "Our main piece of advice is that you have to change from using a dishrag for cleaning to using a potato brush. A soapstone sink generally has square corners, so you need bristles to get into those." Soapstone can be scratched or nicked, but most marks are easily removed by a light buffing with sandpaper. Vermont Soapstone installation manager Madisyn Watson recommends keeping a worn piece of 60- or 80-grit sandpaper under the sink or in some other handy spot to make repairs when needed. Still, most homeowners appreciate the way these handsome, hardworking sinks age gracefully with use.
Are soapstone sinks sold in stores, or do they need to be special-ordered?
"Generally speaking, soapstone sinks need to be special-ordered," says Bowman. But many retailers also carry stock sizes."This makes it easier for some people to order them, and they're somewhat cheaper than our custom sinks," Bowman says.
How much does a soapstone sink cost?
Standard soapstone sinks can range in price from a few hundred to over $1,000. The standard-size sinks at Vermont Soapstone run from $400 up to $1,000 for a 36-inch two-bowl sink. "Custom sizes will cost more," says Bowman. "Our 36-inch two-bowl custom sink is in the $1,200 to $1,500 range."
How do prices compare with stainless steel or ceramic sinks?
"A good-quality imported stainless steel sink is about the same price," says Bowman. "And compared to a good porcelain farmhouse sink, soapstone is probably less."
Does a soapstone sink have to go with a soapstone countertop? 
"We'll sell you a sink on its own, no problem," Bowman says with a chuckle. "In fact, we probably sell twice as many sinks as we do countertops, so those sinks get combined with all kinds of different countertop materials, like marble, granite, and the like." No soapstone counters but still want the sink? Feel free to mix and match.
What special features are available?
Because they're made of easily-cut stone, soapstone sinks can generally be customized any way you want it. Edges can be square, beveled, or bullnose. Drainage boards can be incorporated. "We can make a three-bowl sink with all the bowls at different heights. We can add a high backsplash so the faucets can be mounted on the back," he says.
We've even built a handful of soapstone bathtubs for around $5,000." When he spoke with us, Bowman was in Weston, Massachusetts, working in the mudroom of a high-end house to install a custom sink measuring five feet wide and a foot deep—perfect for dog-washing.
More on soapstone:
Finally, get more ideas on how to evaluate and choose your kitchen sink and faucet in our Remodeling 101 Guide: Kitchen Sinks & Faucets.
You need to login or register to view and manage your bookmarks.