We know—Europe is big, and a European "look" doesn't mean one thing at all. Still, romantic notions of European decor continue to inspire.
Short of moving your house to the Med (or the Baltic, Black, or North), there are things you can do to add some European flair at home. We asked members of our Architect/Designer Directory for their thoughts.
1. Think painterly color palettes.
NYC Architect Drew Lang notes that a nuanced color palette can look distinctly European. In this Brooklyn project, he says, "We used Fine Paints of Europe paint, which is a Dutch paint—rich and beautiful, with a European sensibility." Here he paired a complex white with Italian Pietra Cardosa sandstone and the entire composition—of carefully arranged tablewares behind glass-paned upper cabinets—was influenced by Italian painter Giorgio Morandi. 
2. Add reclaimed beams.
In this new home in Washington, Connecticut, Hamilton and architect Reese Owens took inspiration from the Flemish countryside and used patinated, antique oak beams to add age and dimension. "Adding them to the room was a decision we made to make the house feel more like a European farmhouse of some age," says Hamilton.
3. Source handmade light fixtures.
Architect Lauren Rubin thinks handmade light fixtures lend a particularly European vibe: "The idea of a handcrafted light fixture that has been designed and shaped by an artist reminds us of a time in Europe when craftsmen were an essential part of the community," she says. "Both everyday and decorative items were provided by artisans who were experts in their fields. These kinds of details give life to the home."
4. Be thoughtful about window treatments.
Architect Mary Chan of Studio Bartleby in Brooklyn says, "Europe creeps in on my window coverings—we end up making custom coverings like interior shutters on a rail, or fabric shades on a simple pulley, to really highlight the window or correct a proportion." It's European to focus on details, functionality, and "treating the covering as its own object," she says, "rather than simply an object to cover up another thing."
When she recently remodeled her own Brooklyn townhouse, architect Kanan Vyas of Kananshree Interiors (formerly Ka.Va Design) sought modern, energy-efficient windows and found European tilt windows to be just the ticket. "We love how tilt windows give unobstructed views to the outside," she says, "and we can leave a little bit of window open throughout the day for cross breeze."
Eric Liftin of Mesh Architectures in Brooklyn also uses tilt windows, noting that "the US is one of the last places where double-hung windows are typical." Learn more in Ask the Expert: 9 Smart Materials Every Remodeler Should Consider.
6. Incorporate herringbone.
Designer Alison Davin of Jute in San Francisco uses herringbone floors in European-inflected projects. "Adding texture through flooring adds character and instantly ages a room, making it feel more European," she says.
7. Add wood paneling.
Says San Francisco designer Nicole Hollis of a recent restaurant project: "For a Scandinavian or Nordic feel, we use white oak wood paneling in our interiors. It creates a very welcoming, warm look that's still sophisticated." Here she paired the oak with a modern Scandinavian pulley pendant, Welsh pillows, and Thonet chairs. (For more, see Remodeling 101: The Ultimate Wood Paneling Guide with Jersey Ice Cream Co.)
8. Go traditional with cement tiles.
Above: Says architect Lauren Rubin: "Cement tiles have become more fashionable lately. They will always remind me of the coastal cities of Italy, France, and Greece."
9. Leave pipes exposed.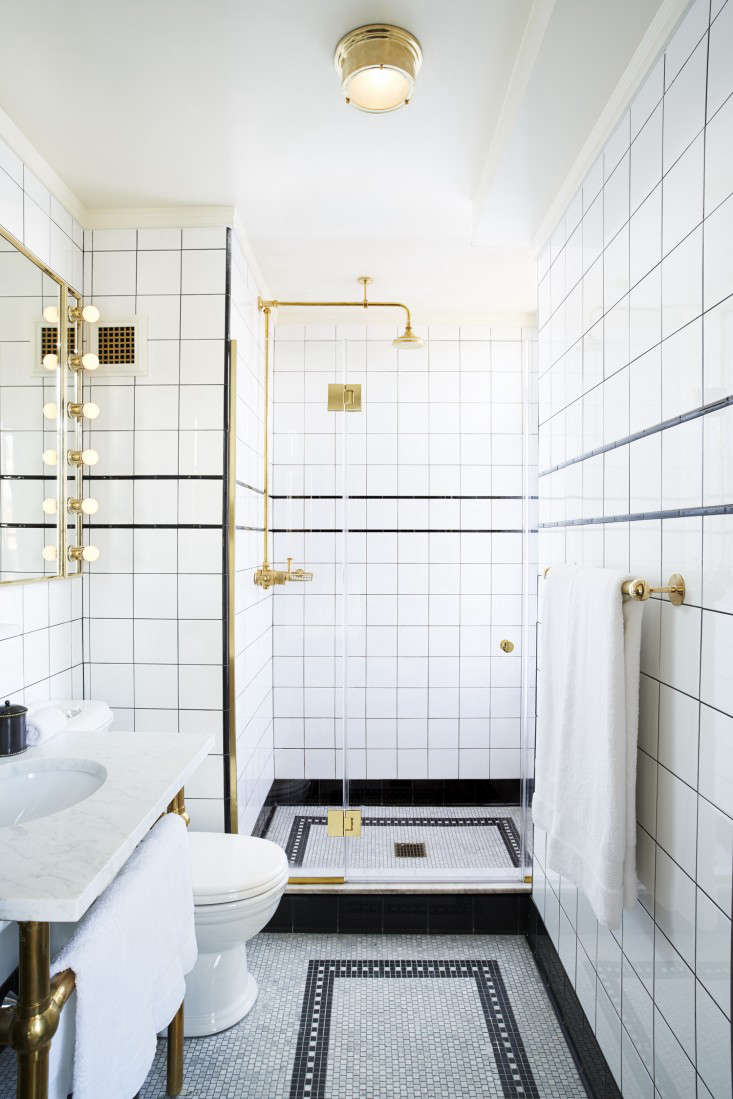 "Exposed plumbing in the bathroom, especially in brass, has an old-world, European feel," says Lauren Rubin. "It is reminiscent of the days when walls were solid stone or plaster and shower plumbing could not be hidden inside. With drywall stud walls it is far more common to run the plumbing behind the drywall, so deliberately choosing to reveal it can give a European look." (For more ideas, see Trend Alert: 10 DIY Faucets Made from Plumbing Parts.)
10. Source casement windows.
New York architect Page Goolrick says, "I believe metal casement windows and French doors that swing out, rather than into the space, are very European in appearance. This is particularly true if the windows open at least 90 degrees, which European casements typically do." She notes that sourcing European window hardware matters, too.
Find more ideas for an American home with European flair in New Salem: Peter Cohen's Classic Beauty Receives a Modern Makeunder.
And for more European style, see:
N.B.: This post is an update; the original story ran on June 2, 2016.