Cyberpunk meets the sink: DIY faucets fashioned from plumbing parts have been cropping up all over. We've been taking note—and considering asking our own plumbers whether they're any good with a torch.
Feeling handy? Instructables offers instructions on How to Build Your Own Copper Pipe Faucet. And you can source a variety of copper parts, including piping, elbows, and pressure cup adapters, from Home Depot.
Kitchen
Above: Photographer Paul Massey designed his urban-rustic apartment in Primrose Hill, London, copper piping faucet included. N.B.: The flat is available for short-term rent via One Fine Stay. Photograph courtesy of Paul Massey.
Above: Emerick Architects stripped the plating on a budget-friendly Chicago faucet to achieve an old-fashioned matte brass and copper look. The bridge faucet is in a Seaside, Oregon, project that was a finalist in the Remodelista Considered Design Awards 2014—and we've been talking about it ever since. See Architects' Go-To Traditional Faucets.
Above: In a modern beach cabin in Scarborough, South Africa, designers Beatty Vermeiren detailed the kitchen with a faucet made from industrial parts. Similar valve handles are available on Etsy via the Old Time Junk Shop.
The house is available via AirBnB, and it is on our dream rentals list. Photograph courtesy of the homeowners.
Above: The kitchen island has standing copper faucets in the Ironmongers' Quarters, a residential and commercial project in East London by Jonathan Tuckey, a member of the Remodelista Architect/Designer Directory. Photograph by James Brittain Photography.
Above: Drakes London's Scandi-style Endless Summer kitchen features a copper faucet that was built on site by the plumber. See Steal This Look for more details. Photograph courtesy of Light Locations.
Above: In his house on the Greek isle of Hydra, Theodore Zoumboulakis paired a marble fountain basin with a faucet he assembled himself. See Kitchen of the Week: A Greek Architect's Ode to Minimalism. Photograph by Studio Paterakis, courtesy of Zoumboulakis Architects
Bathroom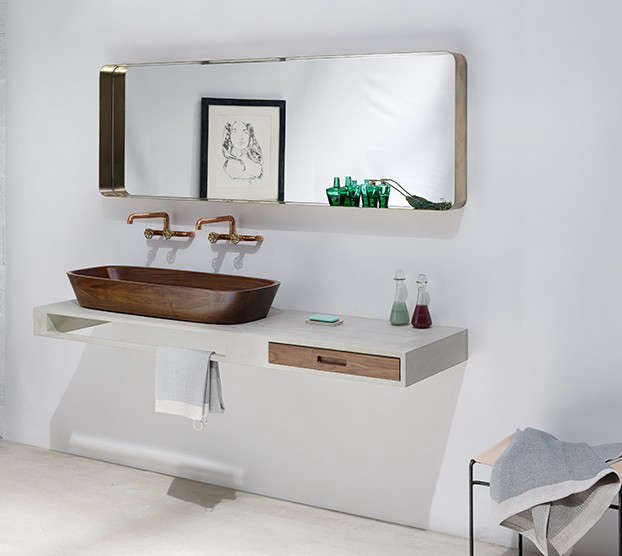 Above: Austrian architect Nina Mair pairs her Shell Collection walnut sinks and bathtubs with homemade copper faucets: See The Ultimate in Bathroom Luxury. Photograph by Markus Bstieler via Nina Mair.
Above: London theater designer Niki Turner used handmade copper spouts and faucets in the bathrooms of her mid-19th-century silk merchant's house in Gloucestershire. See also our piece on Turner's kitchen, made-in-Mexico copper sink included. Photograph by Matt Lincoln via The Modern House.
Above: Turner's bath also features a pair of handmade patinated copper faucets. For more, see Steal This Look: A Vintage Bath in England with a DIY Faucet. Photograph by Matt Lincoln via The Modern House.
Above: The Beatty Vermeiren–designed South African beach place mentioned above also has a memorable indoor/outdoor bathroom: The sink is fashioned from a concrete drainage pipe and a homemade copper faucet. See more at AirBnB. Photograph courtesy of the homeowners.
See more exposed-pipe plumbing, see 5 Favorites: The New Wave of Industrial-Looking Faucets. And for kitchen faucet advice, go to:
Finally, get more ideas on how to evaluate and choose your bathroom sink and faucet in our Remodeling 101 Guide: Bathroom Sinks & Faucets.
N.B.: This post is an update; the original story ran on May 5, 2016.
(Visited 3,189 times, 9 visits today)
Frequently asked questions
What is the article about?
The article is about DIY copper piping faucets for homemade kitchen and bath faucets.
What material is used for making the faucets?
Copper piping is used for making the faucets.
Are the faucets easy to make?
Yes, the faucets are relatively easy to make but require some basic plumbing knowledge and skills.
What tools and materials are required to make the faucets?
The tools and materials required to make the faucets include copper piping, pipe cutter, soldering iron, flux, solder, drill, hole saw, washers, nuts, and a faucet valve.
Are the faucets suitable for commercial use?
The faucets are more suitable for personal or residential use rather than commercial use due to their DIY nature and potential for leaks if not assembled properly.
Can the faucets be customized?
Yes, the faucets can be customized to fit the specific needs and preferences of the user.
Are there any safety precautions to keep in mind while making the faucets?
Yes, when working with plumbing and soldering equipment, it is important to wear protective gear such as gloves, goggles, and an apron. It is also important to work in a well-ventilated space to avoid inhaling harmful fumes.
What is the expected lifespan of the faucets?
The expected lifespan of the faucets will vary depending on factors such as usage, maintenance, and quality of materials. However, with proper care and maintenance, they can last for several years.
Can the faucets be recycled?
Yes, copper is a recyclable material and the faucets can be recycled at the end of their lifespan.