For years I've admired the work of Swiss designer Kerstin Greve through her leather goods brand Anve, so when she invited me for tea at her flat in Lisbon, I was as curious to see the interiors as I was to meet her.
Greve lives with her husband Carlos and their young son, Camille, in a historic four-story building in the Principe Real district of Lisbon. The mansion was built at the end of the 19th century by Eduardo Coelho, the founder of the Dario de Notícias, the first modern newspaper in Portugal (it was rumored to have been built for his lover, who later ran off with the chauffeur). During Coelho's residency, the ground floor functioned as a meeting place and salon for writers, artists, and intellectuals.
The Greve family now lives on the second story, or andar nobre as it's called in Portuguese. You enter into a grand parlor with a mix of period details: etched mirrors, panels of woodland narratives, elaborate Victorian wainscoting, and eclectic parquet floors. "When we moved in, we did not change anything; the apartment speaks for itself," says Greve. "My interior style is a mix of selected flea market pieces, finds from the street, and a few designer items." Join us here for a tour.
Photography by Antonio Cardoso, courtesy of Kerstin Greve.
Above: The untouched 19th-century staircase complete with floral ceiling trim, an antique bench, and religious paintings.
Above: In the parlor entry is a midcentury desk that Greve rescued from the street while traveling in Germany; on top is a cork bowl from one of her favorite Lisbon shops, Loja Quer.
Above: The living room is anchored by a pair of sofas designed by Hannes Wettstein for Molteni & C. (for a similar style that's currently available, consider the Molteni & C. Turner Two-Seat Sofa).
Above: Heavy, formal drapes came with the apartment when Greve moved in.
Above: The original chandelier hangs above the dining table, which Greve sourced from a Swiss shop; the table is surrounded by a set of caned Thonet cafe chairs. On the inset wall shelves are figurines and tableware from Greve's travels.
Above: A large bedroom that Greve and her husband share with their son.
Above: The bedroom armoire—original to the building—once stored the ball gowns of Coelho's lover.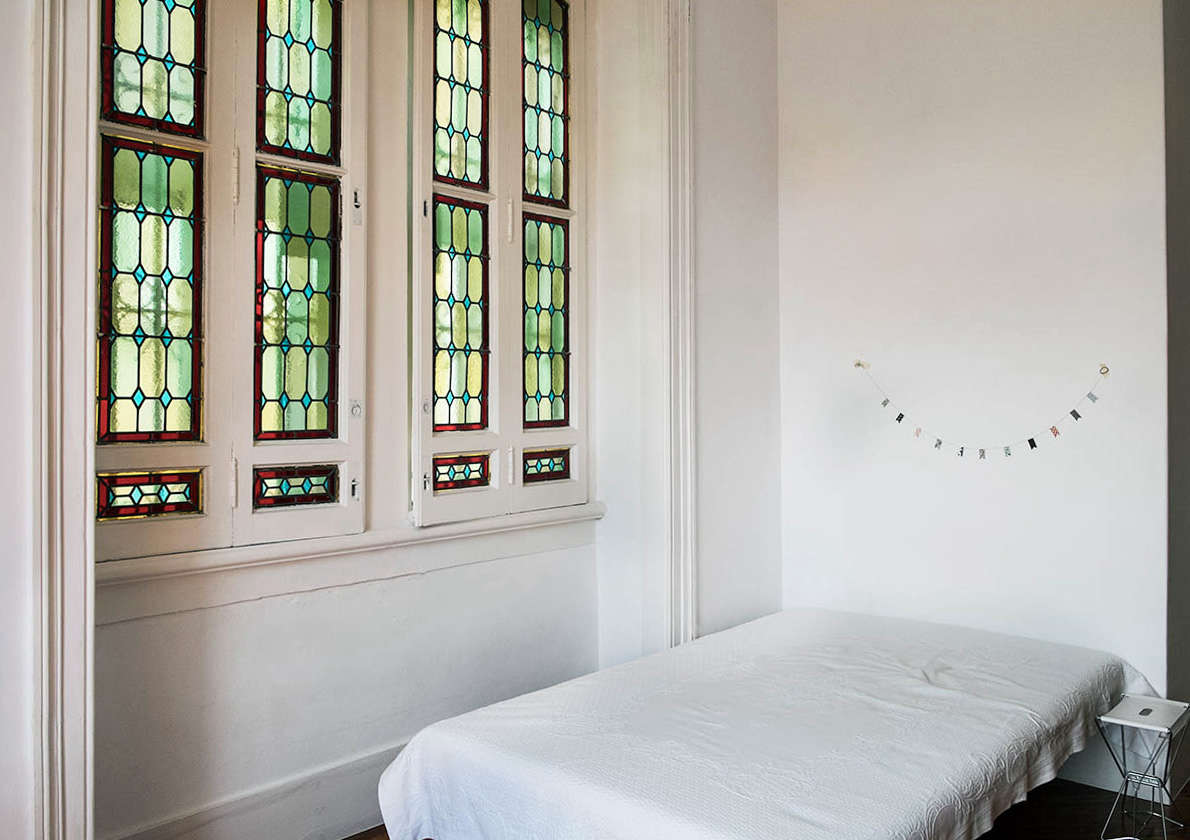 Above: Stained glass windows in the spare bedroom. Beside the bed is a leather Banquinho stool from Greve's company Anve.
Above: Greve's work table where she designs, measures, and cuts the leather she uses in her pieces.
Above: Greve's bike in the apartment hall; on the door handle is a printed Anve Mala Cinto Bag.
For more on Anve, see our posts Banquinho Stool by Anve in Lisbon and Lighting: Laboratorio Lamp from Anve in Lisbon.
Writer Danica Wilcox is also a designer under the name Hito Home. See more of her work and writing through our posts:
(Visited 224 times, 1 visits today)