The Ludlow Hotel is the latest in Sean MacPherson's portfolio of boutique NYC properties, and an amalgamation of the lessons he's learned along the way: It has the brick walls and industrial windows of the Bowery Hotel, the compact guest rooms of the Maritime, the super sound system of the Jane, the Parisian sconces and brass bathroom fixtures of the Marlton. And the clubby atmosphere of all of the above. 
What started as a standard concrete-slab high-rise on the Lower East Side has matured into a grand hotel via the layering of materials. Lots of them. Hallways got paneling, guest rooms received beams and wood flooring, and the lobby and its neighboring lounge and buzzing restaurant, Dirty French, now sport the ceilings of old loft buildings, parged brick walls, wainscoting, and a rich mix of new and vintage furnishings.
Above: In the lobby, parged brick walls–brick that's been skimmed with a layer of cement to soften the surface–set off classic wood paneling and a graphic, diamond-patterned front desk custom-made of mahogany.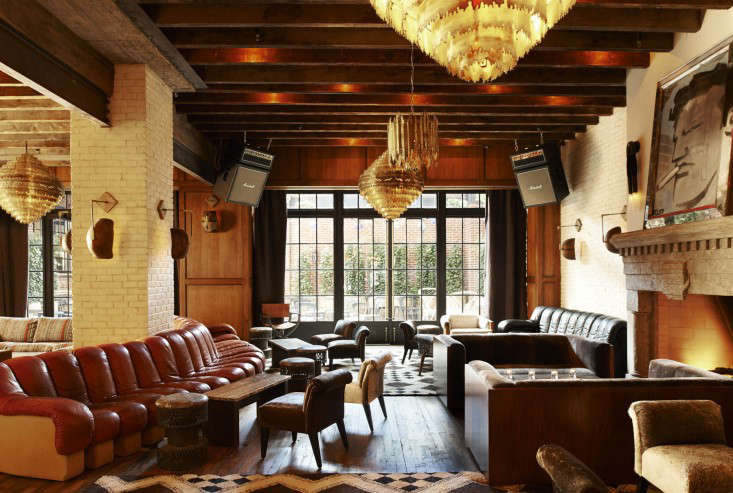 Above: With its Brutalist light fixtures and vintage SeDede Non-Stop sofas that curve around a brick pier, the lounge has a magnetic pull. Small chairs and stools allow for endless configurings.
Above: For instant atmosphere, the limestone hearth comes to life at the flick of a switch. A pair of vintage Milo Baughman sofas reupholstered in shearling creates cozy fireside seating.  Above the limestone mantel, a painting by Robert Loughlin is flanked by Apparatus Studio's Horse Hair Sconces.
Considering your own fireplace? See Remodeling 101: Wood-Burning vs. Gas Fireplaces.
Above: The Torrisi team along with cocktail wizard Thomas Waugh is behind the drinks list at the zinc-topped bar tucked in a corner of the lounge.
Above: Hot pink poultry roosting above the windows are one tip-off that the menu at Dirty French, though Gallic, is not exactly reverential. Ditto the decor–classic bistro chairs and red banquets are mixed with a lit-up mirror and art curated by Vito Schnabel.
Above: The scene at Dirty French can be viewed in soft focus through a wall of factory windows separating the restaurant from the lobby hallway. Hand-blown globes in a variety of shapes and sizes introduce constellations of warm light.
Above: Details such as whitewashed beams, wide-board floors, and brass air registers lend character to the new high-rise. By day, the guest rooms, though small, are airy. By night, they expand via a glittering cityscape. Sheepskins, satin quilts, and pleated silk shades add notes of luxury and softness. Custom fittings include the brass pendant lamps (made in Morocco), flat-weave rugs (from India), and mottled curtains (stitched in NYC).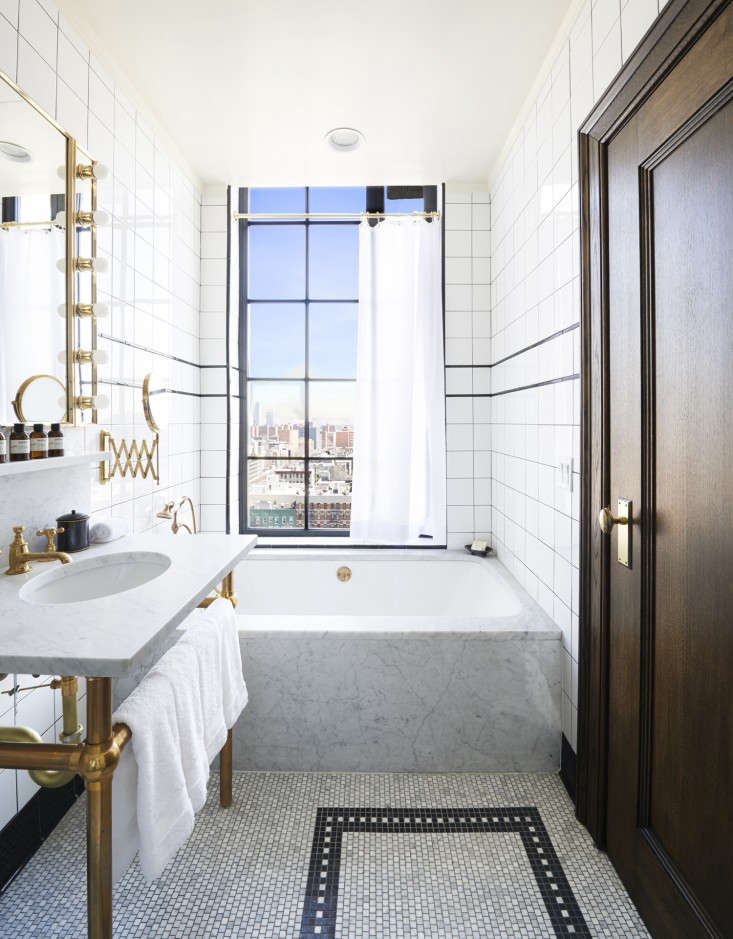 Above: Queen loft rooms come with a rain shower and separate soaking tub with panoramic views.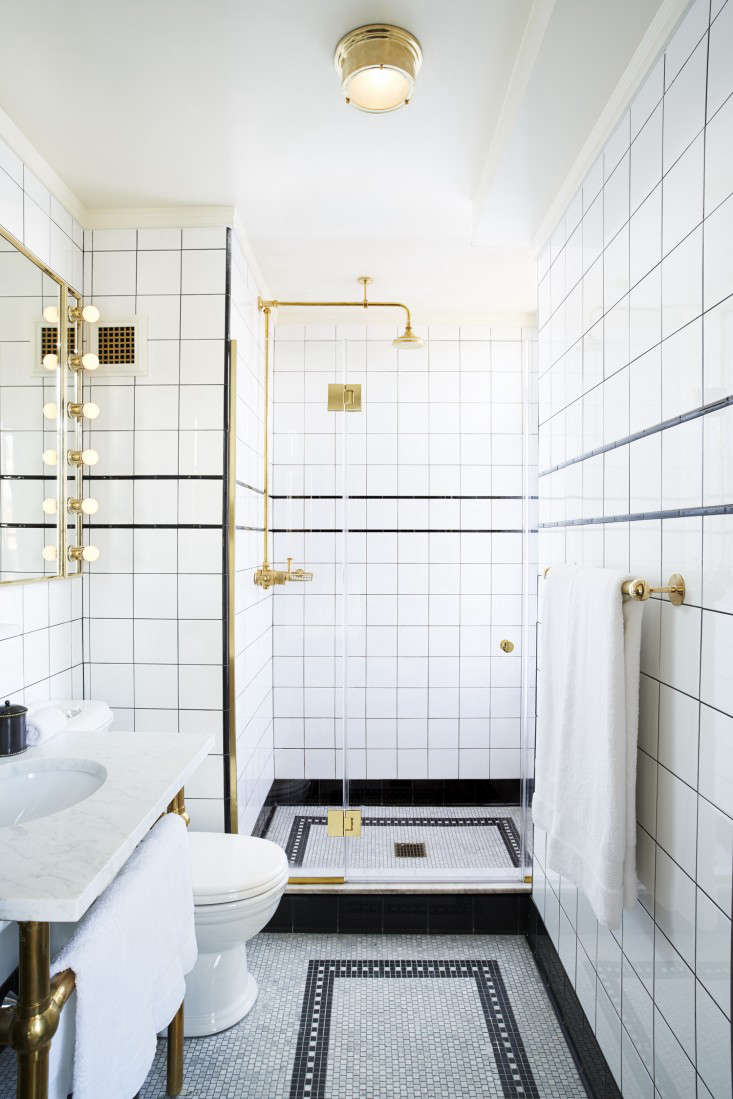 Above: Brass fittings and classic vanity light bars add dazzle to a white, black, and gray bath kitted out in a materials palette of tile and marble.
Above: A four-poster bed custom-made in Portugal is the centerpiece of each room.
The Ludlow is at 180 Ludlow Street (catercorner to landmark deli Katz's of When Harry Met Sally fame). 
Tour Sean MacPherson's Marlton Hotel on West 8th Street in Honey, I Shrunk the Ritz.
For more New York recommendations, consult our City Guide. Some highlights:
(Visited 467 times, 1 visits today)