Shortly after Abby Weintraub and Matt Manfredi bought their 1941 Hancock Park house, they watched it gobble up their savings: a new roof, furnace, pipes, wiring, and air conditioning filled their punch list. All other remodeling would have to wait–or would it? Faced with a cramped kitchen last touched in 1984 by Laura Ashley lovers, Abby and Matt waved an SOS sign and architect Barbara Bestor came to their rescue.
Bestor didn't flinch at their request for a total transformation on a relative shoestring. Instead she took a look around the house, which Abby terms "Hollywood Georgian," and made some masterful room reassignments. She designated the unneeded formal dining room as the family room–the couple have two young kids and a casual, all ages approach to entertaining. Meanwhile, a small den morphed into the dining room, and by taking down a wall between it and the kitchen, Bestor created an open-plan cooking and eating setup that makes both spaces feel bigger and brighter.
Lastly, she oversaw a gut renovation of the kitchen itself, mindful of Abby and Matt's desire for a clean, high-functioning setup that looks at home in a period house: "We took the elements of a lovely 1940s kitchen and rebuilt them for now," Bestor says. The couple–Abby is a graphic designer specializing in books; Matt is a screenwriter and an avid cook–are East Coast transplants who thoroughly appreciated the new old-fashioned details and practicality. "Barbara is known for her California look, but she grew up in Cambridge, Massachusetts, and she has a real New England sensibility," Abby says.
Photography by Jessica Comingore for Remodelista.
Above: Barbara Bestor preserved the kitchen's original steel-framed casement windows and added more. This one is new–it came from Torrance Steel Window Co.–and opens up views to the expansive backyard. "It's true that steel windows are more expensive than wood," Bestor says, "but they offer a very different effect in important ways: the size of the mullions, flat profile, and continuity with the period of the house." As for the kitchen faucet, after a long hunt for the right design that wouldn't take months to arrive, Abby found their Axor Montreaux bridge model by Hansgrohe on Amazon.
Above: Instead of a space-hogging island, the new kitchen has a Carrara-marble-topped peninsula that serves as a breakfast counter and holds a six-burner Aga stove (surprisingly less expensive, the couple found, than the equivalent from Viking or Wolf). The FlowerPot Pendant Light is a 1969 Verner Panton design from LA's A+R Store that comes in 10 colors.
Above: The kitchen is open to the new dining room carved out of what had been a tiny den with too many doors (some were closed up and all remaining door frames got streamlined). The bentwood Bento Chairs are by Swedish group Form Us with Love and came from the A+R Store.
Above: On a dining room wall, Bestor inserted a porthole window that frames the dining room's Tom Dixon Bronze Copper Shade Pendant and provides a glimpse of the backyard from the front foyer. "I wanted to create a visual connection with the outside, but a traditional window would have looked like a mistake," Bestor says. "The circle reads like a mirror and preserves a sense of privacy. It's more Magic Castle than Barcelona Pavilion."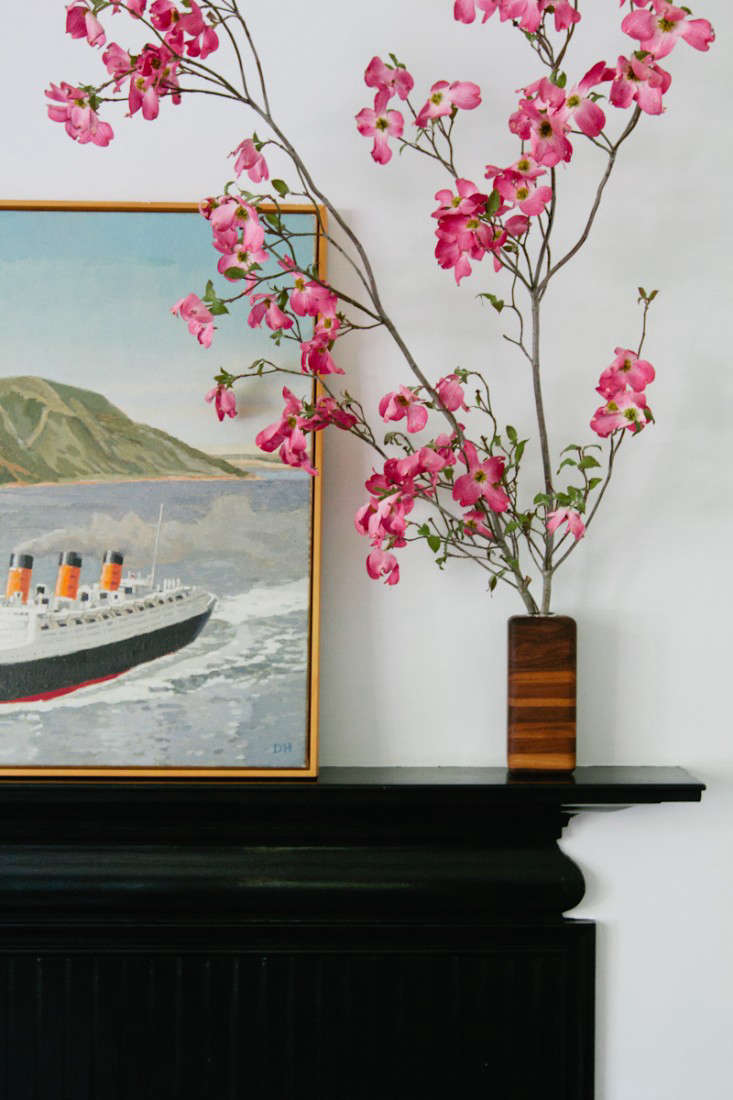 Above: A detail of a ship painting by Duncan Hannah rests on the mantel, the lone feature from the den that was preserved.
Above: White-painted poplar cabinets were designed to look, as Bestor puts it, "sort of old-new." The upper cabinets have glass fronts that lend a lightness and prevent the tight space from feeling crowded. In keeping with the traditional look, the counter is polished Carrara marble.
Above: Faceted Mission/Arts + Crafts Wooden Cabinet Pulls were sourced from Nice Knobs. 

Above: The steel-framed windows are painted Black Bean from Dunn-Edwards Paints.
Above: The walls are tiled in outsize subway tiles–6-by-12-inch Northern Lights tiles in Dover White from Mission Tile West.
Above: A washer and dryer are sequestered at the far end of the kitchen, where they're on hand but not visible from most views. The oak flooring matches the original floors in the rest of the house. Architect and owners both credit the final success of the remodel to the work of the crew headed up by contractor David King of DTK Builders, in Los Angeles.
Above: Whenever anything was deemed too expensive, Bestor pulled a new trick out of her bag. This desk is made from Ikea dark butcher block sanded and stained to look like teak. "It's one of the most commented-on features in the kitchen," Abby says. "Everyone loves the wood and asks what it is." The cabinet above it has a built-in nook for a microwave.
Above: A detail of the Carrara-topped counter.
Above: The peninsula that extends from the counter is detailed with a bookshelf for cookbooks.
Above: The fridge–a 48-inch Kitchen Aid–stands discreetly at the back of the kitchen. See our posts How to Choose a Refrigerator and 10 Easy Pieces: Built-In Refrigerators for ideas.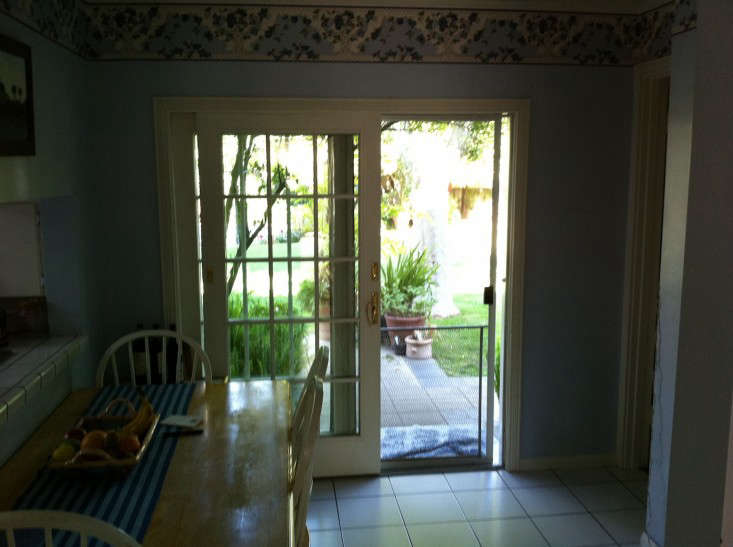 Above: A glimpse of the setup B.B.B.–Before Barbara Bestor.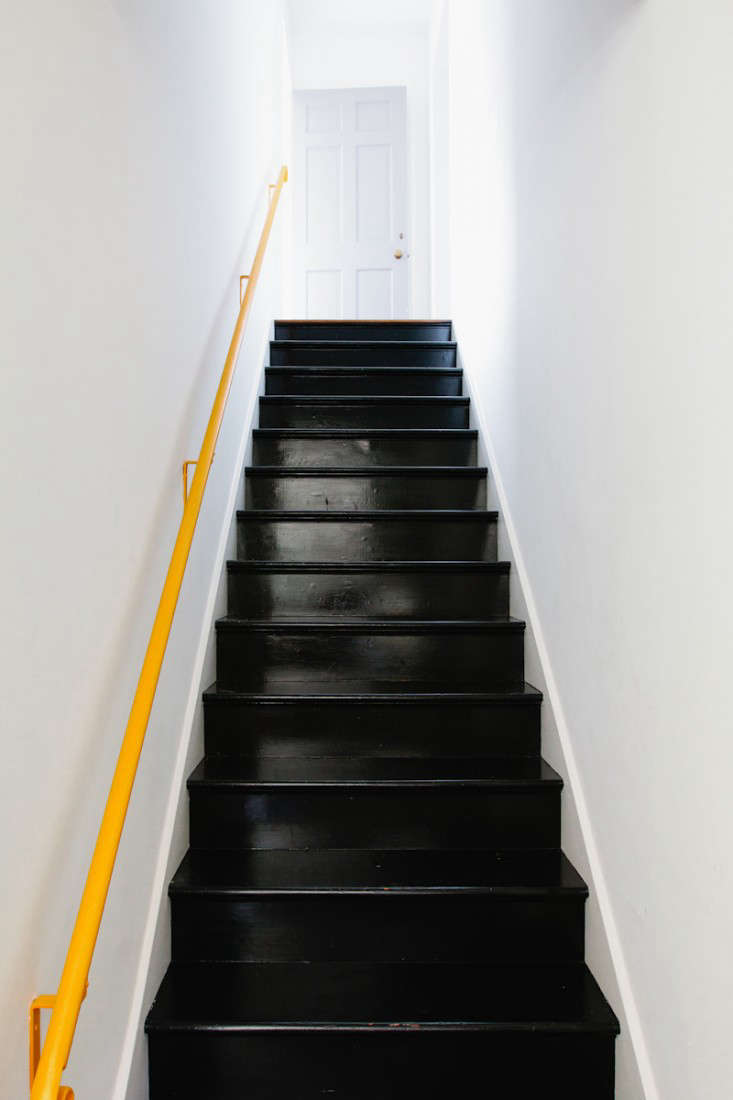 Above: Formerly sectioned off behind closed doors, Bestor opened up the back stairs. They're painted a glossy black and outfitted with a pole banister in Benjamin Moore Bumble Bee Yellow–no-nonsense New England, points out Abby, with a hit of sunny California.
The other room that Abby and Matt tackled with Bestor's help is the master bath–see Steal This Look: A Barbara Bestor–Designed Master Bath in LA. More kitchen takeaway? Browse our Kitchen Gallery for inspiration and advice. Thinking of doing away with your dining room? Read Michelle's Gardenista post, The Death of the Dining Room.

N.B.: This post is an update; the original story ran on August 19, 2013, as part of our issue The Summer Kitchen.
You need to login or register to view and manage your bookmarks.