Our recent feature on creative director Sandy Suffield's paper quilts introduced many to The Engine House, her romantic ruin in Suffolk, England, that she turned into a modernist's dream vacation rental. Specifically, many were transfixed by the pair of circular metal lights hovering spacecraft-style over the dining table. Where did they come from and what is the story behind them?
The Sighting
As an environmental best practice, Sandy set out to furnish the rooms entirely with vintage and used finds, so we weren't surprised to hear the lights date from the 1970s and are no longer in production. Then a shot-in-the dark email led us to the designer himself. Photograph by Jefferson Smith.
The Source
Who was Hans Due? We came across a Danish artist/graphic designer by that name online. Yes, he immediately responded to our query, the Optima was his baby. His inspiration? "An irritation at that time with popular, big, vulgar lamp designs that damage the look of the people on the opposite side of the dining table." The Optima, he added, is intended to be used with a half-chrome bulb, "to give an indirect light that doesn't blind—the flat, dynamic design lights up a space without dominating it."
After decades of running his own design studio, Due is now focused on painting; you can see his work here.
The pendant light generally sells for $600 to $1,000 in the US these days from midcentury specialists. Sandy said she spent considerably less by sourcing each of her lights individually on Guloggratis, "the Danish equivalent of Craig's List"—a Danish friend helped her communicate with the sellers. Danish site DBA, she notes, is another good source: a pair of small red Optima lights is currently on offer for less than $50.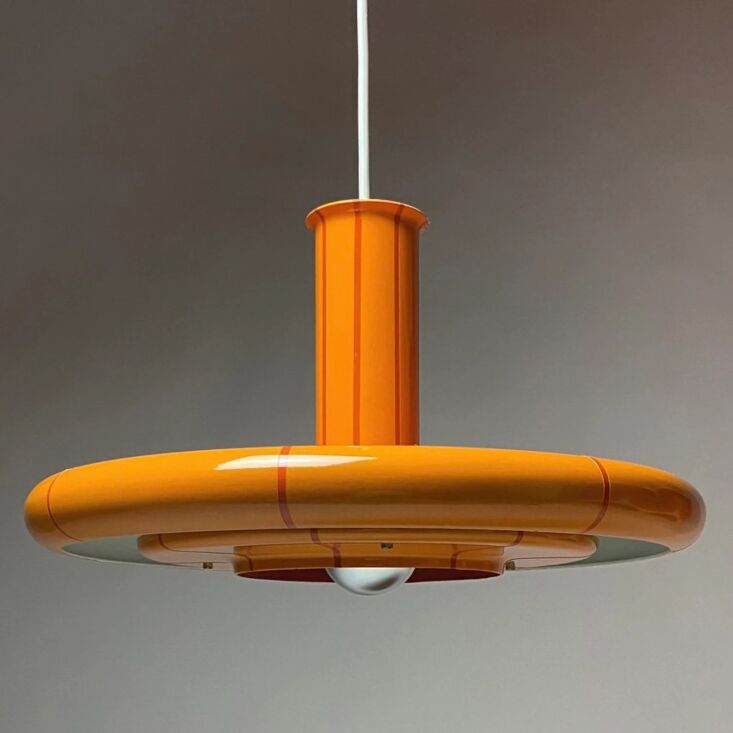 And there are a number of contemporary designs akin to the Optima, such as Original BTC's bone china Drop Three Pendant, $965; Belgian designer Jean Francois D'or's TossB, £386.54;  and the Plate Classic Lamp, €120, by Ukrainian lighting company +Kouple. Know of others? Fill us in.
For more Remodelista design sleuths, see:
(Visited 180 times, 1 visits today)