Specializing in 18th-century kitchen craftsmanship applied with 21st-century verve, Plain English has been on our radar for a good while. (See, for instance, A Kitchen Inspired by a Windswept Island, A Subtly Splendid Kitchen with a Grand Walk-In Larder, and A Kitchen for the People, Courtesy of Prince Charles.)
But we've always had to admire the UK company's work from afar—until now. Its former creative director Julian Bly "came over prospecting for gold in May," he says, and now heads Plain English's new US office. Based in NYC, his mission is to translate the Plain English way Stateside (and already has kitchens in progress in Brooklyn, Greenwich, Phoenix, Austin, SF, and LA). All the cabinetry is made to order at the company's farm estate in Suffolk, then shipped here (prices average $1,800 per linear foot). Here's our favorite project from the fall catalogue, and for more inspiration, visit Plain English's just-unveiled new website.
Photography courtesy of Plain English.
Above: Set in an old schoolhouse in South London, this kitchen—nearly as tall as it is wide—features under-the-counter cupboards from Plain English's Spitalfields line and an island from its Osea range. (See the same island in a very different guise and setting on pages 186 to 191 of the Remodelista book.)
Above: The design is a study in subtle contrasts. An extended backsplash of Carrara marble is paired with white walls and exposed industrial beams. Carrara marble was also used on the counters and the island is topped with more dramatically veined arabescatto marble. (N.B.: In the US, counter materials and appliances are sourced locally.)
The pale herringbone wood floor is offset by cupboards painted Jack Black and the island in Lamp Black, both from the Little Greene Paint Co. The hanging light is the Shape Up by Ladies & Gentleman Studio for Roll & Hill.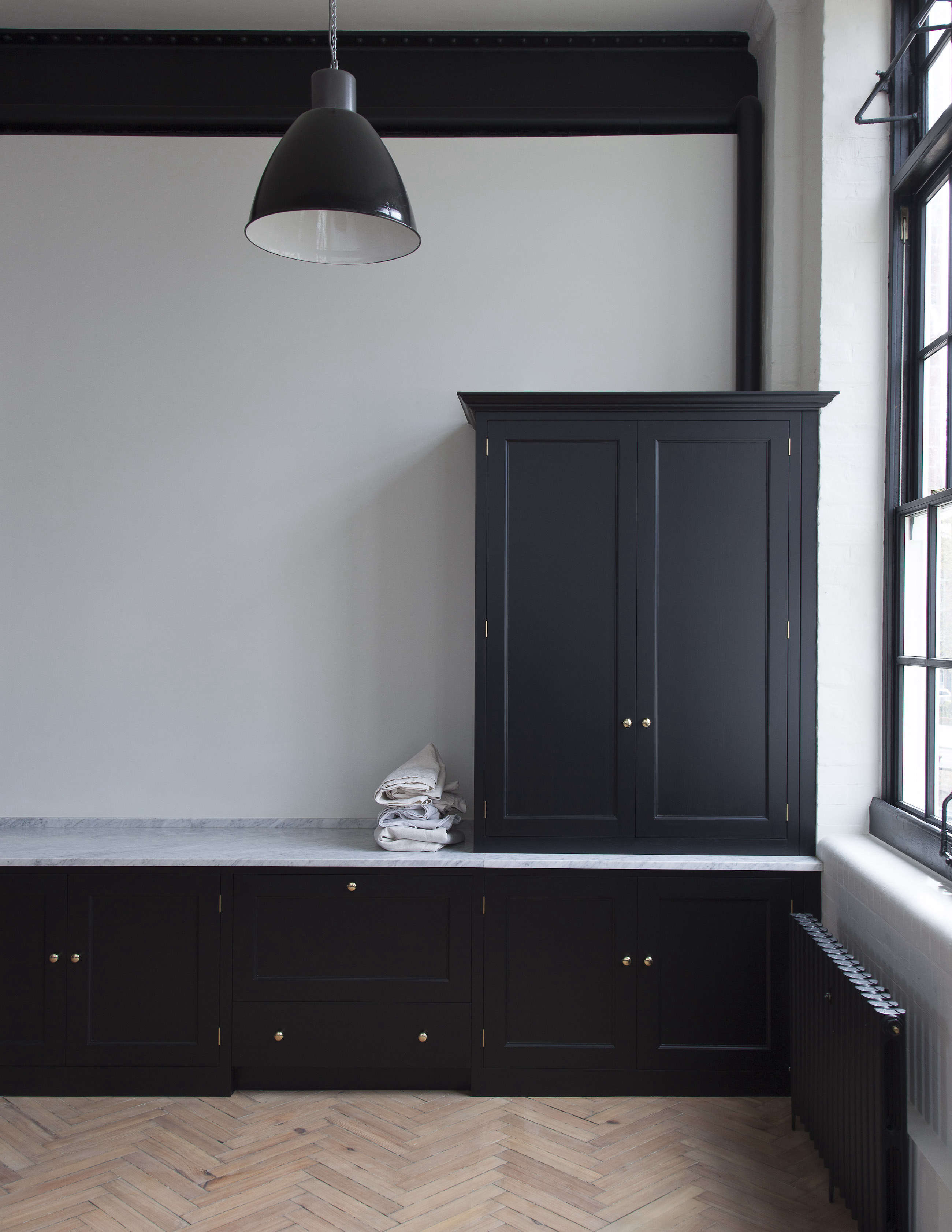 Above: Under-the-counter refrigerator drawers are concealed in the adjacent cabinet run, which ends with a "counter-standing" cupboard. "People respond to the fact that our kitchens are so restrained, handsome, and approachable," says Bly.
Above: After developing a series of metal- and wood-frame glazed screens for its kitchens, Plain English has begun applying its designs to other rooms in the house. The steel-framed bathtub is the Vieques from Agape.
Above: Ribbed glass in the steel-framed screen allows in light while providing privacy.
Julian Bly specifies that Plain English supplies complete room designs, and is open to discussing any project that requires cabinetwork. Orders, he says, typically require three months to be completed in the UK and shipping—"which my clients have been finding surprisingly reasonable"—generally takes a month.
See more of the company's designs and learn 10 Ways to Achieve the Plain English Look. And take a look at the brand's more affordable à la carte line, British Standard—the next, we hope, to leap the pond.
(Visited 805 times, 7 visits today)