British bespoke kitchen designers Plain English were inspired by "the wild beauty of Osea Island" in their design for the Osea Kitchen, on view at the company's Marylebone showroom. Among its charms: a utility room tucked behind a wall of steel-framed windows (separating the laundry and a workroom from the main kitchen space without blocking light). We also like the wood paneled walls paired with wide-plank oak flooring to create a visually seamless look. Go to Plain English Design to see more of the company's work.
Above: For ideas on sourcing similar steel windows, go to Walls, Windows & Floors: Steel Window and Door Fabricators for suppliers.
Above: The mix of countertop surfaces is not only visually appealing but also serves the cook well: the butcher block surface can be used as a cutting board, the marble surface is baker friendly, and the durable matte stone stands up to pots and pans. See 10 Easy Pieces: Remodelista's Countertop Picks for countertop sourcing ideas.
Above: The simple and affordable Forsa Work Lamp; $29.99 at Ikea.
Above: Made of kikar wood and distressed buffalo leather, the Campaign Chair is $445 at Carmel Bay Company.
Above: Bowron Single Pelt Brown Sheepskin Throw; $49 at Amazon.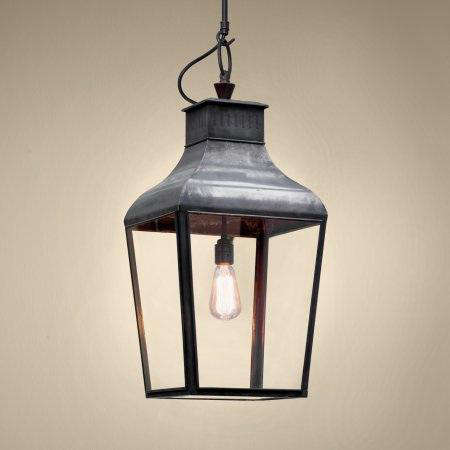 Above: The Montrose Medium Pendant in weathered brass measures 12.5 inches wide and 28.25 inches high; contact Circa Antiques for pricing. Other good sources for nautical-inspired vintage lights include Circa Antiques, PW Vintage Lighting, and Antiques of the Sea.
Above: Small Sling Pull (5 1/2 by 7/8 inches), designed by architect Emanuela Frattini Magnusson for New York-based leather purveyor Spinneybeck, are made from the company' durable full-grain belting leather, coated with a light protective water-resistant finish. The pulls are available in 15 Bauhaus-inspired colors and come with stainless-steel hardware; $15 at Spinneybeck
Above: Iris Hantverk Oval Bath Brush; $26 at Brook Farm General Store.
Above: Churchman's Kitchen Pillar Taps; £104.99 at Chrome Tap & Showers.
Above: Achieve a vintage lab faucet look with a pair of Chicago Faucets Single Supply Sink Faucets; $90.94 each at eFaucets.
Above: Bainbridge Blue paint from Benjamin Moore.
Above L: Stackable stoneware Sea Measuring Cups; $19 at West Elm.
You need to login or register to view and manage your bookmarks.