Lately one high/low hack has been popping up everywhere we look: using bits and pieces of discarded or leftover marble around the house for a luxe look on a budget. Case in point: When we wrote about this Two-Week, $1,000, 500-Square-Foot Rental Overhaul in Bushwick, Brooklyn, design student Kristina Line revealed that she scoured nearby marble scrap yards for unwanted pieces to create shelving and backsplashes in her DIY apartment; the restauranteurs behind the design-forward Portuguese wine bar Cervo's did the same for the restaurant's statement-making front counter. And when we looked back over the archives for more ideas for using marble odds and ends we found, among many ideas, some expert encouragement from Anthony D'Argenzio of New York City creative agency Zio & Sons: "Marble can be turned into trim around backsplashes, thresholds, door saddles. It can be cut, so it's more versatile than tile," he told us in Expert Advice: What to Source from Salvage.
Head to your local marble yard or retailer and see if they'll give you discarded pieces for free or at a discount, or use the odds and ends left over from a remodeling project. Even the smallest, scrappiest pieces can be repurposed. Here are 14 ways of using marble scraps to great effect—from small, simple hacks to architectural ideas.
1. Prop up bookends.
2. Turn a radiator into a sideboard.
3. Create an ad-hoc backsplash.
4. Frame a sink.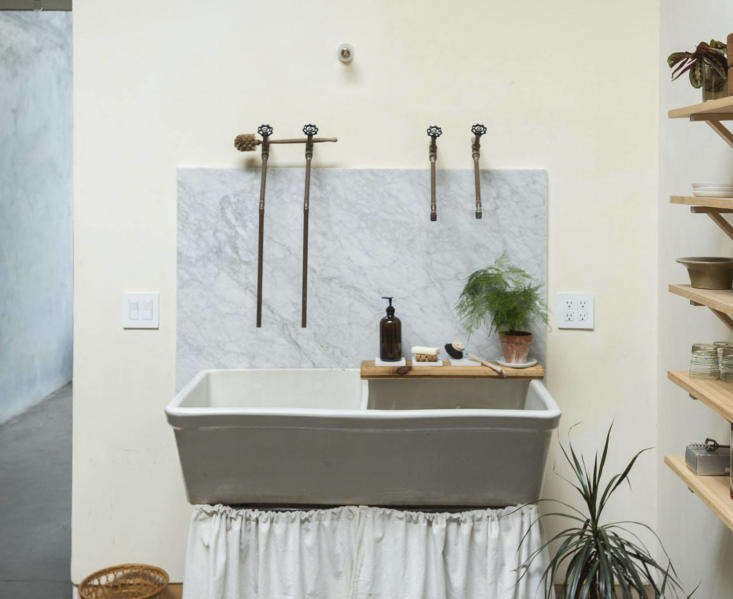 5. Mount open shelving.