Founded by Agust Juste and Eva Calduch, two Barcelona-based graphic designers, Behomm is a two-year-old home exchange community for "creatives and design lovers" (think architects, interior designers, photographers, creative directors, and stylists, but self-made aesthetes are also welcome). The couple launched Behomm after spending hours surfing existing home exchange sites in search of aesthetically appealing accommodations; frustrated, they set up their own network of design-minded house swappers, and over the past two years, they've built up a portfolio of nearly 2,000 properties in 59 countries, from Amsterdam to Cape Town. "We're passionate home exchange travelers," the couple says. "We do believe that sharing is the future." 
How does it work? Prospective members submit photos of their houses, and Juste and Calduch vet submissions for inclusion. Membership has its privileges: No money is exchanged, so you get to live like a local for the price of food and travel, and you're pretty much guaranteed to land somewhere nice. To request an invitation, go to Behomm.
Join us for a tour of a Parisian flat we're eyeing for our next holiday abroad.
Photography by Paul Raeside, courtesy of Behomm.
Above: Located in the 10th arrondissement in what Behomm describes as a "large Haussmannian flat typically Parisian, full of light, central," this 1,830-square-foot apartment belongs to Ivan, co-owner of quirky accessories company Atypyk, and Brigitte, a fashion designer, who have twin 16-year-old sons. Note the French doors and herringbone floor. We also like the gray palette and undone chic approach.
Above: The radiators are all topped with raised marble shelves.
Above L: The dining room retains its original corner cupboard. Above R: Along the windows throughout the apartment the herringbone is paired with concrete.
Above: There's an enticing timelessness and serenity to the room.
Above: Utensils hang on metal hooks in the eat-in kitchen.
Above: A coated tablecloth in a soft silver matches the stainless steel appliances. (See 5 Favorites: Scandinavian Modern Oilcloth for practical tablecloth ideas.)
Above: Cabinets are painted a warm gray and the floor has charcoal-glazed tiles.
Above: Market baskets and milk pails hang from Ikea's Grundtal rails and racks: See The Ultimate Budget Kitchen Storage.
Above L: A hall outside the kitchen has a chalkboard-painted wall and a print of a matador hung with black tape. Above R: From owner Ivan's design company, the Time Is Money ceramic clock doubles as a piggybank (a surprise place to sock away spare change). 
Above: The powder room features a Duchampian toilet (see more in A Dadaist Dream).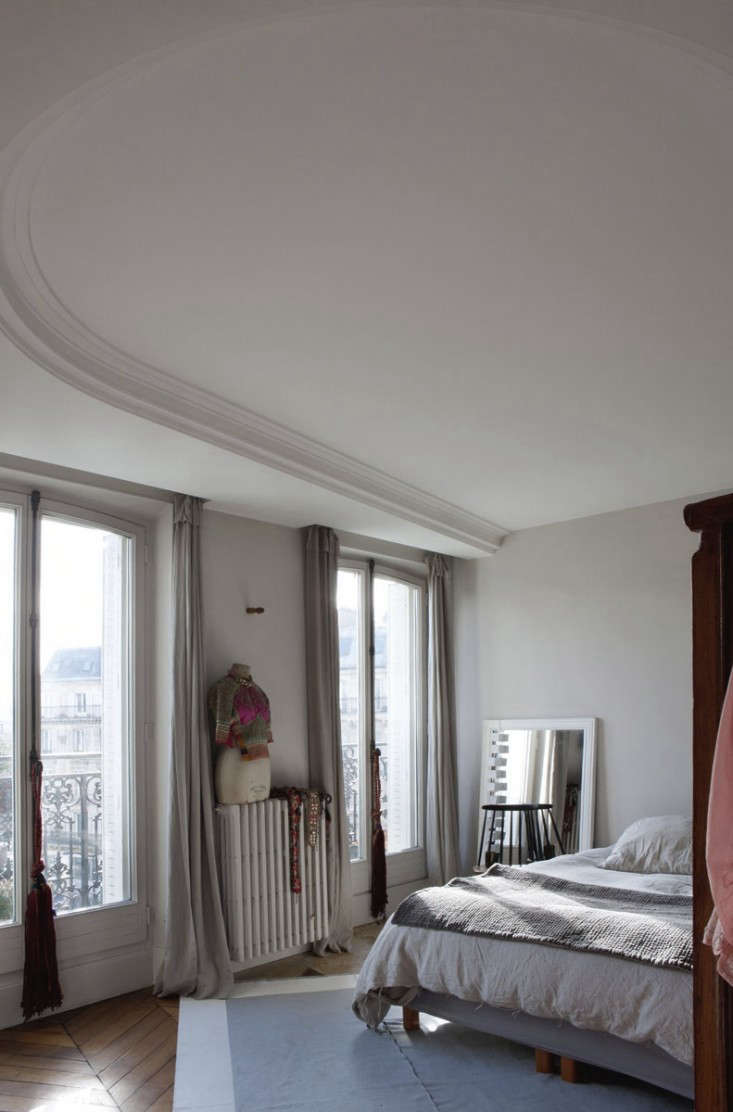 Above: There are French doors–and balconies–in all the main rooms, including the light-filled, east-facing master bedroom.
Above: In the master bath, the radiator serves as a vanity.
Above: The view from bed.
Above: An Art Deco built-in bathtub with modern handheld shower.
Above: More shades of gray and an impressive photo collage in the kids' room.
Above: The photo mural extends to a white desk wall. Similar linen bedding can be sourced at Merci and Caravane in Paris.
Go to Behomm for full details and to see more apartments and houses in the network.
Looking to rent a vacation house? Take a look at:
(Visited 438 times, 3 visits today)