Here in New York, finding the perfect apartment is an almost futile quest. Unless you're one of the lucky few—we all know that one person who somehow happened upon a gem, with hardwood floors, an updated kitchen, tasteful light fixtures, and a working fireplace to boot—chances are you'll end up wanting to change at least one thing about your apartment. (I love the big windows and tall ceilings of my Manhattan rental, but I curse the brown laminate kitchen cabinets every time I walk by.)
But we've learned that you don't have to just live with the cards you're dealt, even if your landlord won't allow large-scale changes: There are plenty of small, easy, reversible swaps that make a bigger difference than you'd think. Half of the Remodelista team rents, and we know from experience: Alexa created a kit of better light fixtures, outlet covers, and hardware that she carts with her from apartment to apartment. Kristina took the unsightly doors off of her closet in her Harlem apartment late one night (both to remove an eyesore and for easier access). In her San Francisco flat, Meredith removed and stowed away the standard-issue window blinds and swapped out the rusted metal forced-air grates with plain wood ones from Home Depot.
Take it from us: small swaps make a difference. Here are 23 small, on-a-budget changes, most of which take less than an hour, all of which can be reversed with ease when it's time to move out (and get your security deposit back).
Fix Up the Kitchen
In a rental, the kitchen is often the area where the most can go wrong design-wise, and chances are you can't rip it out and start fresh. A few, no-impact swaps to get you through.
1. Lay new countertops right on top of the old.
2. Swap knobs for ultra-DIY leather pulls.
3. Wrap pulls in tape.
4. Take off the cabinet doors.
5. Hang fabric (or even pretty tea towels) in place of cabinet fronts.
6. Build a temporary backsplash.
7. Invest in custom fronts.
Transform Outdated Light Fixtures
A rental with acceptable light fixtures is a rarity. (Here at Remodelista, we're always wishing that landlords would just outfit apartments with The Hardware Store Porcelain Light Socket—it's inexpensive, versatile, and timeless.) Enlist these hacks until they catch on.
1.  Swap out a front-and-center fixture with something more appealing.
2. Or, add a statement shade right over the old fixture.
3. Replace exposed bulbs with artful versions.
Upgrade the Bathroom
If you're like most of us and inherit a rental bathroom in serious need of an upgrade, try these ideas.
1. Swap out standard-issue shower curtain rings.
2. Switch the mirror.
3. Wrap exposed fixtures in rope.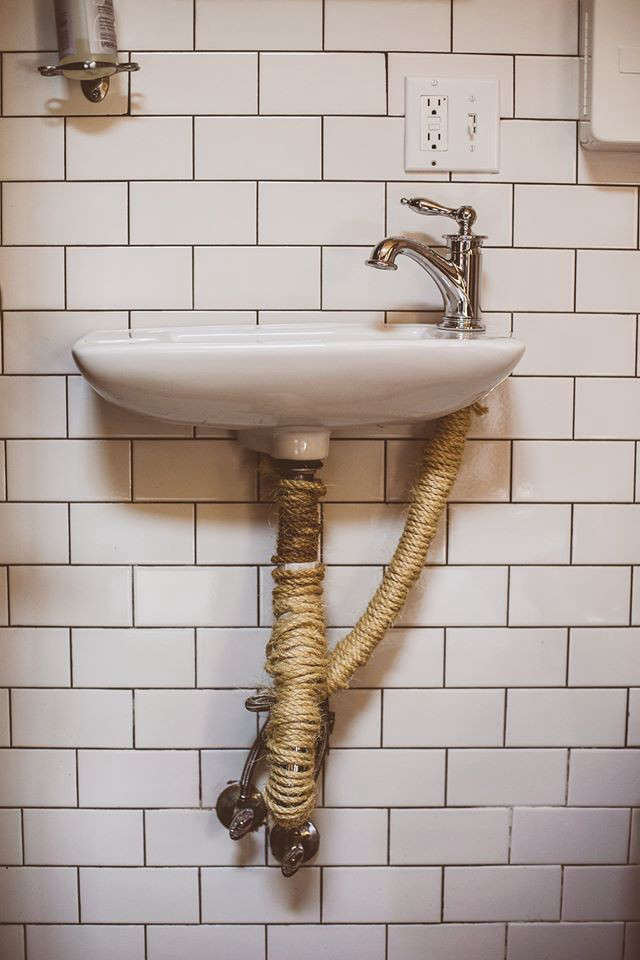 4. Snap on removable tiles.
Cover Bad Flooring
Here are some ways to cover up less-than-desirable floors.
1. Layer boards or painted plywood, cut to fit, on top.
2. Source, or create, an artful floor covering.
Disguise Exposed Utilities
Here are some tricks to disguise unsightly fixtures.
1. Paint utility fixtures.
2. Wrap steam pipes in rope.
Divide Your Space
If you live in a smaller space than you'd like, one of these simple changes can help divide it.
1. Paint a "room."
2. Use a bookshelf as a divider.
3. Add a rolling rack and a curtain.
Cover Bare Walls
A solution for bare apartment walls, and renters (or commitment phobes) who don't want to hammer nails in:
1. Hang photos (and storage) from the molding.
2. Or, lean art and mirrors on the floor.
More ideas for the rental apartment:
N.B.: This post is an update; the original story ran on March 23. 2018.