This just in: what might be the most ingenious, scrappy rental renovation we've seen. It came in from Kristina Line, a 25-year-old Norway native studying art and architecture at the Royal Danish Academy of Fine Arts (she's taking her exams this spring) and her partner, Anton Bak, from Copenhagen, a spatial designer at the Royal Danish Academy (who also works at cabin start-up Klein).
The pair put their studies to the test when Line landed a coveted internship with Danish designer Søren Rose Studio in New York City but found that her loft apartment in Bushwick, Brooklyn—in a former textile factory—lacked the aesthetics to match her design-forward life, to put it mildly. "The only furniture in the room was the quintessential, typical, cheap, manufactured, dysfunctional kitchen in brown colors," Line says. But the apartment had good bones—including large industrial windows, a luxury in New York—and the couple saw an opportunity to flex their design muscles. Line promised the landlord she'd improve the design (and rentability) and moved in for cheap, then Bak flew in to help revitalize the place. The deadline: two weeks. The space: 500 square feet. And the budget: $1,000 (and lots of odds and ends found for free in their industrial neighborhood). Here are the nitty-gritty, DIY-only details.
Photography courtesy of Kristina Line and Anton Bak.
After
With the cabinetry gone, the couple set about creating a kitchen from scratch. Their trick: They placed the fridge, sink, and range on one wall and built out a plywood frame around them, then painted the interior blue to set the space apart from the rest of the room. "We wanted to somehow divide up the big, open loft space into smaller areas, to implement a more interesting spatial sequence and to break things up a bit," Line says. "The plywood also functions as a room divider to the hallway."
The hanging lights are from Søren Rose, and the marble slab, repurposed as a backsplash, was salvaged from a nearby stonemason. "It is funny that all of these high-end manufacturers in Bushwick mainly focus on the big money jobs, which we figured out could benefit young designers like ourselves," Bak says. "They don't see the beauty in the broken leftovers, or what in their eyes is trash."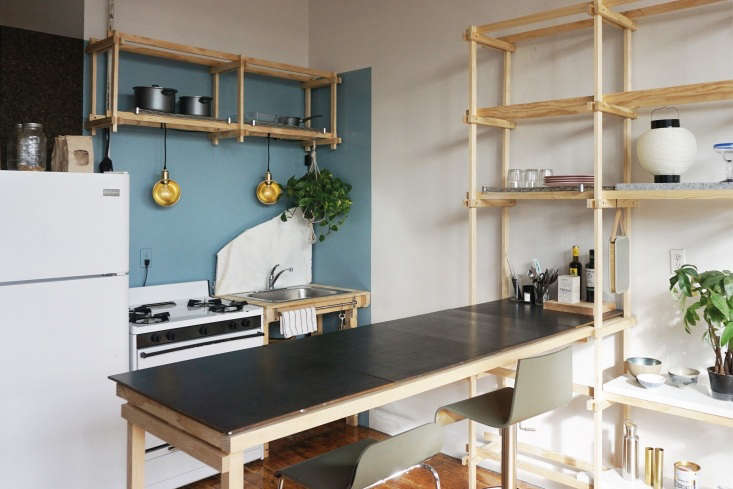 Above: Found marble and wood pieces on the wooden frame. Plus: an S-hook holds a slim speaker.
Note the interior window on the right, the only major architectural change: It brings extra morning light into the small bedroom.
Before
More renovations in Brooklyn:
N.B.: This post is an update; the original story ran on February 2, 2018.
(Visited 123 times, 1 visits today)