"I think it's because I'm from the north of France that I find colors very romantic, but in the real sense of romantic," designer Clarisse Demory tells me as we sit in her Paris kitchen talking about pastels and her use of color. "In Lille there is a kind of nostalgia, because the sky is heavy and dark and you have a single ray of light; like the paintings of Dutch masters." Her kitchen mimics the very same description of Lille: the walls are washed with gray she mixed herself using cheap paint and a keen eye, highlighted with a collection pale pink vases, a few houseplants, dark green cupboards, and a Staub La Cocotte to match. A country landscape right there in the 19th arrondissement of Paris.
In the kitchen, set out on a small wooden table is a simple demi-baguette on a white linen cloth. Its placement asks for your appreciation of the baguette's color, but Clarisse has a way of doing this: extracting the extraordinary from the ordinary. "I love not having a hierarchy between materials. For example, I find plastic bags so precious somehow because, I mean, it's so useful. We don't realize the value of a plastic bag because it's cheap, but just think about the process behind it: the technology, the people making it, it's so light, and can look quite beautiful."
The ability to transform and elevate everyday objects and furniture is seen in Clarisse's work as designer, stylist, art director, and photographer for the likes of Nanashi, Hunting and Collecting, Les Néréides; she's currently designing a boutique hotel in Florence, Italy. She documents all this and a love of "ugly-beautiful" in Ensuite, an "online department of observations, discoveries and inspiration." Since 2000, she has lived in the apartment with her sister, Lucile, and little by little she's transformed a dark, colorless space into one with unmatched personality.
Photography by Natalie Weiss for Remodelista (except where noted).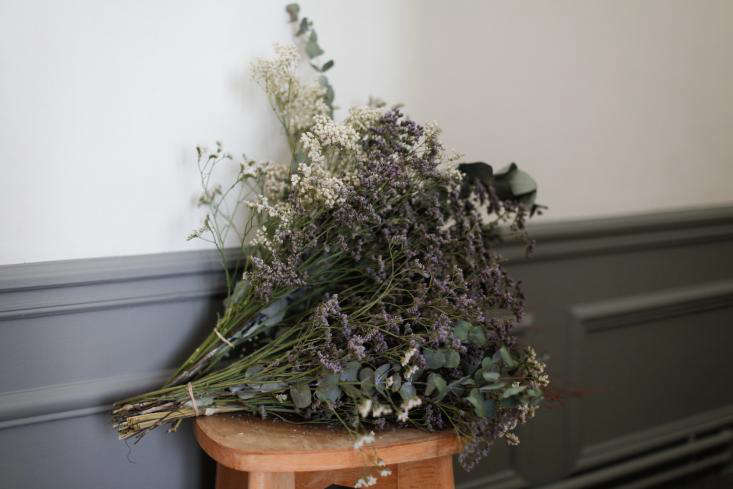 Above: Two bouquets of dried gypsophila, eucalyptus, and limonium greet guests at the door.
Above: The living room contains an old mantel (good for still life sculptures), two marble tables at slightly different heights, two small couches, and a paper wall decoration from Confetti System.
Above: Lucile and Clarisse Demory sit together by the living room window.
Above: Clarisse has been collecting vases (here with an paper object from Confetti System) for years. "I love the challenge of removing them from the dusty place where they're found, where they look like nothing at all, and then suddenly you use them in an empty space and they all look so beautiful. I like to take them and make a still life–it becomes more like a sculpture; they don't even need flowers. I can immediately go into the cellar, take my vases, make a composition, and change the atmosphere of the room."
Above: An antique lamp, painting, and furniture from Emmaüs, France's chain of charity shops. "The store were a great secret maybe 15 years ago, but since the economic crisis everyone is going there now, appreciating its value."
Above: A DIY desk made from white metal frames and rectangular cuts of glass.
Above: French doors just off the living room open into Lucile's bedroom, where a sparse fiddle leaf fig tree matches the green tiled fireplace.
Above L: A round vintage lamp sits on a stool, both found in a nearby charity shop. Above R: Dried palm leaves are spray painted in a subtle bronze to add just a bit of sparkle.
Above: Ugly-beautiful marble mixed together.
Above: A print by Paris-based artist Olivier Sévére, a friend of the Demory sisters, hangs in Lucile's bedroom.
Above: Lucile makes vases of her own (she works with ceramicist Cécile Daladier) while she prepares her studio, kiln and all, at her family's place in Lille.
Above L: The small kitchen has a traditional Parisian tiled floor made from broken tiles and cement. Above R: Clarisse removed the doors from an Ikea cupboard and replaced them with tea towels. "It's less cold, less artificial this way," she says.
Above: "There used to be many small, traditional Parisian hotels in this part of Paris but they're all in very bad condition now so you find a lot of the furniture on the street," says Clarisse, describing the origin of the antique luggage bench, along with three others, she acquired by luck. Photograph by Alexa Hotz for Remodelista.
Above: A green Staub La Cocotte and Folding Wooden Dish Rack. Photograph by Alexa Hotz for Remodelista.
Above: "I like mixing a typical 1990s Memphis design with very ancient florals. I always keep a few plates out, just for the pleasure of it."
Above: A Baroque still life on the kitchen table.
Above: Green bottles contain olive oil or function as vases in the kitchen.
Above: With black plastic paint buckets from the nearest hardware store, Clarisse creates miniature gardens (she likes their square shape for fitting starter plants into their corners).
Above: A small pine tree and pale pink astilbe in the windowsill. Photograph by Alexa Hotz for Remodelista.
Above: When Clarisse first moved into the apartment, she pulled up the carpet in her bedroom and little by little stripped it down to build it out in the way she preferred.
Above: While she usually leans toward mixing her own inexpensive paint, Clarisse admires the subtle black tones available through Farrow & Ball. Here, she painted an antique armoire in a matte finish of Off-Black. "At first, I thought matte would be fine, but I noticed that a dark color of matte paint absorbs so much light that it was like a black hole," Clarisse explains. "But I don't like varnishes so I mixed oil with natural turpentine into a wax and let the paint absorb it."
Above: Books in a color palette to match the room, Byredo boxes designed by Acne, and vases.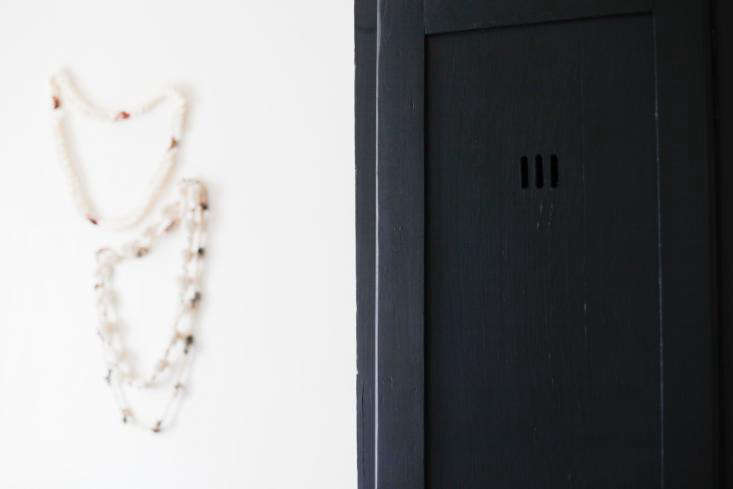 Above: A grouping of three shell necklaces: "They're not really fashionable, but I find them so interesting. When I was very young, it was quite trendy, and we forgot about them. I think we should look at them again," she says.
Above: A view of the Demory flat from their stairwell.
For more from Clarisse, see our previous post on her pied-a-terre in Sofia, Bulgaria; for more house visits from my trip to Paris, take a look at our Travels with an Editor: Paris series.
You need to login or register to view and manage your bookmarks.