A few weeks back, we discovered Mimi in New York City's West Village. Alexa was the earlier adopter; then Julie wandered in for dinner with Janet (a Remodelista founding editor), and shortly after, Christine, our London editor, stopped in.
Opened by a young team of French and American owners, including model/designer Camilla Deterre, the space in an old Greenwich Village building was, surprisingly, transformed on a tight budget, with handwritten signs, clever use of marble, and vintage details. "Lots of the design came from the Art Deco period and then the resurgence of that in the 1970s," says owner Daniel Bennett. "We knew it would be French, so we all went to Paris and went to the flea markets to pick out fixtures. The colors are all the same as the French flag, and the lines are all straight, with lots of mirrors, marble, and steel. We were all very interested in creating a jewel box—something that looks like nothing from the outside but is beautiful on the inside."
We recently stopped by to uncover, in the light of day, just what makes the space so sultry at night. Here are 15 ideas to steal for maximum sex appeal on a budget.
Photography by Alison Engstrom for Remodelista.
1. One statement-making splurge goes a long way.
2. Embrace curves.
3. Handwrite for maximum charm.
4. Add authenticity with vintage lights and fixtures.
5. Take inspiration from the tricolour.
6. Get the luxe look for less: Use marble as a border.
7. Encourage intimacy.
8. Be bold: Add drama with a painted floor.
9. Save money with simple vases and market flowers.
10. Keep dividers transparent.
11. Make an impact with small details.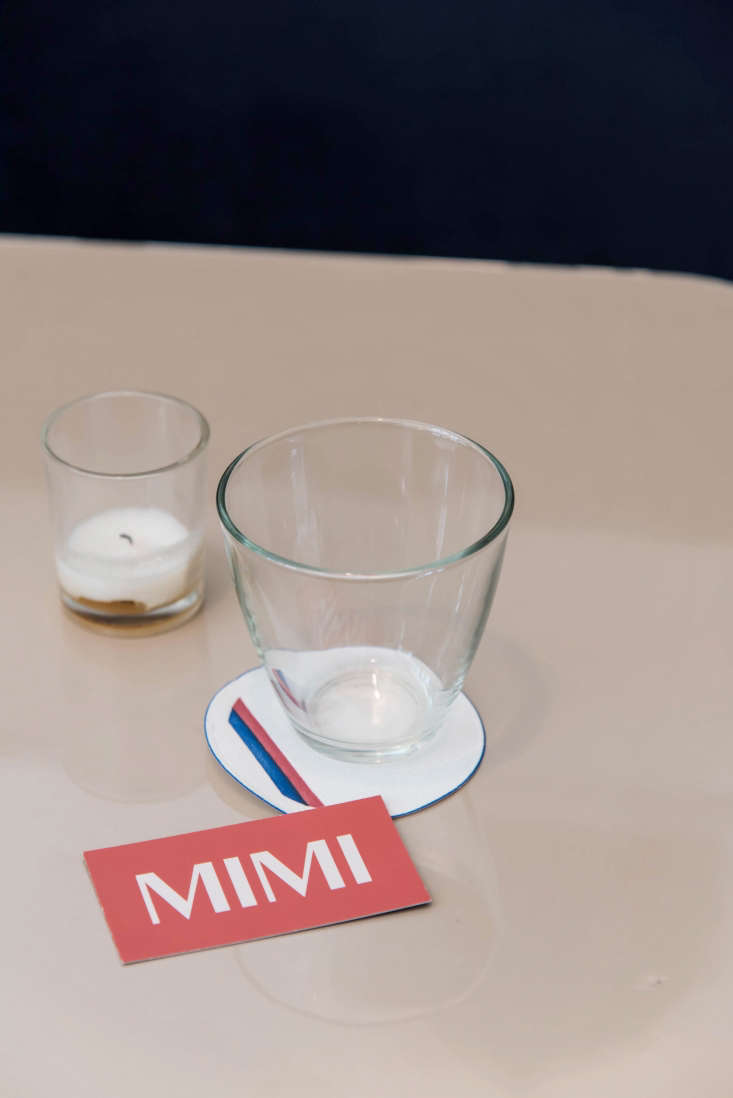 12. Find the glamour in the well-worn.
13. Be provocative in the bath.
Above: Small bathrooms are for bold choices. At Mimi, a stairwell leads to two small WCs with black accents, nude line drawings by artist Alba Hodsoll, and provocative "no smoking" signs by a New Yorker cartoonist.
14. Make a French getaway.
15. Even the simplest outdoor space can become a Parisian-style terrace.
More French style this way:
You need to login or register to view and manage your bookmarks.