"I am genuinely enthralled, inspired and continuously curious about contemporary families," says Constance Gennari. The Paris-based former children's fashion reporter and mother of two also happens to be a design obsessive, and for those of us who share her fixations, The Socialite Family, Gennari's four-year-old website, has become required weekly browsing.
Instead of bloodlines and bank accounts, personal style and true cool are Gennari's criteria. Of course, prime real estate also comes into play. As does the juggling life: Gennari defines "socialite" as meaning "people who successfully divide their time between their professional careers, traveling schedules, and families." To date, so many clans have met her criteria that the site's greatest hits have been compiled into The Socialite Family book, a room-by-room inspirational "guide déco" intended to help others live with flair. Here's a spotlight on one of the families, plus a look at the book.
Photography by Constance Gennari—in addition to being TSF's founder, Gennari takes most of its pictures.
The family moved from Geneva (where Antoine works) to Prudent's native Burgundy when she was expecting their third child to "change my lifestyle to a simpler format," she told the Socialite Family, "to create a nest for my children, and a haven for Antoine when he returns home for the weekend." Prudent's firm is called Finca. Admiring the woven pendant lights? Find similar options in Design Sleuth: 6 Summery Natural Fiber Pendant Lights.
Asked by TSF for her "no-no in terms of taste," Prudent responded: "Lack of personality; when your living room looks like a waiting room." Her hanging light is Constance Guisset's Vertigo Pendant Lamp. Go to Object Lessons: The Butterfly Chair to read up on the classic and find sourcing.
Prudent is a flea market regular with a fondness for mixing styles and putting objects to unexpected uses. Here, she created display shelves out of stacked vegetable crates.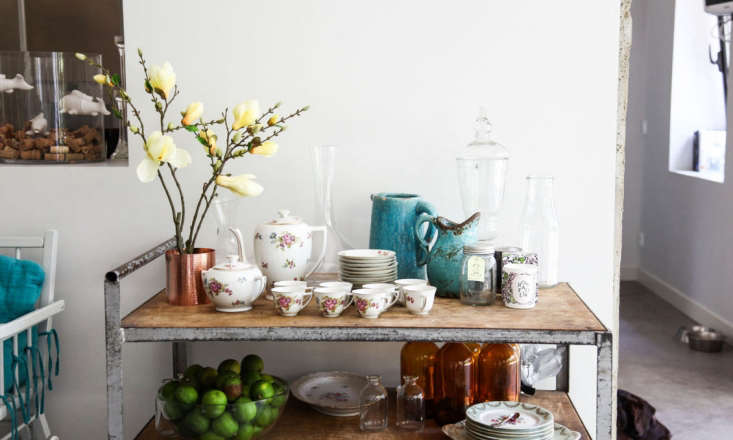 A favorite shopping haunt that she shared with TSF? "On rare Sundays in the Dijon antiquarian quarter, Brigitte Durieux sells her vintage kids' treasures, a trove of items the likes of which you can hardly find elsewhere," she says. "I also love going to barter sales and neighborhood garage sales in Dijon and elsewhere."
The cotton White Teepee is by Georges and came from Little Michèle & Noëlle.
Prudent's oldest daughter's room has Cole & Son Hummingbirds Wallpaper, available for $132.30 per double roll from Wallpaper Direct.
(Visited 171 times, 1 visits today)
Frequently asked questions
What is The Socialite Family Book about?
The Socialite Family Book is a collection of interiors and stories from inspiring families, highlighting their personal style and unique way of living.
Who is the author of The Socialite Family Book?
The author of The Socialite Family Book is Constance Gennari.
Is The Socialite Family Book only about interior design?
The Socialite Family Book includes interior design as well as stories and inspiration from the families featured.
Are the interiors in The Socialite Family Book all high-end?
No, the interiors in The Socialite Family Book range from high-end to more affordable and accessible options.
Can The Socialite Family Book be used as a design guide?
Yes, The Socialite Family Book can be used as a design guide for inspiration and ideas for your own home.
Is The Socialite Family Book available for purchase?
Yes, The Socialite Family Book is available for purchase on various retailers such as Amazon and Barnes and Noble.
Are there any reviews of The Socialite Family Book?
Yes, there are several positive reviews of The Socialite Family Book on websites such as Goodreads and Amazon.