Seven years ago, Izabella wrote about the "thrillingly transformative" Ikea-ready slipcovers from Swedish company Bemz. (You can read her story here.) Since then, more businesses have popped up to help customers upgrade their Ikea sofas, either with new legs or custom coverings. We rounded up our five favorites, starting, of course, with Bemz.
Featured photograph courtesy of Bemz.
Bemz
There are so many reasons to like Bemz—and not just for the quality and uncommon stylishness of their slipcovers. The company is big on sustainability, which means every cover is sewn to order (to prevent waste), and all materials are natural, washable, and come with a three-year guarantee (we especially love its washed linen covers). In addition, they also make bed skirts, curtains, and covers for headboards, and carry a range of legs for Ikea chairs and sofas.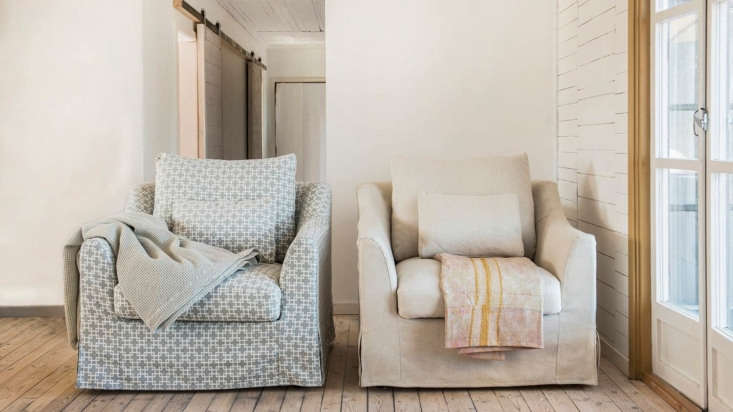 Comfort Works
The origin story for the Australian-based company starts with the age-old first-apartment conundrum: What to do with an unattractive but still-working couch? Replace it? Reupholster it? Both options can be costly, so the couple behind Comfort Works decided to DIY a slipcover for their old Ikea sofa—and thus their business was born. Today, the company has expanded from two people searching for an inexpensive way to refurbish their furniture to a global team of 55. (They also make slipcovers for Pottery Barn and Muji pieces.) Like Bemz, Comfort Works offers a three-year guarantee on their products. Plus, shipping is free to anywhere in the world.
Soferia
The typical wait time for a custom slipcover can be months-long. Soferia, a UK-based company, says they will have your slipcover to you within 14 days of ordering it. (Delivery to the US costs $20.)
CoverCouch
Many of the 250-plus fabrics available from the London-based company are polyester or synthetic blends, but there are some good wool options. CoverCouch delivers within two to three weeks of order.
Prettypegs
The Miami-based company has a streamlined website, dividing its products into three categories: legs, knobs, and front layers—and that pretty much explains what it does. Prettypegs ("the Ikea add-on company" is how they describe themselves) makes stylish accessories for Ikea beds, sofas, cabinets, and tables.
Find more companies specializing in Ikea hacks:
(Visited 5,585 times, 109 visits today)