I grew up in nice houses, both new and old. The downside? My father, an architect (who continues to practice well beyond retirement age), had us on the move more times than I care to remember. These houses were not always move-in ready. Things I still recall: a boyfriend having to "walk the plank" to pick me up for a date (the trenches for sewage pipes were still open and the path was literally planks of wood). Climbing up a ladder in a nightie to go to bed as the custom wood stairs had not yet arrived. Cramming for exams only to have a builder appear in the window in front of my desk as he hammered in nails (I took to studying in the car). Oh yes, and no plumbing for days. All a great character-building experience, but one that has left made me acutely aware of what it takes to renovate a house.
Which is maybe why I find myself living in a rental with my two teenaged children and husband. At one time, we owned a house in San Francisco and had an architect design plans for a second floor, but when we outgrew the space, in lieu of renovating, we sold it, left the city, and downsized to a 1,200-square-foot rental. The move was a temporary measure, but once we secured a small cottage behind our rented house for our offices and a guest room, the setup worked well and we've remained put. Of course, not being able to blow open a few walls and connect the kitchen to the garden, or having to ask our landlord for permission to do things, can be frustrating, but I've become adept at working within the rental template and creating a space that feels right for us. Here, a look at our cottage and some tips for how to make a rental your own.
Photography by Matthew Williams for Remodelista.
Above: My whole approach to our cottage has been to neutralize the space within the confines of our lease: a cosmetic (and cost-conscious) makeover. In the living room, I replaced a large brown Mission fixture on the ceiling with the white porcelain Alabax Surface Light from Schoolhouse Electric. I removed the heavy ornate black metal curtain rods and substituted simple white linen roller blinds throughout the house. That was a bit of an investment, but aesthetically and functionally much more pleasant. I resolved not to buy specifically for the rental and to look for things that will be with us for the long haul, such as the extra-long sofa (a custom Erin Martin snagged on sale) that runs the length of the room.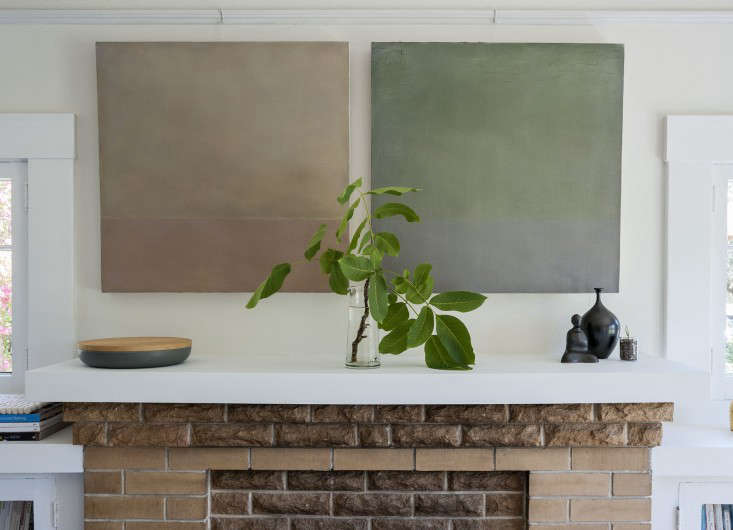 Above: Since I don't have much space to play with, I like to create small vignettes. The mantlepiece sees a rotation of whatever branch or flower I can find, in this case, a sprig of leaves from the walnut tree in the garden.
Above: The original interior was painted a very creamy white with just a tad too much yellow. The challenge was to find a color to match the existing white woodwork, which we didn't want to repaint. It took me several months to find the right shade (Benjamin Moore Wind's Breath with double the white), but repainting was worth the investment.
Above: I knit the chunky blanket that hangs over one of the living room chairs. Next on the list are cushion covers.
Above: I could easily be a hoarder, but living in smaller rooms means less stuff and a more rigorous approach to what comes in the house.
Above: We have lots of books, but I have learned to keep the shelves fairly open to create a sense of space. On display are four handmade boxes from de Vera.
Above: Although I prefer a neutral backdrop, I like to layer on a bit of texture. White sheepskin, Pia Wallen's reversible black and white Cross blanket, and a pink felted cushion from Canvas work in warm weather; when it's cold, I drape my chairs with black Mongolian sheep skins and a mohair blanket for a moodier look.
Above: The Caravaggio light by Cecilie Manz was the reason I rented the house. I had just seen the fixture in Copenhagen and was looking for an excuse to own it. I knew it would work well here in our dining room (it replaced a heavy Mission-style pendant that hung low on a brass chain). I had the custom table made by Ohio Design for our house in San Francisco, but after 15 years of dinners and art projects, I am planning to replace the top with a larger piece of wood. The chairs are the classic Arne Jacobsen Series 7, also bought 15 years ago, and easy to stack and store.
Above: The tray stand is made from a folding laundry basket frame picked up at the Alameda flea market with a wire tray added on top. It's my cell phone charging station and where I put all my papers before they make it to my office space.
Above: A built-in cabinet houses my ever-growing collection of pottery that I started during my years living in Japan. I replaced the drawer and cabinet pulls with simple leather ties.
Above: Stackable Japanese ceramic bowls.
Above: The kitchen was the hardest part of the rental. While I could change the veneer of just about anything in the rest of the house (window treatments, fixtures, paint), I really had a hard time with the checker-board gray linoleum and mottled gray granite counters. My solution? Cover the counters in plywood cut to fit over the existing ones and float a tongue-and-groove oak floor over the linoleum. It transformed the space, and we were able to pull it off for under $1,000 while keeping the original kitchen intact.
Above: The new plywood counters work well with the existing white wall tiles.
Above: The kitchen is not big on storage space, so I hang as much as I can and turn it into a visual display.You can read the full kitchen remodel story and see many more details in the Remodelista book. 

Above: Since the master bedroom is small, side table lamps would make it feel cramped, and drilling holes in the wall was not an option, so I sourced some hanging bulbs and used metal prongs intended for telephone wire to attach the lamp cord to the ceiling. The side table with Tivoli radio is a stool from a children's desk set I picked up at a local thrift store. (The desk itself is in a cupboard and is used for storing shoes.)
Above: Molding is a great way for renters to display art, hang bags, and clothes without having to hammer nails into a wall. I used S hooks and a brass ring hung from rope for suspending a white-painted canvas bag where I store off-season scarves.
Above: My secret to the rental bathroom is to make everything white. It's an easy way to make a space feel clean and fresh. I picked up the round straw mat on a holiday in Seville, Spain. (I love the feeling of standing barefoot on straw first thing in the morning–so much nicer than cold tiles.) I painted the wooden Ikea mirror white and the rim serves as a useful shelf for placing jewelry, etc. I removed the milky glass shades on the light above the mirror and replaced them with silver-tipped light bulbs, which not only look better but also provide nicer light.
Above: One of the great things about old houses are the built-in cabinets, like this one in the bathroom. I love good-looking bottles and packaging and will happily decant things I like to use into better-looking containers.
Above: Early in my leather-tie obsession, I replaced the plastic rings of the shower curtain with these rawhide pieces tied into knots. I also use leather lacing as napkin rings and gift ties.
Above: If we owned the cottage, I would have used the whole surface of the wall as a pinboard in my home office. Instead I hung four magnetic boards from the wall and use them as one pinboard.
Above: I bought this Brendan Ravenhill pendant light at the first Remodelista Market he took part in (and I even nailed it into the wall).
For some of the DIYs in the house, see DIY Leather Shower Curtain Rings, DIY Leather Napkin Ties, and DIY Dutch Style Knit Throw. Go to Move Over, Mrs Meyer for my homemade (and beyond easy) all-purpose cleaning solution.