I grew up in nice houses, both new and old. The downside? My father, an architect (who continues to practice well beyond retirement age), had us on the move more times than I care to remember. These houses were not always move-in ready. Things I still recall: a boyfriend having to "walk the plank" to pick me up for a date (the trenches for sewage pipes were still open and the path was literally planks of wood). Climbing up a ladder in a nightie to go to bed as the custom wood stairs had not yet arrived. Cramming for exams only to have a builder appear in the window in front of my desk as he hammered in nails (I took to studying in the car). Oh yes, and no plumbing for days. All a great character-building experience, but one that has left made me acutely aware of what it takes to renovate a house.
Which is maybe why I find myself living in a rental with my two teenaged children and husband. At one time, we owned a house in San Francisco and had an architect design plans for a second floor, but when we outgrew the space, in lieu of renovating, we sold it, left the city, and downsized to a 1,200-square-foot rental. The move was a temporary measure, but once we secured a small cottage behind our rented house for our offices and a guest room, the setup worked well and we've remained put. Of course, not being able to blow open a few walls and connect the kitchen to the garden, or having to ask our landlord for permission to do things, can be frustrating, but I've become adept at working within the rental template and creating a space that feels right for us. Here, a look at our cottage and some tips for how to make a rental your own.
Photography by Matthew Williams for Remodelista.
Above: My whole approach to our cottage has been to neutralize the space within the confines of our lease: a cosmetic (and cost-conscious) makeover. In the living room, I replaced a large brown Mission fixture on the ceiling with the white porcelain Alabax Surface Light from Schoolhouse Electric. I removed the heavy ornate black metal curtain rods and substituted simple white linen roller blinds throughout the house. That was a bit of an investment, but aesthetically and functionally much more pleasant. I resolved not to buy specifically for the rental and to look for things that will be with us for the long haul, such as the extra-long sofa (a custom Erin Martin snagged on sale) that runs the length of the room.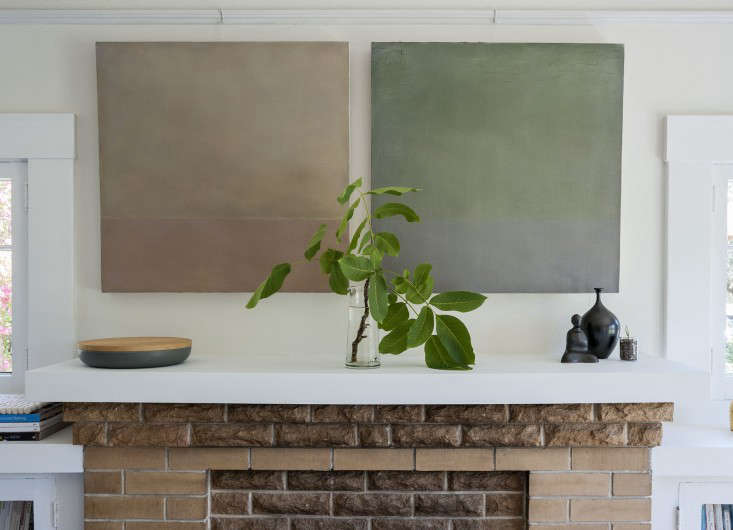 Above: Since I don't have much space to play with, I like to create small vignettes. The mantlepiece sees a rotation of whatever branch or flower I can find, in this case, a sprig of leaves from the walnut tree in the garden.
Above: The original interior was painted a very creamy white with just a tad too much yellow. The challenge was to find a color to match the existing white woodwork, which we didn't want to repaint. It took me several months to find the right shade (Benjamin Moore Wind's Breath with double the white), but repainting was worth the investment.
Above: I knit the chunky blanket that hangs over one of the living room chairs. Next on the list are cushion covers.
Above: I could easily be a hoarder, but living in smaller rooms means less stuff and a more rigorous approach to what comes in the house.
Above: We have lots of books, but I have learned to keep the shelves fairly open to create a sense of space. On display are four handmade boxes from de Vera.