If you're renting, it can be hard to make someone else's house feel like your own, but for actress Jodi Balfour (you might recognize her as Jackie Kennedy from Netflix's The Crown) and her partner Alex Ashbaugh, the challenge was a rewarding design exercise. After an abrupt move from a spacious apartment in Santa Monica, the couple now rents from a friend a 500-square-foot 1914 bungalow in Silverlake while they build a new house of their own in Highland Park. Though they've been in this transitional home for less than a year, they've created an inviting space that has the feel of a well-established weekend retreat.
Jodi credits her mother's influence as the foundation for her design sensibilities. "My mum's always been brilliant at making the inside of a house feel truly like a home," says the South African native. "She often experimented with how moving a couch—or painting a wall—could totally transform the experience of a room. She would encourage me and my sister to rearrange the furniture in our bedrooms whenever we wanted, changing the feel of the space each time."
Come see how Jodi and Alex were able to personalize their rental and open up the small space.
Photography by Julie Pointer Adams and Jodi Balfour.
1. Establish your priorities.
Their solution was to have an L-shaped couch custom-made by Heurta Furniture, measured precisely to follow the line of the windows and allow unobstructed views outside. "We pushed the size of the sectional to its limits—it was a fine line between maximizing space on the couch, without letting the couch overly dominate the room," explains Jodi. They opted to forgo arms on the sofa, which helps the piece flow into the rest of the space. They also made sure the rug and the surrounding areas were inviting places to sit.
2. Edit, edit, edit.
3. Hide the TV.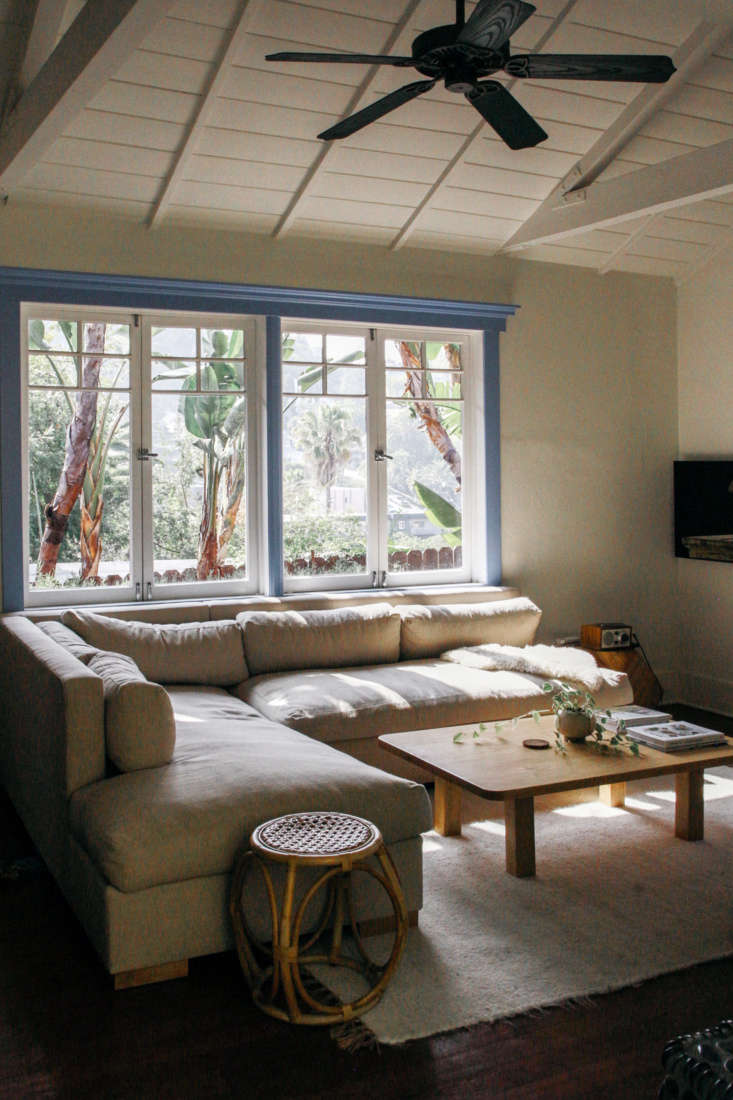 4. Use plants as sculptural elements.
In the living room is a Song of India tree from Jodi's favorite plant shop in LA, Sanso. "It's big and sprawling," Jodi says of the tree, "but there is a delicacy and subtlety about it that stops it from dominating the space." The leather sling chair—a birthday present from Jodi to Alex—is by Xander & Grace via LA store Lawson-Fenning. The rattan ottomans are from Ikea.
5. Choose a neutral palette.
6. Add a bench to create a multipurpose nook.
7. Decorate with (beautiful) books.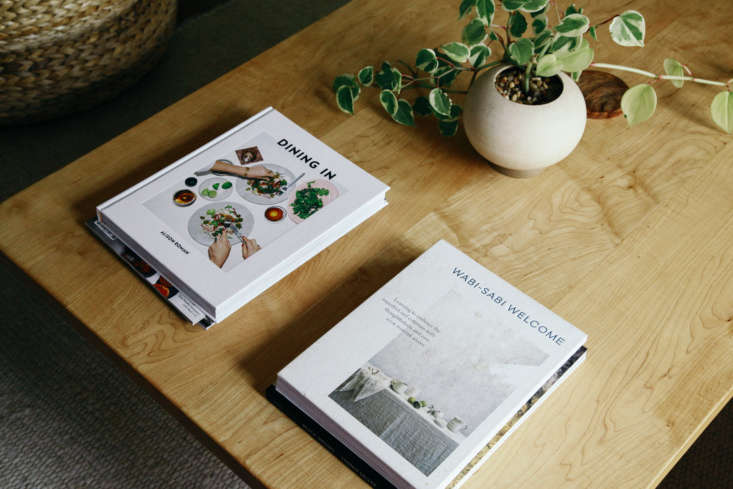 8. Lean—don't hang—original artwork.
Jodi began collecting art after her first big acting job. Her first purchase was this quirky portrait of a person wearing yellow rubber gloves and an apron by South African artist Christiaan Conradie. She found most of the other pieces on display around the house via the Tappan Collective.
9. Mix off-the-shelf with custom pieces.
Simple custom pieces—whether DIY or built by a carpenter—can be surprisingly affordable and make a space feel bespoke. Case in point: the wood side table in the kitchen (as well as the coffee table in the living room) was built by Alex and his friend Max to maximize the space between the fridge and stove. A shelf creates storage and trash cans fit discreetly underneath. The DIY pieces are two of Jodi's favorites: "Knowing that they made them by hand one Saturday afternoon just makes me so happy," she says.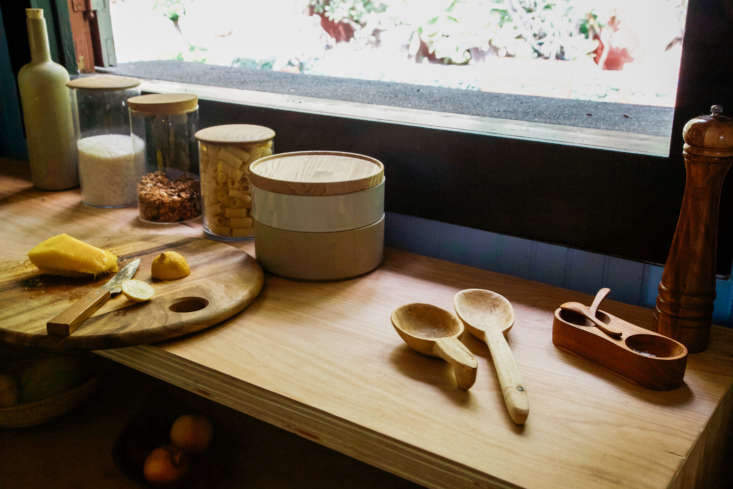 10. Designate a place for everything.
"On days where life feels chaotic and I leave clothes lying around and bags at the front door, and we haven't taken the recycling out, and there are too many magazines and books lying everywhere, and the dishes haven't been done yet and the laundry pile is heaping—the house can feel insane and suffocating," Jodi says. They make a concerted effort to stay on top of the clutter. Most things go into cupboards and drawers, with a few exceptions of course. Their dishes are by Humble Ceramics and Hasami via Tortoise General Store.
11. Embrace hardware store basics.
12. Keep passageways open.
"We thought about putting up a curtain or a door between the kitchen and the bedroom, but after living in the house for a month or so, we decided against it," Jodi says. "There is something about the circular design of the rooms and the flow between them all that helps make the house feel more spacious than it physically is."
13. Use a folding screen to create privacy.
14. Install a small shelf for a nightstand.
15. Treat yourself to great linens.
16. Bring the outside in and inside out.
For more ideas on how to personalize your rental on a budget, see: