We met Leigh Herzig two years ago when she unveiled her first ground-up project: A Hollywood Spec House with Uncommon Style. A self-taught designer-builder, Herzig is one of the rare women in her field and says she's out to redefine the role of the developer: "There are so many people throwing up cookie-cutter houses, but there's also a huge demand for design that is thoughtful and beautiful. Rather than trying to squeeze every dime out of a project, I'm a designer first and want to create the best house that I can."
Herzig got her start remodeling apartments in New York City; when she relocated to LA 11 years ago, she moved on to flipping houses. Living in West Hollywood with her husband and two kids has enabled her to keep close tabs on the neighborhood, which is where she's done most of her work. Her latest is a property that she bought with the idea of replacing the existing rundown duplex with her first midcentury-inspired house. On past projects, Herzig did all the designing herself, but in this case, she enlisted architects Silvia Kuhle and Jeffrey Allsbrook of Standard to step in with her as their client. "I knew their work from the Jenni Kayne house and James Perse stores and mustered the courage to meet them," she says. Herzig herself stepped in as the interior designer and stager. Recently put on the market, the house sold to a young buyer who appreciated all the attention to detail. Join us for a look.
Photography by Benny Chan/Fotoworks, courtesy of Standard and by Shade Degges, courtesy of Leigh Herzig.
Herzig adds that she wanted the design to fit aesthetically within the fabric of the neighborhood and asked Standard to take inspiration from the work of the early European modernists who came to southern California in the 1920s, such as Richard Neutra and Kem Weber. "But modern architecture," she notes, "is so easy to do poorly: Every detail and every line need to be spot-on for the overall to flow with ease. I knew I needed partners who would elevate my game. Silvia and Jeffrey were my dream team." Photograph by Benny Chan.
The house is defined by a series of outdoor areas, including a "quiet space" with a rectangular pond visible through the entry. Photograph by Shade Degges.
The pool house opposite the living room is furnished with a pair of 1970s canvas-and-wood Hoop Lounge Chairs by Werther Toffoloni and Piero Palange on loan from Orange.
Note the concrete floor: "The project splurges were the brick, plasterwork, and, of course, the architects," says Herzig. "One way we saved was by polishing the concrete foundation and using it throughout the ground floor." Photograph by Benny Chan.
Note the elevated shelves on the window wall: "The kitchen is just beyond the entry, and I didn't want it to be seen from the front door, but I also didn't want to cut it off from all the natural light coming in through the glass in the foyer," Herzig tells us. "So we created a storage unit inspired by Charlotte Perriand. It blocks off the room from view and really almost doubles as an art piece." See its black and taupe front in the previous photo. Photograph by Benny Chan.
Open shelves are an element Herzig introduces in most of her kitchens: "They offer the opportunity to bring in interesting objects and art that doesn't feel so kitchen-y." She borrowed the Keith Haring drawing from her mother-in-law. Photograph by Shade Degges.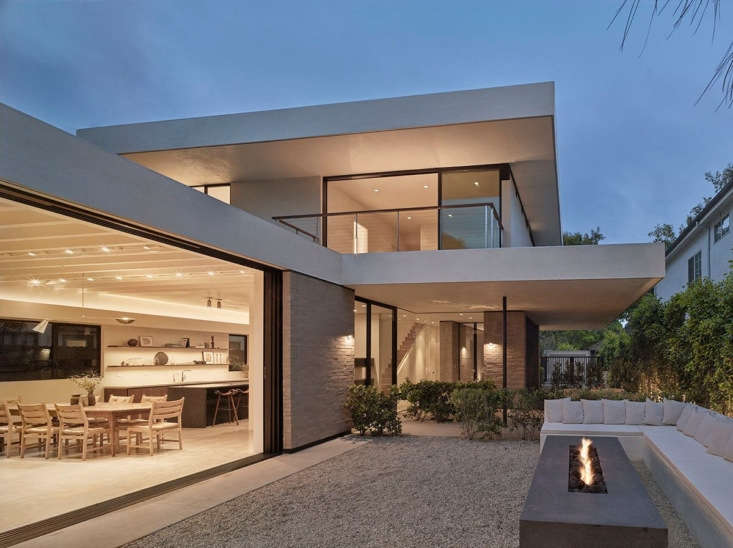 Herzig thinks big but she's also cost-conscious: Go to Build It for Less for her five favorite materials and finishes.
Looking for an architect or designer? Consult the Remodelista directory—and take a look at Trend Alert: 13 Up-and-Coming Architects/Designers on Our Watch List.
You need to login or register to view and manage your bookmarks.