The Scenario: A Toronto girl with an art degree makes her way in NYC from Vogue intern to star stylist's sidekick to Graydon Carter's assistant. Along the way she splashes out her own loft, and friends start signing her up to overhaul their places. Leigh Herzig's design career is born—and it flourishes when she and her husband relocate to LA in 2007. Her credits include several top-to-bottom house remodels and Bruno Mars's recording studio in Hollywood.
The Challenge: Herzig is ready to try her hand at architecture. "I love creating spaces. I thrive on gnawing over design challenges," she says. But who is going to hire a self-taught, untried newbie?
The Solution: Herzig and her husband, owner of a rum company, invest in a West Hollywood teardown, which presents her with her dream job. Acting as her own client, she assembles a crew (trusted general contractor, engineer, and cabinetmaker included) and designs and builds a five-bedroom spec house entirely from the ground up. Two years later, it's complete, fully staged, and on the market.
Top Takeaways: 1. Supply your crew with as many drawings as possible. "Visuals say much more than words." (Herzig sketched out all details and had a draftsman in Poland supply the CAD drawings. "Learning CAD is one of my next to-dos." 2. Splurge on expensive materials in small spaces: "I used antique marble in the powder room because I only needed about 20 square feet." 3. Consider plasterwork walls instead of paint: "Beautiful plaster adds so much warmth and nuance to a house that you don't need much else." 4. When the cash runs out, paint can mimic plaster (such as in the upstairs rooms). 5. Don't let the permitting process kill you: "It just takes tremendous persistence."

Photography by Laure Joliet, courtesy of Leigh Herzig.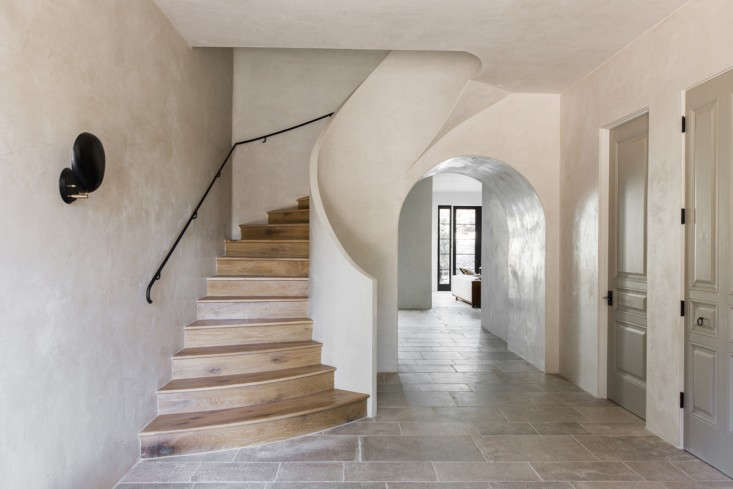 Above: Designed to tip its hat to the Spanish-style architecture of LA, the 4,000-square-foot house is, says Herzig, "a mix of old-world European and earthy modern California, with inspiration from the Belgian interiors of Axel Vervoordt and Vincent Van Duysen." The entry opens to a showstopping winding stair and arched doorway with walls and ceilings clad in Stuc Italien, a Venetian stucco from LA company Terre du Monde. Of her passion for plaster, Herzig says, "What we used is completely green and all natural; it's soft and modern-looking and earthy all at once."
Above: To get the house ready for sale, Herzig worked with a staging company that supplied many of the major pieces, including the den's sofa, sideboard, Restoration Hardware rug, and artwork. The room opens onto the back courtyard and pool. As for what look like metal-framed windows, Herzig says, "I spent a lot on light fixtures but was more resourceful when it came to the windows and doors. I desperately wanted those gorgeous, big steel-framed doors, but they were totally cost prohibitive. Instead, I worked with Kobi's Windows & Doors, a custom manufacturer, to create the same look with wood and glass."
Above: A banana leaf palm rises in a corner. The armchairs are Palapa Lounge Chairs from Pacific Wonderland. Herzig's favorite accent in the room? The pink Acrylic Fearless Tray from Alexandra Von Furstenberg: "It looks illuminated."
Above: "I wanted to create a modern kitchen in a rustic setting," says Herzig, who situated the room in the back, flanked by the den and dining room (and overlooking an outdoor courtyard with a fireplace). For durability, its walls and ceiling are clad in Tadelakt Decolakt, traditional Moroccan lime plaster used in hammams and sourced from Terre du Monde. "You really can't tell the difference between it and the Italian plaster, but it's completely waterproof—you just clean it with Marseilles soap. Because it's so durable, I didn't have to add a backsplash, which gives the room a clean look."