The Scenario: A Toronto girl with an art degree makes her way in NYC from Vogue intern to star stylist's sidekick to Graydon Carter's assistant. Along the way she splashes out her own loft, and friends start signing her up to overhaul their places. Leigh Herzig's design career is born—and it flourishes when she and her husband relocate to LA in 2007. Her credits include several top-to-bottom house remodels and Bruno Mars's recording studio in Hollywood.
The Challenge: Herzig is ready to try her hand at architecture. "I love creating spaces. I thrive on gnawing over design challenges," she says. But who is going to hire a self-taught, untried newbie?
The Solution: Herzig and her husband, owner of a rum company, invest in a West Hollywood teardown, which presents her with her dream job. Acting as her own client, she assembles a crew (trusted general contractor, engineer, and cabinetmaker included) and designs and builds a five-bedroom spec house entirely from the ground up. Two years later, it's complete, fully staged, and on the market.
Top Takeaways: 1. Supply your crew with as many drawings as possible. "Visuals say much more than words." (Herzig sketched out all details and had a draftsman in Poland supply the CAD drawings. "Learning CAD is one of my next to-dos." 2. Splurge on expensive materials in small spaces: "I used antique marble in the powder room because I only needed about 20 square feet." 3. Consider plasterwork walls instead of paint: "Beautiful plaster adds so much warmth and nuance to a house that you don't need much else." 4. When the cash runs out, paint can mimic plaster (such as in the upstairs rooms). 5. Don't let the permitting process kill you: "It just takes tremendous persistence."

Photography by Laure Joliet, courtesy of Leigh Herzig.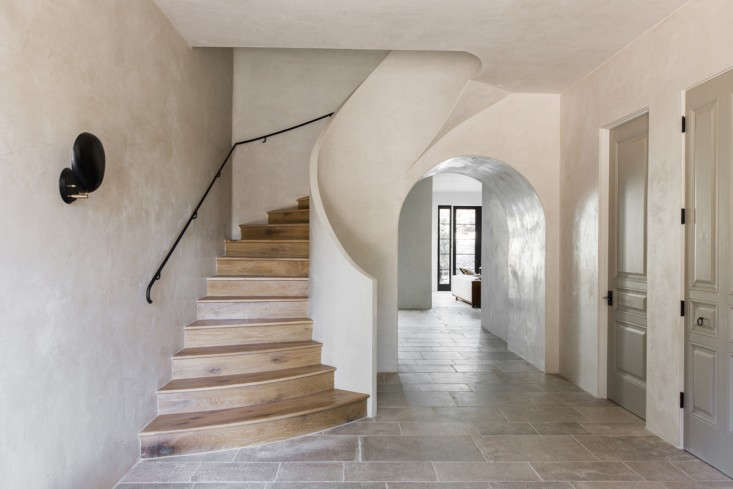 Above: Designed to tip its hat to the Spanish-style architecture of LA, the 4,000-square-foot house is, says Herzig, "a mix of old-world European and earthy modern California, with inspiration from the Belgian interiors of Axel Vervoordt and Vincent Van Duysen." The entry opens to a showstopping winding stair and arched doorway with walls and ceilings clad in Stuc Italien, a Venetian stucco from LA company Terre du Monde. Of her passion for plaster, Herzig says, "What we used is completely green and all natural; it's soft and modern-looking and earthy all at once."
Above: To get the house ready for sale, Herzig worked with a staging company that supplied many of the major pieces, including the den's sofa, sideboard, Restoration Hardware rug, and artwork. The room opens onto the back courtyard and pool. As for what look like metal-framed windows, Herzig says, "I spent a lot on light fixtures but was more resourceful when it came to the windows and doors. I desperately wanted those gorgeous, big steel-framed doors, but they were totally cost prohibitive. Instead, I worked with Kobi's Windows & Doors, a custom manufacturer, to create the same look with wood and glass."
Above: A banana leaf palm rises in a corner. The armchairs are Palapa Lounge Chairs from Pacific Wonderland. Herzig's favorite accent in the room? The pink Acrylic Fearless Tray from Alexandra Von Furstenberg: "It looks illuminated."
Above: "I wanted to create a modern kitchen in a rustic setting," says Herzig, who situated the room in the back, flanked by the den and dining room (and overlooking an outdoor courtyard with a fireplace). For durability, its walls and ceiling are clad in Tadelakt Decolakt, traditional Moroccan lime plaster used in hammams and sourced from Terre du Monde. "You really can't tell the difference between it and the Italian plaster, but it's completely waterproof—you just clean it with Marseilles soap. Because it's so durable, I didn't have to add a backsplash, which gives the room a clean look."
The countertops are Massangis French Limestone and the floor is Pierre de Marly French Limestone both from Impression, in Torrance, California: "I love the color. To me, there was no other choice, if I could afford it. Tile in general is so cold, but natural stone is warm and rugged."
Above: Herzig paired the plaster walls with custom cabinets and shelves made from reclaimed wood—a combination of oak, poplar, and beech–sourced from E & K Vintage Wood. She looked for especially thick planks of oak for the open shelves. The cabinets were built by Miguel Matias, who Herzig works with on all her projects, and the Antiqued Brass Hardware is from one of Herzig's favorite LA finds, the Golden Lion. As for the plasterwork, she herself has taken classes and is learning how to apply it, but for this project she hired a specialist who worked nights, after the dust had settled.
Above: The kitchen sink and fridge are conveniently situated alongside a central island, which is topped with stainless steel and has its own integrated sink.
Above: The dining room has an indoor/outdoor feel. "It's cozy for a family of four but big enough to seat 12," says Herzig, in sales mode. She paired a Saarinen table with Ikea rattan chairs and a Serge Mouille ceiling light.
Above: The same wood cabinetry from the kitchen puts in an appearance in the living room, which is anchored by a Spanish-style fireplace, Ikea rug, and midcentury-inspired light, the Choros Chandelier from Circa Lighting. All the pale surfaces, including the coffered ceiling, are Venetian plaster. "It's actually a beige that reads as white." The lucite bar cart came from eBay.
Above: Recessed shelves flank the fireplace. The leather armchairs came from Lee Stanton. Read our post about his Tips for Antique Furniture Care.
Above: "I was able to spend money on things I didn't need a lot of," says Herzig, who sprung for antique black-and-white marble tiles in the powder room and a limestone trough sink from Big Daddy's. The Custom Metal Mirror is from Restoration Hardware and the sconces are 1950s Dutch from LA vintage lighting shop ReWire.
Above: The downstairs office has an en suite bathroom (and shower), and can also be used as a bedroom. The desk is by LA designer Andrew Riiska. When Herzig went looking for wood flooring, she was surprised to discover affordable canewood, engineered flooring made locally using European white oak: "It's about $6 to $8 a square foot. You can't find long boards, but otherwise it looks identical to stuff that's double the price."
Above: A look at the subtly mottled Venetian plasterwork. Powder-coated steel Cobra Wall Lamps, midcentury designs by Greta Grossman from Horne, hang above an African bench.
Above: The stairs are solid white oak that Herzig had carefully matched to the wood flooring.
Above: In the upstairs hall, Herzig displays an antique console table from the Rose Bowl backside out "to hide the drawers and the English hardware."
Above: A Cord Chandelier by LA lighting designer (and Remodelista favorite) Brendan Ravenhill hangs from the domed ceiling.
Above: There are four bedrooms on the second floor, all with balconies. The master bedroom, shown here, has a bed with a view of the backyard and a fireplace. The Platform Bed and side tables are by Mash Studios.
Above: The fireplace also opens to the master bath, which is tiled with large-format limestone squares from Ann Sacks. The fireplace is painted with Sydney Harbour Paint's Liquid Tin: "It's a paint you can burnish! Rubbing it with steel wool brings out a shiny, metallic look." Like the kitchen, all bathrooms in the house are sheathed in waterproof tadelakt.
Above: Inset towel shelves made of salvaged oak.
Above: A nursery with a cove ceiling—"it hides a huge soffit on one side where we had to run air-conditioning pipes." The ceiling light is from Circa.
Above: No two bathrooms are alike. This one has a custom vanity: "It's made of concrete board with two base coats of an aggregate troweled on top and then tadelakt." The bathtub is from Kohler and has a limestone apron. The sconces are an Original BTC design from Horne that we singled out in the Remodelista 100.
Above: Another bedroom is nestled into the house's front turret. The rattan throne is the Roost Olaf Chair.
Above: A view from a bedroom. The round tables are Bamileke Coffee Tables hand-carved in Camaroon from solid pieces of wood.
Above: The backyard has a saltwater pool and Palladian pool house, also designed by Herzig.
One of the big quandaries was what material to use on the ground: "The obvious thing would have been to continue the limestone floors outside, but that was a very expensive option. I thought about flagstone, but it didn't suit the style of the house. Decomposed granite would influence the rest of the landscaping (and it's not ideal to have dirt next to a pool). I love concrete but am used to seeing it in more modern settings. Then, one day, my mother and I admired a line pattern shaped like a frame on someone's concrete driveway. That immediately solved the problem. We used poured concrete with an acid-washed finish and gravel in between. The framing made the whole thing work."
Above: The pool house is designed for lounging and has a small bathroom.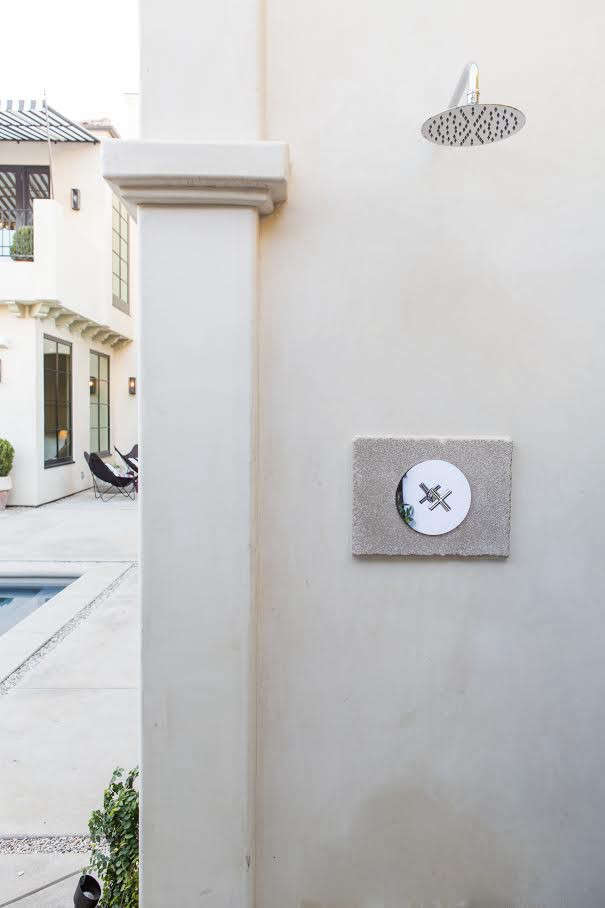 Above: It also has an outdoor shower with a Rainfall Showerhead from Signature Hardware. (Read about 8 Water-Saving Showerheads, including a rainfall design.)
Above: Charro, Herzig's rescued Australian Cattle Dog, accompanied her to the site daily and stayed by her side off-leash.
Above: The courtyard just outside the kitchen/dining area and den has an outdoor fireplace.
Above: Herzig designed the front of the house, with its stucco walls, terracotta roof tiles, and Chateau Marmont–inspired striped canvas awnings, to fit in with the neighborhood: "I'm tired of seeing modern, generic new construction go up with complete disregard for the surroundings." The landscaping was inspired by the work of Scott Schrader, her neighbor, and includes a spiraling cypress topiary, boxwood globes, and Agave attenuata. Under the gravel drive are honeycomb-shaped Easy Roll Gravel Pavers, "an amazing recycled drainage system," says Herzig, that holds the rocks in place.
The house is at 734 N. Kilkea Dr., in West Hollywood, and is on the market via several online real estate sites, including Redfin and The MLS; asking price: $3,295,000. Go to Leigh Herzig to see more.
N.B.: This post is an update; the original story ran on December 4, 2014.
More LA architecture? Take a look at: